Alphabet Posters for Kids.
Kids like color, coloring, and fun. Keeping that in mind, I have selectively chosen the following alphabet posters – keeping your kids in mind.
Any of these can be used as a stand-alone activity, with the parent/teacher reading the chart to the child; and they can also be used in coordination with reading a short story, and finding a particular letter or word on the chart that sounds like a word in the story.
This first choice is also recommended by teachers, as it comes from Teacher Created Resources. If you notice, they are colorful, have simple pictures, and have both upper and lower case letters.
For a more fun selection, I've chosen this cute animated illustration. It features the types of animal drawings that children will be more likely to see in books for children.
;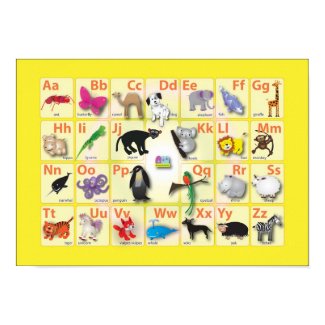 Alphabets: My ABC with 26 animals Poster
by
adellaandmella
Check out more Abc Posters at
Zazzle
;
For a coloring activity,I recommend giving them a chart that they can color in the letters and the illustrations. By coloring in each letter and drawing, the child is spending more focused time on a particular letter. It can be a fun reinforcement activity for learning the alphabet.
;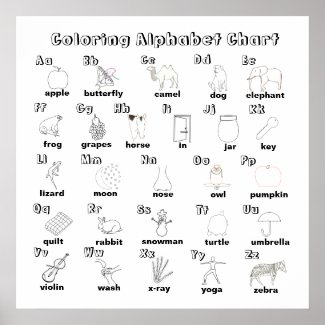 Coloring Alphabet Chart to Color Poster
by
Cherylsart
View custom art
Posters
; & Prints at online Zazzle
Learning the alphabet is a good foundation for learning to read. Remember though that children are always learning, through play, observations, interacting, etc. So just relax and let them have fun with this. This kind of learning can be spread out over days, weeks, etc., and can then be referred to again and again during other reading activities.
An idea for a review game can be – I'm thinking of a word that starts with the letter b. Can you find the letter b or the word that starts with the /b/ sound on the chart?
I was glad that I had started some phonics activities with my daughter before she started preschool. The extra instruction and learning came in handy. One of her teachers had even commented about her knowing the word domestic, as in domestic cats. We got a chuckle out of that. It's amazing what kids will pick up on.
For another fun reading activity to do with kids, check out – Have Your Child Dictate a Story.
---