Gifts for Coffee Lovers.
Are looking for some great ideas for that someone in your life that just can't live without their coffee?
I'm talking about that someone who loves to sit and chat with friends and family over a nice cup of their favorite coffee. Someone who likes to sit back, relax and read their latest book, or watch their favorite television show with a nice cup of steaming hot coffee.
Everybody knows someone just like this; there are so many gift possibilities when it comes to coffee. Following are some ideas that I think you'll like and so will your friends.
Today's one cup systems have come a long way in making a great cup of coffee. These systems are a great idea for someone living alone or someone who is up and off to work in a hurry, without having to brew a whole pot.
Of course along with the one cup systems there is a variety of K-cup choices. There are so many different flavors to choose from. I know one my favorites is a nice cup of Hazelnut, but I do have many other favorites. Now if you have a one cup system and K-cups you'll need a coffee tree to hold all of those different flavors.
How about for that connoisseur of coffee who just has to have whole bean coffee and grind their own beans. Oh that wonderful aroma of fresh ground coffee just teasing the senses. If that's the case these wonderful coffee grinders will be a perfect gift.
Here is an idea; an assortment of coffee mugs – here is a place where you can buy personalized mugs.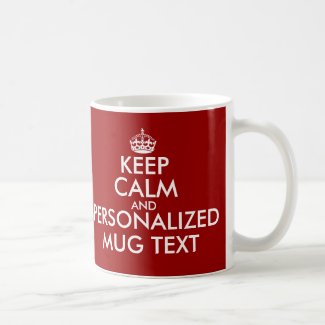 KeepCalm Mugs | Personalizable template
by
keepcalmmaker
Design
printed mugs
online at zazzle.com
ABOUT THE AUTHOR. SAM MONACO