This recipe is a combo of two different ones I found. It was the spices that I combined after looking at different recipes to see which one I liked the best.
As I've found that I can make other apple desserts with my crock pot I figured I could make apple butter with it too. Boy was I right! This is so easy using a crock pot. Really it is. All you do is cut up the apples. Mix some of the spices with the apples then fill the crock pot to the top. You can adjust how many apples along with spices as you go along. Top it with the rest of your spices. Turn it on and let it cook for several hours.
What a great tasting apple butter you will have when it's done. I was truly amazed. I kept some out and froze the rest in small containers for later use.

Ingredients
12 -15 cups apples
5 cups sugar
5 tbsp. cinnamon
1½ tsp ground cloves
¼ tsp. salt
Instructions
Peel, core and cut apples into small-medium chucks and put in a big bowl of cold water with a little salt sprinkled in it. This helps to preserve them from turning brown until ready to put into your crock pot and get the rest of your sugar and spices together.
Once you're done cutting up apples than mix up sugar, cinnamon, ground cloves and salt. Drain water off of apples. Then mix about ¾ of the sugar mixture with your apples. Fill your crock pot full to the top with the apples. Sprinkle rest of sugar mixture on top. Using a 4-5 quart size crock pot works well.
Cover. Cook on high 8 hours. Take cover off and cook 2 hours more. Stir occasionally until thick. This will be a bit coarser than regular smooth apple butter but oh so good!
Cool. Keep some out to use right away and put the rest into small freezer containers for later.
4-Quart Crock Pot Oval Manual Slow Cooker, Red

Taylor Digital Measuring Cup and Scale

Chef'n SleekStor Nesting Spoons, Cherry Color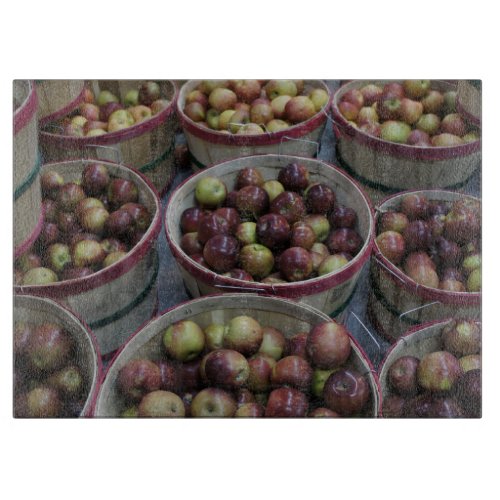 Fall Apples Cutting Board

ABOUT THE AUTHOR