What About Gods and Pansy Flowers of Freethought.
The book in review is written by an Atheist and reviewed by a Christian – both worship the light of the same Sun.
The Pansy Flower is the Symbol of Freethought and Chris Brockman is the Author of the Book "What about gods?"
I am delighted to share my thoughts regarding Brockman's book "What about gods?" with you. I also plan to put the author in the spotlight by sharing with you a question and answer interview. And, in case you don't already know, I would like to enlighten you on the fact that the pansy flower is representative of "Freethought".
I met Chris Brockman in an online writing forum back in 2009. At the time, I enjoyed the poems and short stories he published. I always looked forward to his creative comments and sensitive critique of the writings I shared, too.
Quite by accident I discovered that Chris was a published author; something he had not yet shared with me personally. In my research for a writing of my own I ran across Brockman's listing of "What about gods?" on a web site. (I no longer recall which site it was but do remember it led me to the realization that Chris is a non-believer of God.) I quickly contacted Chris privately and purchased a signed copy of his book.
In retrospect, though Chris had never actually told me he was an atheist, his writings and comments ought to have given me a clue. Or maybe, since labels of identity rarely matter to me, I may have ignored it even if he came right out with such a declaration of faith or lack thereof.
Ruthi's Review of What about gods?
Chris Brockman has Authored a Book for Parents to Read with Children to help Teach them to Think for Themselves where Portrayals of Gods are of Concern
According to the King James version of the Bible, Proverbs 22:6, we are to "Train up a child in the way he should go: and when he is old, he will not depart from it."
To most parents this instruction makes perfect and simple sense so they set out raising the recent addition to their family, basing their child-rearing on their own moral standards. New parents may seek or receive advice from family members, friends, and neighbors, as well as by reading books on the subject of raising a child. Ultimately, the parents will choose to raise their offspring in adherence to their own behavioral attitudes and beliefs.
In his book What about gods? author Chris Brockman addresses this child-rearing issue from the perspective of that of an atheist, or non-theist. Not so simple; not back in the mid-seventies when the book was written, nor even still today. For example, it is only within the last decade that atheism has been taught in British schools. In the United States, presidents ask the people to bow their heads in prayer for their nation. The general population of the universe has long believed in a god or gods. The atheist simply does not.
So what resources are non-theist parents to avail themselves of to combat what their children are being told about god by children in the community raised in a religious family household? How do the atheist parents combat the shoving-it-down-your-throat-ism of a religious community when trying to train their children in the way they believe their children should go?
Brockman answers these questions by providing a non-fiction children's book which parents can read with their children. He begins by defining a god as "a mythical character" made up "to explain things people don't understand." Brockman goes on to explain that through science we have outgrown the need for make-believe gods through "thinking, measuring, and testing." What about gods? instructs children to ask "about what it means to be good, and what it means to be bad," eschewing the need for rules set forth by a god when one can think from within oneself to determine what one should or should not do, for the good of oneself, as well as for all of humanity.
God—It is odd how such a tiny little word can hold the power to wreak limitless havoc in the mind of mankind. Perhaps what Chris Brockman is trying to convey to the believers of an all-powerful deity with What about gods? is parallel to what Stephen F. Roberts wrote, "I contend we are both atheists, I just believe in one fewer god than you do. When you understand why you dismiss all the other possible gods, you will understand why I dismiss yours."
And to the children, this message from Chris Brockman: "Keep on thinking."
I believe Brockman achieved what he set out to do. He published a beauty of a book for kids … from the viewpoint of Humanist.
Whether you believe in a god or not, if you have children it would behoove you to get a copy of this book.
Read it with your children. Read it slowly and take time out for discussion along the way.
Teach the children all sides of a thing and let them decide from within their own understanding what it is they choose to believe.
The best teachers encourage children to have a mind of their own and to think for themselves.
The Human Side of Author Chris Brockman
The interview session, an author enhancer; Ruthi asks the question, Chris provides the answer.

Chris, what is the main message you wish your readers to grasp from What about gods?
I assume that parents will be reading What about gods? to or with a child. The message is simple: There are no gods. The book is straightforward in its approach, giving parents substance and support to discuss this claim with their children.
What inspired you to write a book geared toward children, as opposed to adults?
When my children were young, I wanted them to come to the questions of God and religion naturally, when they were curious and able to deal with them in a thoughtful way. I wanted them to know that belief in a god was not important and had little to do with being good. But religion is ubiquitous and proselytizing by its nature. Even their little friends would bring up God to them. I realized a need to counteract Bible Stories in the doctor's office and vacation bible school, so I wrote What about gods?
Chris, you and I share not only a friendship but also a reverence for the sun — I as a believer, you as a non-believer. Do you find relationships such as ours occur more frequently now than in previous decades?
I think our friendship is rather unusual. Whereas I can appreciate people's character and qualities separately from their religious beliefs (and people, especially Christians, wear their religion quite overtly), religious people usually want nothing to do with an atheist. I had a poem scheduled for publication in an online poetry journal this month, and the editor cut it at the last minute when she discovered I was a non-believer. The editor is overtly Christian, but the poem had nothing to do with religion. Religions demonize atheists, but non-believers are generally more ethical than those who have adopted a religious dogma uncritically, because they've arrived at their principles for being good by a process of thought.
Chris, tell me about your work with the book, Malachi's Cove:
I came across Anthony Trollope's 1857 short story years ago, and I read it to my children. I thought it was too good to be relegated to the dustbin of literary history, so I reconstituted it as a young adult chapter book, with a few other minor changes. This was way before the self-publishing craze. I copyrighted my version, found an illustrator and designer, a printer, and a binder, and I had several hundred copies printed. The idea was to start my own press. It was a good idea, but I'm not much of a promoter.
What books have influenced you the most, as a person and as a writer?
A Dr. Suess book, McElligott's Pool had a profound effect on me as a child. It carries the message that the world is full of wonderful possibilities that might come to pass if a person has imagination and patience. I also read a lot of science fiction as a youth, and all of Robert Heinlein's books. His juvenile books have that same message, anything is possible if you're resourceful and use your brain. I've used his Have Space Suit, Will Travel in my middle school English classes. I write mostly non-fiction and poetry, however, and my influences have been as eclectic as my reading.
Who are your favorite authors, and why?
I read mostly for information and to support my community college classes, but some books I've loved fairly recently are Rebecca Goldstein's 36 Arguments for the Existence of God, Sara Gruen's Water For Elephants, and Audrey Niffeneger's The Time Traveler's Wife. I've read all of Jacqueline Winspeare's Masie Dobbs books, all of Wendell Berry's fiction, and almost all of Homer Hickam's books, so I guess I must like them.
What is Chris currently reading?
Aside from Southern Culture for my class of the same name, E.O. Wilson's Anthill.
What writing projects are you currently working on? Foreseeable publications?
I have a memoir manuscript, as well as a manuscript of themed children's poems, I'm sending out when I get around to it. I have a couple of other children's book manuscripts I'll get around to finalizing one of these days, along with a collection of my adult poetry. I have a complete manuscript on alternative weddings and another of poems reinterpreting some famous Old Testament Bible stories. As I said, I'm not a very good promoter.
Where can we read more of Chris Brockman's writings?
I've published several essays in the Oakland Journal that are available in its archives online, the same for The Humanist. Someone could also buy a copy of What about gods? from Amazon.com, and I still have a few copies of Malachi's Cove.
When Chris isn't writing, what might we find him doing?
My children are grown, and they and my grandkids live in different parts of the country, so I don't get to see them often enough. I work hard at being a community college English instructor and periodic part-time writer.
What is the most important statement on writing you'd like to share?
Writing allows us to think on paper.
What is the most important statement on life you'd like to share?
It's good to be reasonable and reasonable to be good.
________________________________
Pansy Flowers of Freethought
My thoughts regarding the pansy flower, freethought, and of my special friendship with author Chris Brockman is best reflected in my picture and poem postcard creation available on Zazzle abitosunshine.
Pansy Flowers of Freethought
My thoughts regarding the pansy flower, freethought, and of my special friendship with author Chris Brockman is best reflected in my picture and poem postcard creation available on Zazzle abitosunshine.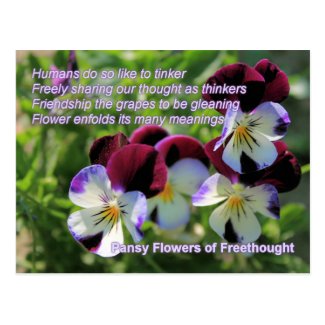 I ran across this pansy flower article on freethought quite by accident and shall never again look at a pretty pansy quite the same. Enjoy the story: A PANSY For Your Thoughts by Anne Laurie Gaylor
Freethought, Faith, or Sol for All Souls
When all else fails, hold on to a sense of humor!
Those thinkers who practice Freethought are believers in truth as undeniable fact, born of scientific testing. These freethinkers believe not in the supernatural concept of a god or gods.
On the flip side of things, those thinkers who practice Faith are believers in truth birthed in their religious beliefs and practices. Thus, belief in a god or of gods is acceptable to believers without evidence or need of proof.
And then … There are those thinkers who believe science and religion can come together and believe it matters not what either side thinks … For we all shall either be fried or frozen beneath the same Sun!
I Believe… Think freely, be faithful, and worship the sun.
Malachi's Cove Edited by Chris Brockman
I had the pleasure of receiving a complimentary copy of Malachi's Cove from Chris.
The reading of Chris Brockman's published version of Anthony Trollope's short story (of which he mentioned in our interview) was pure delight!
The book and its illustrations are superb portrayals, by storyteller and illustrator, of life lessons of long ago that apply still today.
If you would like a copy of the book, you will need to contact Chris via message on Facebook to see if these are still available, and if so, make purchase arrangements.
Read my book review: Malachi's Cove.
Thought Freely Shared
Add a drop of goodness to the keepsake box.

Did my review of What about gods? and the face of the pansy flower give you anything to think about during your visit here today?
---
ABOUT THE AUTHOR