There are many reason why you might want to – or have to – downsize into a smaller home. With us, it was purely financial and it was forced upon us, it wasn't by choice.
But I'm so glad it happened. We moved to a tiny apartment in a small complex and it was only once we had done so,I realised just how liberating the move had been. With a little ingenuity, we found that living in a small space is actually vastly superior in so many ways. What's more, we both work from home too (without the luxury of a dedicated home office) and I truly believe that if we had the opportunity to move to a larger apartment, I wouldn't take up the offer.
Why?
Living in our small home – it's about 420 square feet – gives us the following advantages:
Our bills are just a fraction of what they were. Our energy expenditure is a mere fraction of the amount we were paying before
Keeping our apartment clean take so little time
Paring down on the things you own is extremely liberating. It's amazing just how many unnecessary or duplicate items we used to have. I often tell the story about discovering, when we were packing up to move, that we had seven egg whisks. Why on earth…?
The same applies to clothing. We have plenty of space for the clothes we own and still find that many are unworn from one month to the next – if not even longer
Most people think that storage will be a problem, but getting rid of items you don't need eliminates that problem and giving things away – or donating them to worthy charities – give a nice, warm feeling
Because living in a smaller home is so much more planet-friendly, it has encouraged us to think more about the environment and our energy and resources usage
Cooking in a tiny kitchen is so much easier – everything is right there to hand
HERE'S OUR FLOORPLAN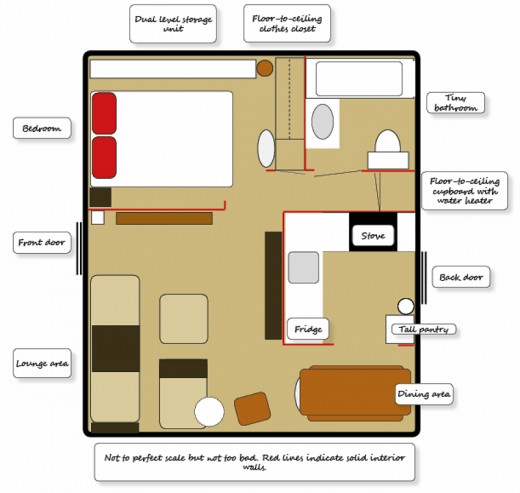 We work at the dining table you see bottom right. Because we both use laptops, these are easy to stow away when the dining table is in use for its proper purpose. We can easily seat five people for dinner – more if some guests are children.
Our lounge area, bottomleft, seats five people comfortably, with plenty of table space for glasses or plates if we're serving a buffet lunch or dinner.
The bedroom is pretty tiny and we have a large platform bed so our nightstand is a small beverage fridge that we had in the pantry at our old, larger house. It comes in pretty handy for a drink of juice in the middle of the night.
Is there anything I'd to improve? Just one thing – it would be wonderful to have two bathrooms!
YOU MIGHT ALSO LIKE
More tips, photographs and ideas