Cajun Shrimp with Zucchini Noodles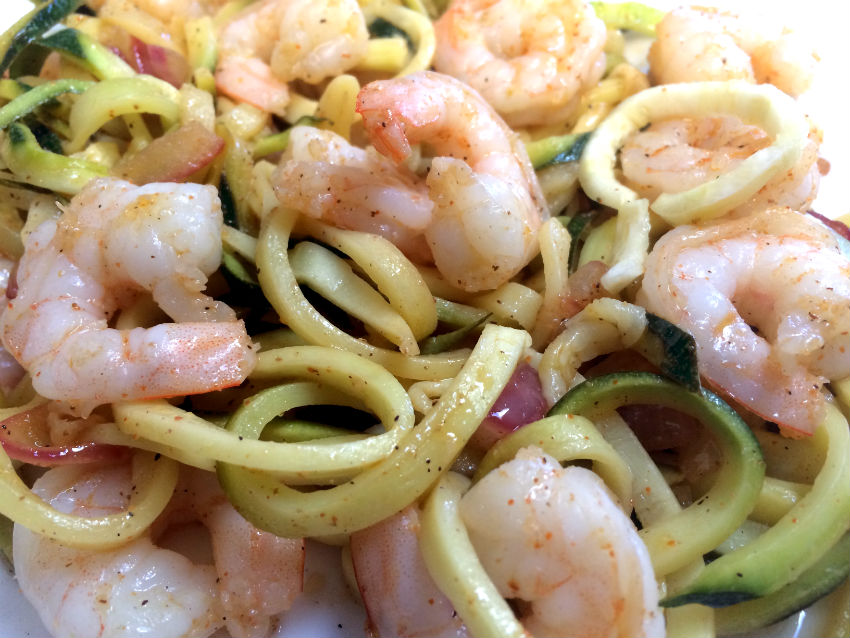 1 pound large uncooked shrimp, peeled
2 - 3 zucchini
3 tablespoons olive oil
¼ cup lemon juice
1½ teaspoons Cajun/creole seasoning
⅛ teaspoon pepper
¼ cup sliced red onion
Using a 'spiralizer,' make the zucchini noodles. If you don't have a spiralizer, you can slice very thin into ribbons.
Blend together 2 tablespoons of the olive oil, ¼ cup lemon juice, 1½ teaspoons creole seasoning, and the pepper.
Sprinkle the remaining creole seasoning over the shrimp and coat the shrimp.
Heat the remaining tablespoon olive oil in a large skillet.
Saute the shrimp for 4 to 6 minutes, until shrimp is pink.
Remove shrimp and set aside.
Pour the blended mixture of olive oil, lemon juice and creole seasoning into the skillet.
Once it is heated, add the zucchini noodles, sauteing for 2 minutes or longer if you prefer softer.
Either serve the pasta with shrimp on top, or you can add it to the noodles and toss.
Recipe by
JAQUO Lifestyle Magazine
at https://jaquo.com/cajun-shrimp-with-zucchini-noodles/