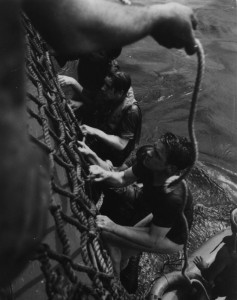 In early summer 1942 a German submarine, U-584, lay off the coast of Florida close to Jacksonville. On June 16th it surfaced and a small rubber inflatable dinghy was launched.
Four men hastily climbed into the tiny craft. They wore swimming trunks and woollen caps. They each had a suitcase containing a variety of American made clothing. Also, they loaded four wooden crates into the dinghy – these contained explosives. They also had two military-issue shovels and it's said, $70,000 in cash.
They were on a secret mission which, they later claimed, were direct orders from Hitler. The codename of their mission was Pastorius, after the German explorer who had visited America in 1683.
They rowed to the shore, the dinghy trailing a rope that was attached to the U boat.  Landing on a deserted beach two miles south of Ponte Vedra, they used their shovels to dig several large holes. Meanwhile, the crew aboard the submarine was dragging the dinghy back so that no incriminating boat would be left on the beach. The men transferred some of the explosives into their suitcases and buried others to be returned for later. They also smashed and buried the empty crates.
The men were:
Edward John Kerling, 33
Herbert Hans Haupt, 22
Werner Thiel, 35
Herman Otto Neubauer, 32
Next, they dressed in civilian clothes and headed to Jacksonville Beach. There they relaxed in the surf, to all intents and purposes seeming to be local men who were enjoying the beach before heading off to work. Then they took a bus into Jacksonville. Here they split up – using false IDs two of the men booked into the Seminole Hotel, the other pair into the Mayflower. They remained in Jacksonville for two days then set out to New York where they rendezvoused with four other Germans who had landed on Long Island several days previously. These men had also been sent via U-boat.
Their plan was to use their equipment to destroy war factories, power plants and bridges with the explosives they had brought with them. They also aimed to stir up anti-American feelings in the minds of the many German immigrants in New York. In general, their task was to create confusion and mayhem. It was intended to be a two year mission.
But before they could undertake any of these assignments, one of the four Germans who had landed at New York – Georg Johann Dasch – was having second thoughts. In the nineteen twenties, he had jumped ship and entered the United States illegally. He had worked in Miami as a waiter, plus at other temporary jobs. He had married an American girl and he became naturalised but he had returned to Germany in 1933.
Dasch lost his nerve and contacted the FBI
He called them yet they didn't believe him when he said he was a German spy. He took the train to Washington to see Hoover in person but again the agents there didn't believe him. But eventually he gave them the whereabouts of the other seven men. All were soon under arrest.
Dasch was sentenced to thirty years imprisonment. Another one of the Germans who had landed in New York, Ernst Burger, was given a life sentence. He too had become a naturalised American citizen before the war and like Dasch he had cooperated with the FBI. Both men were promised pardons for their cooperation. But what of the other six German men?
All, including the four men who landed in Florida, were executed as spies
In 1948, the US government deported Dasch and Burger, sending them back to Germany. There they were seen as cowards and traitors. They lived to the ages of eighty nine and sixty nine respectively, but never received the pardons they had been promised by the United States.
ABOUT THE AUTHOR