The Forgotten Bard.
Alberta Vickridge?
You've probably never heard of her. Which is a pity – because in her lifetime she was a poet of considerable talent, including poetry that won her a Bardic Crown and Bardic Chair at an Eisteddfod in 1924.
She also ran her own printing press from her home in Yorkshire at a time when women in printing were uncommon.
Her poetry was admired and praised by writers, such as Agatha Christie, and for 30 years Alberta edited and printed a respected literary magazine: The Jongleur.
Yet today few know of her.
(All photographs in this article are from my own collection)
A Discovery
Around ten years ago, I was teaching a course on 1914-18 war poetry to an adult education class in my home city, Bradford, England. I wanted to include the work of women poets so I began to search anthologies and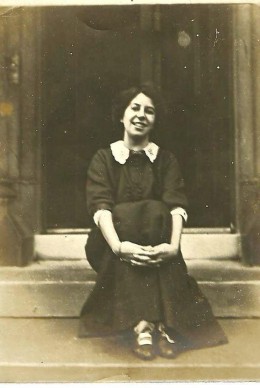 came across the poem Out of Conflict by a poet I had never heard of – Alberta Vickridge- and was struck by the subtle observation and restraint of it. I tried to find out about the poet, but there was only sketchy biographical information about Alberta online, or elsewhere.
However, a librarian, who was a student in my class, recognised the name and remembered there were newspaper clippings about Alberta Vickridge at her office. Following this up, I was amazed to find that Alberta had lived all her life near me – about a mile away.
I began to research her life and the more I learned, the more impressed I became with the achievements of this remarkable – forgotten – woman.
As she had only died in 1963, I felt it might be possible to trace living relatives, which I eventually did. A nephew, who had known Alberta, gave me details of her life and a collection of family photographs that are currently on long term loan to me, and are shown in this article. This led me to build a website as a tribute to her life and work : the link is shown below.
Alberta Vickridge Information Site
Alberta Vickridge
In 2012, I developed and launched this non-profit making information site on the life and work of Alberta Vickridge. It contains a selection of her poetry.
Early Years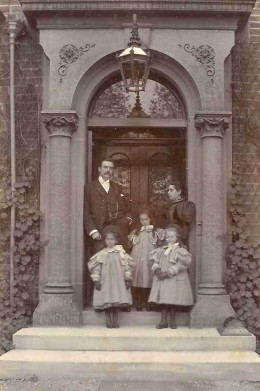 Alberta was the eldest daughter of three to Albert and Edith Vickridge. Alberta was born in 1890 and her sisters were Hilda and Marian. The family lived in prosperous part of town in a large detached house and Albert was a successful textile merchant in Bradford – a thriving woollen textile town at that time.
The family could afford to employ a resident governess, Hilda Dixon, who had a significant influence on Alberta's literary development. Alberta was an imaginative child, and Miss Dixon encouraged her to read widely, particularly English myths and legends, and to write poetry and short stories of her own.
When Alberta was 12 she joined the local Bradford Girls Grammar School, where her writing talents thrived and developed under the tutorage of Miss Roberts, the progressive head-teacher at that time. For Alberta's fourteenth birthday, her father paid for the private printing of a book of her poetry – The Luck of the Youngest and Other Pieces- that undoubtedly influenced her career development.
The Three Vickridge Sisters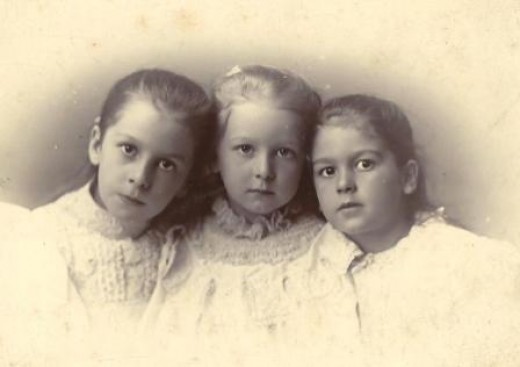 Alberta (left), Marian, and Hilda (right), taken around 1898.
First World War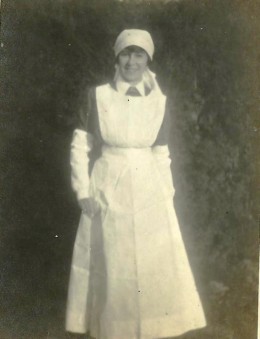 When she left school in 1909, Alberta began to write poetry and articles for both national and regional magazines and newspapers. She also began to review books for The Yorkshire Observer, a influential regional newspaper, and had poems accepted and published by a range of noted literary journals, including The Bookman and Poetry Review. Slowly she began to carve a name for herself in the literary world.
However, when the Great War started in 1914, Alberta, wanting to help the war effort, joined the VAD (Voluntary Aid Detachment) as a nurse.
Alberta was posted to Torquay and to the Red Cross Town Hall Hospital, where she continued to write in her free time and contributed her poetry to a magazine that Agatha Christie edited. Agatha Christie also worked as nurse at the hospital and the two writers became close friends.
Wounded British and Anzac soldiers began to arrive at the hospital in large numbers and Alberta was clearly touched by their sufferings. She wrote two of her best poems about her experiences: In a V.A.D. Pantry and Out of Conflict (found on the website – see link above). The experience of working with wounded men must have been quite a shock for Alberta, given her sheltered and rather privileged background, but she seems to have coped well, and her feelings about the suffering of the men are apparent in her poetry, particularly Out of Conflict.
When the war ended, Alberta stayed on in Torquay and worked on a book of poetry, which contained her war poems, plus a selection of others, characterised by their nature or Romantic themes. This was published by MacDonalds in 1919.
Heyday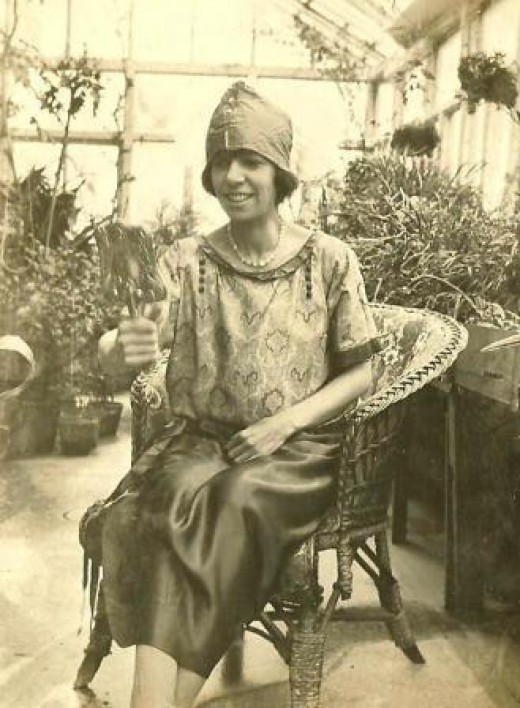 Boosted by the publication of her first book, Alberta threw herself into her writing. In 1924 she submitted her poem, The Forsaken Princess to the Southern Counties Eisteddfod. It won the competition and Alberta was awarded a Bardic Chair and Crown – one of the few women ever to receive this accolade, and the only person ever from Yorkshire to have done so.
This sealed her reputation as a poet on the national scene and she began to edit a national literary magazine and work on more editions of her poetry.
Her experience as an editor encouraged her to start her own magazine: The Jongleur, and she decided that to gain full editorial control of the process she needed to print and distribute it herself. She acquired a small hand-operated printing press, which she installed in the attic of her home.
From 1927 onward for nearly 30 years, Alberta, working alone, produced quarterly copies of The Jongleur, as well as printing limited edition work for other writers, including the Dymock Poets, Wilfred Gibson and Lascelles Abercrombie.
Between 1919-1940, Alberta had nine books of her poetry published, either by external publishers or by herself. Her work often featured references to myth and legend, and particularly tales that deal with the tensions between loyalty and betrayal; loss of innocence was another recurring motif.
The Jongleur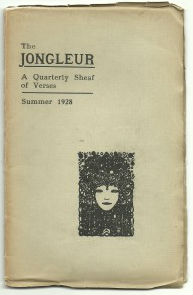 Alberta Vickridge edited – and printed – this magazine, single-handedly, for nearly 30 years.
Contributors including Wilfred Gibson, Dorothy Una Ratcliffe, Wilfred Rowland Childe, and many others and it contained black and white line drawings by well-known graphic artists of that period, such as Albert Wainwright and Marygold Cecilia Crowe.
During the 1920s and 1930s the journal flourished but financial difficulties and a fall-off in subscriptions led to a drop in printing quality after 1945, and the magazine ceased publication in 1956.
Final Years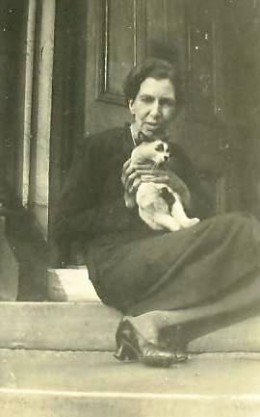 Alberta never married, and appears to have had few if any romantic encounters with men or women.
In her heyday, amidst gatherings of like-minded literary people, she could be confident, knowledgeable and relaxed. But away from the safety of this familiar environment, she could be diffident and reserved – a personality trait that became more pronounced in later life.
After the end of the Second World War, the taste of romantic poetry that Alberta promoted in The Jongleur waned and subscriptions to the magazine fell away. In 1956 she ceased production of all printing, although she continued to write poetry to the end of her life. Ill health from respiratory problems began to blight her remaining years and she became more reclusive and taciturn, only emerging from her room at meal times.
Alberta continued to live in the family home at Bradford with her younger sister, Marian, until 1963 when she died. She is buried at Nab Wood Cemetery, Shipley, close to her home.
Against the Common Grain
I wanted to rescue Alberta from oblivion because there are many older people around us today, or who have recently died, who lived lives of unrecognised heroism. Heroism, in that they did remarkable things against the common grain that all too easily slip unrecognised and acknowledged into history.
Their deeds may be recognised by family members, but over the years, as memories fade and relatives die, these deeds vanish. Hence this article, and my Alberta Vickridge website – to bring to public attention the achievements of this solitary, determined, talented woman: the 'Bard of Bradford'.
---