Andy Royston's back on the terraces with one of England's most beloved painters, L.S. Lowry.
One cold and rainy evening in West London I found myself wandering towards a set of bright floodlights shining above the houses. Brentford FC were playing Gillingham in some cup game and Griffin Park was offering tickets on the turnstiles. So in I went, picked up a cup of Bovril from the Ealing Road end and, as the drizzle faded away, took my place on the old open terraces to wait for the match to begin.
As the familiar referees whistle kicked the game off I was struck by how much the experience would be familiar to fans from 50 years before. Nothing about the experience would be too much different. The open terraces, the vivid grass pitch, already giving way to mud around the goals, the pies and tea at half time, the rain blowing across the floodlight beams, the whiff of cigarettes and liniment and the paint peeling from the advertising boards. It brought to mind one of my favourite 20th century painters, who would have recognised these surroundings as very familiar.
Going To The Match
Fifty years before, a Sunday painter by the name of Laurence Stephen Lowry completed his painting Going To The Match. In 1953, the painting won a Football Association competition  in honour of the 1953 coronation of Queen Elizabeth II, for which it won first prize – a surprise to Lowry himself, who didn't know it had been entered.
Lowry of course is Britain's best loved impressionist painter, and Going To The Match contains a number of themes familiar to Lowry's works. A grey industrial backdrop, a mass of people drawn in matchstick style lean forward in the direction of their common goal. A number of dogs are visible in the foreground, and there are character details in the seemingly repetitious images of people heading towards the football ground.
Going To The Match depicts a match at Bolton Wanderers' Burnden Park, a ground built in August 1895 and once host to crowds as large as 70,000. The Wanderers were a major team, especially between the wars, winning the FA Cup on three occasions including the Wembley White Horse Final of 1923 which saw the biggest attendance ever recorded at an English game. 123,000 were there officially, but the real figure they say was closer to 200,000. Burnden Park was walkable from Lowry's home in Pendlebury and they were, in '53, one of the top teams in England.
Similarly vast crowds used to show up to Burnden Park, though the ground had a degree of notoriety by the time that Lowry depicted the scene. This was because of the disaster of 1946 when, during an F.A. Cup match with Stoke City the big open Manchester Road end 33 people lost their lives in a crush.  Barriers had collapsed and many were injured.
Lowry's Going to The Match would one day hold the record for the highest price by a 20th century British artist. The Professional Footballers Association paid £1,926,500 for the 1953 oil p painting at Sotheby's in London in 1999 –  a world auction record for a Lowry picture and the most expensive modern British painting sold at auction. Before the sale it had been expected to sell for between £750,000 and £900,000.  Gordon Taylor, then secretary of the PFA, described it as "the heart and soul of the game, the anticipation of fans on their way to the match".
The Football Match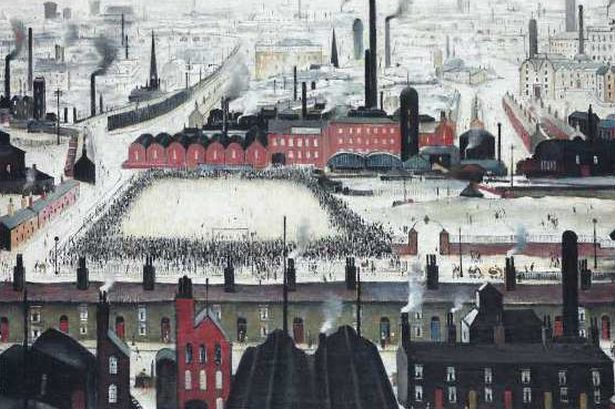 Lowry, though, was more of a Manchester City fan. When he was eleven, the Lowry family moved to Pine Grove, Longsight, just a stroll from Maine Road, and he'd be a regular at their Moss Side ground in the post-war period. He'd done a few pencil studies too and one painting which would set even higher records for a British work: The Football Match, a 28ins x 36ins oil painting, originally bought for just £250 by Cambridgeshire farmer Harry Walston in 1951, was recently auctioned by Christies for a cool 5.6 million.
 'The large format, panoramic, bird's-eye composite view of Lowry's own landscape perfectly captures the spirit and drama of a town gripped by the excitement of the Saturday football match.
'The empty streets peopled only with occasional women, prams and shoppers contrast the busy crowd watching the football match. The artist warmly captures a Northern town relaxing during a weekend, following a busy working week, which he depicted so often in his revered industrial scenes.' Rachel Hidderley, Christie's International Specialist
Manchester City vs Sheffield United.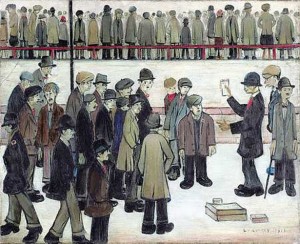 They say that Lowry was a betting man, and his Manchester City Vs Sheffield United is less a depiction of a football game and more the portrayal of the games gambling fraternity – full of Lowry's caricatures and atmosphere. The painting had originally been bought for 30 guineas (about £31.50) in 1945. (Click here for a cracking story about Lowry, a pot of tea and a missed opportunity). It was rare for any Lowry to depict any identifiable event, but this picture reflects a crowd scene at the second division fixture between City and Sheffield United which took place on 22nd October 1938 which City won 3-2.
A fourth football depiction (seen below) has been well reproduced in lithograph form. Originally a pencil sketch, The Football Match is dear to my own heart as it depicts the kind of match that I grew up with.
My father was a keen sportsman and was a part of the vast network of miners welfare and workingmen's club teams that dominated the Yorkshire West Riding Sunday leagues. My old mate Stephen Aspinall used to say that any football match is well worth watching, and he was so right.  I have just as fond memories of Brampton Miners Welfare vs Elsecar Main on Milton Forge as I have of QPR vs Barnsley in the FA Cup at at Loftus Road. This painting shows why. There's as much passion and energy on a rough park ground as there is on the manicured Premier League pitches. A good match is a good match.
L.S. Lowry is often depicted as lonely and isolated – but these paintings of football games shows that he was as involved and passionate about his games as anyone. There's nothing lonely about a football crowd, no matter what he said.
Meanwhile back at Griffin Park Brentford ran out three one victors and I walked out into the still-damp West London streets full of energy and happiness. Sure it was cold, and I was still miles from home and no cabs in sight, but the brisk game had given me renewed energy.
I had a warm bag of chips and some warmer memories of games past and present to savour. I'd just been back in time and experienced just what L.S. Lowry had. Roll on Saturday.
"Until Lowry painted his crowds, no other artist had recorded how people look and behave en masse. Each individual is on his/her own journey across the canvas yet leaning to form the crowd with its own collective identity. Once you have seen how Lowry saw us, you cannot ever see or be in a football crowd, nor watch kids playing, workers leaving the factory, queuing, or stopping to chat or hear the fairground barker, without saying, 'Lowry! It's just like a Lowry painting!' Going about our business or pleasure, we are all subjects of his vision." Sir Ian McKellen
I'll leave the last word to the Gallagher brothers, city fans of course. Look out for Going to the Match at 4:08.
Greg Fay and Ben Jones made the video in 2006 when the pair worked at production company Partizan.
ABOUT THE AUTHOR