Quick Asian Beef Stew Recipe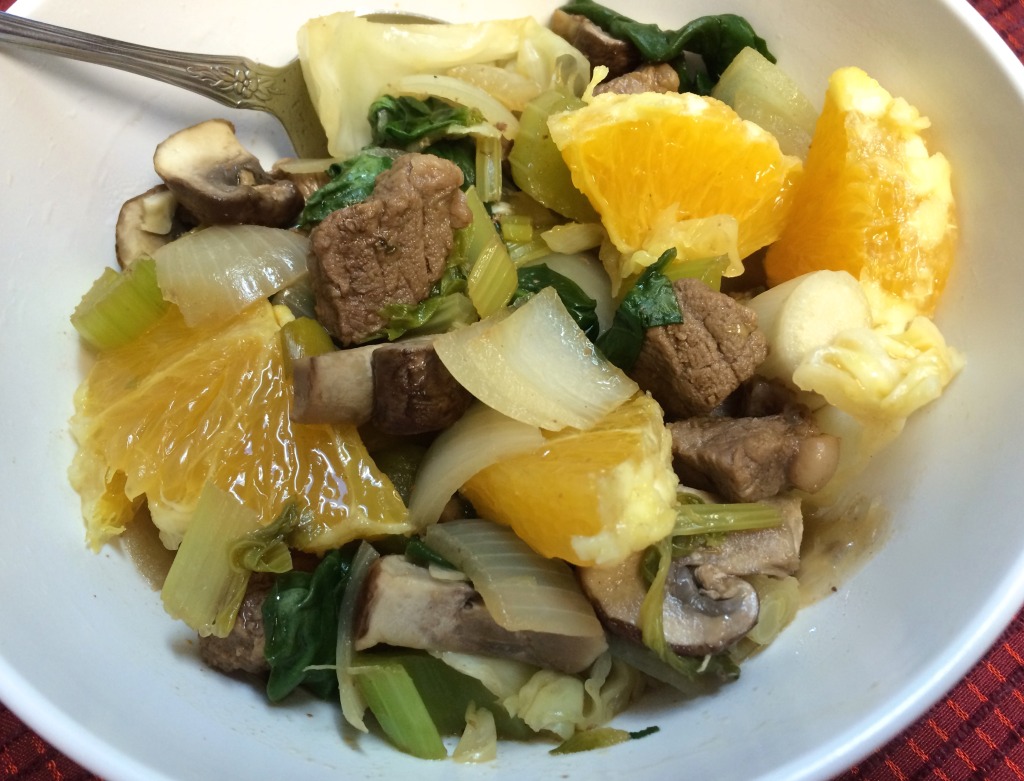 An Asian stew stirs my taste buds.  Doesn't that sound like an interesting twist to traditional beef stew?  Thoughts of soy sauce, teriyaki, hoisin or ponzu sauce, always inspire cravings.  They have a unique and wonderful flavor.  Of course, I had to try one.
Many of the recipes I found were for the slow cooker.  Normally that would sound perfect—toss the ingredients in and let it be.  This time I wanted crisp vegetables so I cooked mine in a large skillet.
Using the slow cooker
I can see if you are home while cooking, you could easily adapt it to the crock pot simply by adding the vegetables after several hours.  If you prefer to do that, I would let the meat, a portion of the onion, and the sauce simmer on low for 4 to 5 hours, then add the onion and mushrooms.  After an addition 2 hours add the cabbage.  Minutes before serving add the spinach.  When you serve still in the orange slices.  I'll try it that way next time, especially if using stew meat.  For this recipe I used a steak.
Serve it over rice if you like, but with all the vegetables it's delicious as it is.  It would be easy to prepare with chicken or shrimp if you prefer that to beef.  Any would taste marvelous with the orange juice and tangy Hoisin sauce.
It's so easy to put together. Don't let the number of ingredients scare you. As with any stew, you can use the veggies you have on hand.  Using steak instead of stew meat, it took less than 30 minutes to cook.

Rating 5 from 1 reviews
Prep time:
Cook time:
Total time: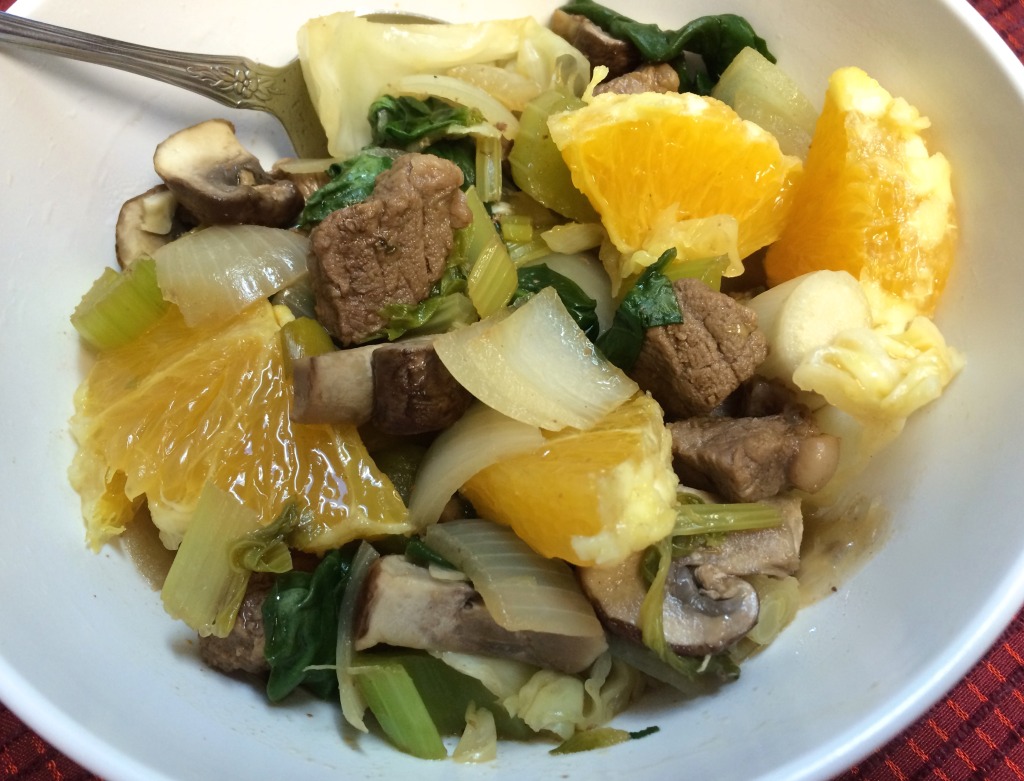 Ingredients
1 tablespoon olive oil
2 to 3 cloves of garlic, finely diced
1 teaspoon fresh ginger, fined chopped
1 teaspoon hot sauce
1½ cups beef broth
⅓ cup Hoisin sauce
½ cup orange juice
1 steak or 1 pound stew meat, cut into bite sized pieces
1 onion, cut in chunks
2 stalks celery, sliced
4 mushrooms, chopped in chunks
3 cups spinach
1 - 2 cups cabbage or bok choy
Instructions
Prep vegetables, then set aside.
Combine broth, Hoisin sauce, orange juice, hot sauce, and chopped ginger.
Stir it thoroughly then set aside.
In a large skillet, heat 1 tablespoon oil.
Saute the garlic for 1 minute then add the meat until brown.
Turn heat down to simmer, then pour in ½ of the sauce.
If using stew meat, simmer for 20 to 30 minutes or until near tender.
Add onion, celery, and mushrooms, and saute on medium heat until starting to soften.
Pour in the remaining sauce and the cabbage, simmering 4 to 5 minutes.
Gently stir in spinach just until wilted.
Serve, stirring in orange slices as you do.
The Asian Grandmother's Cookbook
Since I love trying my Mom's old recipes, I think this is a near perfect cookbook selection!  Enjoy the tradition along with the recipes.
---
ABOUT THE AUTHOR