Designer Book Bindings.
Let me introduce you to the wonderful world of bespoke or designer book binding.
These are bindings commissioned and made for a particular book and are fusions of craft and creativity.
The finished works are often beautiful – often exquisitely so – and highly collectable items.
In a world of standardised mass production, they stand out for their uniqueness and individuality; there will be only one copy of the binding – yours.
Images: I have taken all the photographs in this article from books or catalogues in my own collection. The book shown in this introduction is a designer binding for 'Selected Poems by Samuel Coleridge Taylor' by the Japanese bookbinder, Yuko Matsuno.
Creative Fusion
(Above: a designer binding of 'Hamlet', depicting Ophelia's drowning, by bookbinder, Yuko Matsuno).
Designer book bindings are a creative fusion of bookbinding craft and art. The bookbinders who produce this beautiful work are also likely to be engage in a range of craft binding and paper conservation tasks. This can be standard 'bread 'n butter' repair or restoration work on old books, as well as commission binding for private press publishers, plus a host of other work.
However, design binding is very special for them, as it gives an opportunity for creativity and inventiveness. The bindings and design behind them are unique and usually commissioned by book collectors with a love for a particular book in their collection – to the extent that they desire it to be bound in a special and very individual way. It is then, a commissioned 'labour of love' for the craft worker on behalf of the collector.
The book concerned may be a standard trade edition – one of thousands produced by a publisher – but is more likely to be an unbound copy produced by a fine or private press publisher. These fine press books are usually produced in very limited numbers – and a design binding makes it very special, and highly collectable.
The materials used by the binder vary, but typically would include leather, wood, marbled and other decorated papers or board. However, a commission can give considerable opportunity to a binder to experiment with materials and ideas.
These commissions can be expensive, and a designer binding – in full leather by a reputable binder – can cost the book collector £1000+ . But the book collector is paying for the binder's creativity, craft skill, and time – and these books take days, weeks sometimes, to produce. But they rarely decline in value – quite the opposite – and make wonderful gifts or family heirlooms.
Designer Bindings: examples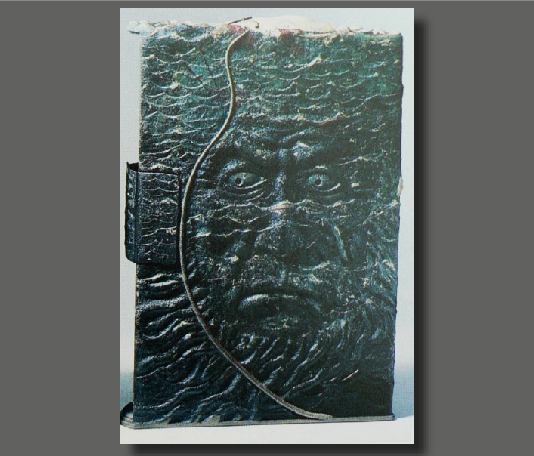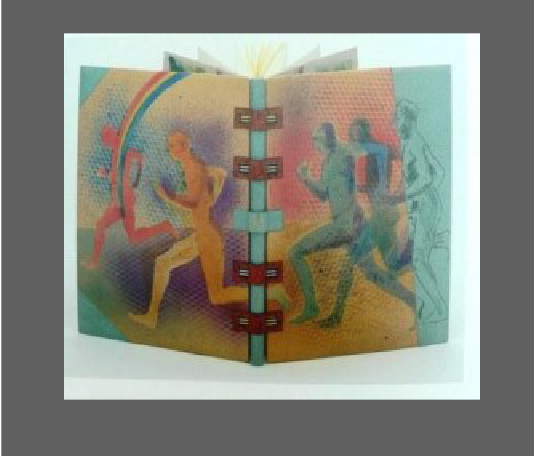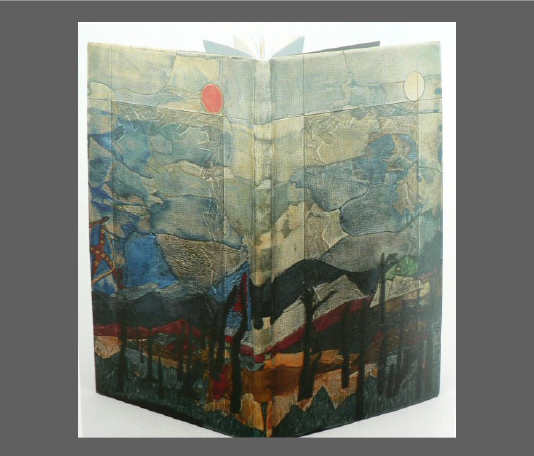 Inspiration
The creative inspiration for the designer bookbinder is the book itself.
To demonstrate this point, let me take book illustrated opposite, and below.
The book, which is part of my own collection, is 'London – Twenty Poems', written originally by the British poet, Ivor Gurney (1890-1937). These were re-published in limited numbers by The Tern Press, UK, in 2006.
Gurney's poems capture the essence of early 20th century London, and the black and white photographs that accompany the poems reflect the past, and in particular the changing moods of the capital city at that time.
The bookbinder, Stephen Conway, gained inspiration from both the poems and the way they were presented in the book – and most designer binders work in this way. Sometimes they will pick a particular literary or illustrative symbol from the book and use this as a leading motif for their design.
In this case, Stephen used vellum panels with images and lettering underneath, to present the title, 'London', across the front and rear boards (see photo below). The overall effect is a counterpoint to the black and white images in the book. Red leather strips separate each panel and frame them within the fore edges of the book. Like all designer bookbinders, Stephen has signed and dated his work on one of the end papers. The book is contained in a red solander case, shown in the photograph opposite.
Designer binders, like Stephen, aim to produce a finished work that is both visually attractive, holistic in its relationship to the subject matter, and also extremely tactile. I love handling this book.
I like the feel of the leather, the smell of the vellum, as well as the overall look of it. I also admire Ivor Gurney's poetry, so the combination of limited edition book, fine poetry, creative design, and beautiful craftsmanship was irresistible to me. I am a book seller, but I will be in no hurry to sell this item; I will enjoy its company for an extended period until it passes to a good and appreciative final home.
Not all binders, however, are guided by the contents or subject matter of a book. Some might focus, for example, on the book title alone to guide the design. The finished work may bear no relation to the contents, or the overall subject matter of the text, but will, nevertheless, make a strong visual external impact or statement about the designer's work.
To encourage innovation and creativity in bookbinding, the UK based Designer Bookbinders, a professional Society for the trade organises competitions, both international and for British binders (see link below). The International Competition is organised in association with the Bodleian Library, Oxford, and attracts entries from across the world. The Society has affiliate links to other related organisations around the world, so will also help you find a designer bookbinder in your home country.
The Folio Society is the main sponsor of the UK based competition and over the years has given the opportunity to binders to gain wider recognition for their work and to become Fellows of the Society. The competition element also encourages binders to push at the boundaries of their craft by experimenting with new materials and creative approaches to presenting books in visually attractive and challenging ways.
'London – Twenty Poems'. Binding by Stephen Conway
A Brief History of Bookbinding
In a way, it can be argued that designer bookbinding is an example of a craft coming full circle.
Before the advent of the printing press, the bindings for books were individually made, as were the individual pages, each written and decorated painstakingly by hand. From the fifth century onward, books produced in the West were protected by hard covers made of leather-covered wooden boards, often secured in a closed position with straps or clasps. One of the earliest surviving examples of early binding in a form we would recognise today is the St. Cuthbert Gospel (circa AD 700), which is bound in red goatskin.
Bibles for use in the grander churches and cathedrals were often decorated with gold leaf and studded with precious stones, ivory, and other rare elements, but many did not survive the plunder of later Reformist times.
With the arrival of printed books, and economy of scale production, the books produced were still assembled by hand, but there was an increasing standardisation of the bindings used and overall look of the books to serve a wider market, but at at a more accessible price.
In the 19th century, there was a revival of interest in more individual and limited edition bindings to serve a more affluent and art-conscious middle class in the West. This was as a counter to the generally poor production qualities of mass produced texts at that time, aligned with a desire by book collectors for individually bound items. The Kelmscott Press, for example, founded by William Morris in 1891, produced 53 books, each influenced by medieval craftsmanship, in terms of exterior binding, typography, illustrations, and their overall aesthetic appearance.
Find Out More
Designer Bookbinders will put you in touch with a bookbinder in your area
Beautiful Bindings
A copy of Andrew Marvell's 'The Garden and Other Poems' is illustrated here, with designer binding by the US binder, Timothy Ely, of Portland. Details: Embossed black goatskin spine, with wooden (birch) boards covered with grey-green acrylic resin, wax, and red metallic foil. Garden soil and insects are also incorporated into the binding.
---