Suggestion 1: If You Lose a Pet, Don't Get Another Right Away.
Our family loves dogs. My husband and I got our first puppy, a tiny poodle, while we were traveling on our honeymoon. From that time on we were not without one, and had up to four, dogs. Until Buster died suddenly one day. It still hurts to say that.
Buster (yes that's his sweet face in the picture) was the first dog we had ever adopted from a shelter. At five years, he was also the first adult dog. His story is for an another day, but let's just say we met at exactly the right time.
Several months before, our first Australian shepherd mix had died at the age of ten. He was a sweet, extremely loyal soul that we missed so much. Our remaining dog, a beautiful and sweet Golden Retriever, had grown up with him since pups, and she missed him too. We'd gone from four dogs, down to one. We weren't sure if we wanted to get another dog or a puppy or what kind of dog we would want. I leaned toward getting another Aussie. Once you've had one and experienced their loyalty, it's very tempting to get another. Of course I feel that way about Goldens too, and poodles and dachshunds. They are wonderful animals with such different characteristics. I'd like one of each, please, or maybe two.
Our local newspaper published a Pet Adoption article once a week. Every week I would look at the section, checking out the pets they highlighted for adoption, reading their stories. Though each touched my heart, I wasn't drawn to any of them. By this time we were considering an adult dog, more suitable to our lifestyle at the time. Neither of us had time or the energy to train a puppy then.
It was three months before I saw a photo of an Aussie mix named Buster featured in the paper. Once I saw his photo I couldn't get him out of my mind. I cut out the article and it floated around the counter for awhile. It took a few weeks for my husband to suggest we go take a look at him. When we did, he was ours. We had waited, given it some time. We adopted just the dog for us.
Suggestion 2: Do what I say, not what I did.
It Was Way Too Lonesome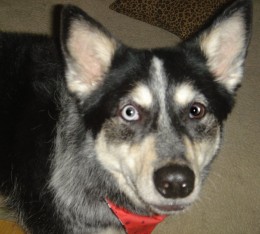 Fast forward through five joy filled years. The day buster died I had taken him to the vet. He wasn't feeling well, but I assumed he had probably swallowed too big a bite of his rawhide chew. It turned out he had a tumor around his heart. He died while we were there. Thankfully I was beside him.
Again, not the point of this particular story. Sorry. To sum it up, I didn't even want to be in my home anymore and certainly not in the big backyard where we had such fun playing. Both seemed completely empty. Seeing how upset I was, my husband asked me if I would like to go to the shelter the very next day.
Now you and I both know you can't 'replace' a dog, especially one like Buster. I didn't want to do that. Nevertheless, I did think bringing home another dog would help lift our spirits. And having a furry coat to snuggle and pet would bring comfort to us and the dog we chose. Plus we would be rescuing a dog. So all good, right? Uh…maybe not.
Suggestion 3: Why Not Get 2 Instead of 1?
Not sure you can trust me anymore?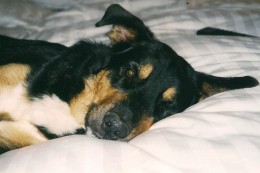 Off we went to the shelter. We knew we wanted another older dog, already spayed or neutered.A couple of hours later we left with papers showing ownership of two young female dogs, one age two, the other three, both of which had to stay in the shelter to be spayed!
Hello? Did we forget what we were looking for? We ended up picking out one because she was part Aussie and the other because she was a tri color, similar to Buster. Did I just say we knew we couldn't replace Buster? Well, apparently we tried. We couldn't even take them home for two days. When we did, the poor girls hopped into my Jeep with cones on their heads. An auspicious beginning.
Don't think this is a sad tale. We fell in love with both girls. You couldn't help it. One had been turned in to the shelter because her owner couldn't have dogs in a new apartment. The Aussie had been found wandering the streets. We were so glad to give them a permanent home. The tri-colored mix turned out to be a mellow girl. She would go with the flow, whether it was to play, nap, walk, whatever.
Not so much the Aussie. Once she stopped cringing when we would bend to pet her (who knows what she'd been through), she got her game on and didn't stop. She demonstrated the reason people say Aussies need special handling. This girl needed a herd of sheep! She was adorable, very loving (and licking) and extremely needy.
If you have room and can handle them though, I still think it's great to have two dogs. They provide each other with good company when you're gone, and have the best time playing together, assuming they aren't too far apart in age or temperament.
Suggestion 4: Pick an Age that Fits Your Lifestyle
For the dog and for yourselves
At that time in our lives, my husband had emphysema. Their enthusiasm got to be a little overwhelming at times. It would have been better if we had stuck to an older, slower dog. Had we waited, we would have selected one and the Aussie might have found some sheep to herd.
I don't think we could ever have an unhappy ending when it comes to dogs. We love them. They love us. They are all pretty darn cute. In our case, we did live happily ever after (most of the time). They settled in and settled down. The two of them provided a lot of fun and excitement to our lives during the ten plus years they were part of our family.
Still, we rushed it. We should never have gone the next day to get a dog. By going the next day, we did end up looking for a dog like Buster. We got younger and much more energetic dogs than we could keep up with at that time in our lives, and we knew better. Basically we forgot all the things we were looking for trying to replace the irreplaceable.
The saying 'good things come to those who wait,' has been around a long time for sound reason. If you give yourself time, you will know when–and which–dog is meant for you. Wait.
Funny Memories of Mischievous Pups
Finding the corner of the bed frame gnawed. (Isn't two a little old to be teething?)
When she tore my duvet cover as she pulled all the bedding off the bed onto the floor. (She had her own bed! Why attack mine?)
When she moved the 8×10 rug in the family room into the hallway. (It didn't look especially good there either, all scrunched up.)
Looking up when I saw a flash to see both running across the backyard playing tug of war with with the garden screening between them (Alas, the tomatoes weren't doing that well anyway.)
Watching as they would sit under the avocado tree waiting for one to drop, the shepherd to eat it, the aussie to bury it (and they weren't even ripe), the mini dachshund to run away from both with it.
Suggestion 5: Make Them Comfortable and Warm
Dogs love to circle and curl up, don't they?  A style like this one has been a favorite in our household.  Soft and squishy with sides. This bed is so cute and comes in different colors to fit anywhere.  One of ours loves to have her back against an edge.  For security perhaps?  The other likes to use the edge as a pillow.
Favorite Toy for Our Dogs
A favorite toy that takes a little thought on the pet's part. Our dogs loved it. See if your dog will pull the three squirrels out of the tree trunk. Then stuff them back in!
Train on Pee Pads
These pee pads are handy for training and for emergencies. Once your dog is trained to use them, you can leave one down if you have to leave your pet for an extended time. Also great for hotel rooms if you are traveling. They'll know it's their spot.
ABOUT THE AUTHOR