Theodore Hook, Berners Street and the Sanderson Hotel.
For two hundred years the Berners Street Hoax has been thought of as one of the most bizarre – and certainly chaotic -practical jokes in history.
If you've ever seen the Marx Brothers film, A Night at the Opera, this event is said to have been the inspiration for one of the funniest scenes.
Theodore Hook, the man you see on the right,was the person responsible. He wasn author but he was also well-known for his practical jokes and hoaxes.
In 1809 he was walking down Berners Street in London along with another author – a man named Sam Beazeley.
Hook pointed out a rather nondescript house – it was number 54 – and wagered with his friend that he could make it the most famous house in London. Sam accepted the bet.
Theodore Hook then found out that the house belonged to an elderly widow, named Mrs Tottington.  Using her name and address, he sat down to write hundreds of letters. He requested that the recipients provided their goods and services to number 54 on a certain date.
Sure enough, when that date arrived no less that a dozen chimney sweeps turned up to tell an astonished Mrs Tottingham that they were there at her request to sweep her chimneys.  Needless to say, there was an element of chaos when the good lady informed them that she had not requested their services.
Just as they were hunting through their pockets looking for 'her' letters, a wagon pulled up full of coal to deliver to the house. Again, Mrs Tottingham told the coal merchant that she had ordered no such thing. Another horse drawn wagon turned up, full of furniture. Next to arrive was a hearse with attendant carriages for the mourners. Then, there were two doctors, a dentist and a midwife. They all arrived in separate carriages.
By now, Berners Street was a mass of horse drawn wagons and carriages, their impatient horses stamping their feet in the melée.
But the chaos was just beginning. Next to arrive was a brewer's dray with casks of beer, a wagon carrying an huge pipe organ and a whole farm cart full of potatoes. Confectioners and bakers arrived with their goods as did wig makers, butchers,opticians, repairmen and labourers.
Then there was a steady stream of nursemaids, footmen,  housemaids, cooks and butlers all hoping to secure the positions about which they had received letters. But don't think that Hook had left it at that. The lord mayor arrives, supposedly to hear from a dying resident who had death bed revelations to tell. A member of the cabinet and the Archbishop of Canterbury appeared having been given similar stories. Because of a letter about a dying soldier, even the Duke of York – the commander in chief of the army – hurried to number 54.
By this time, Berners Street was in a complete state of chaos. Horses reared, wagon wheels locked together, fights broke out and the police were unable to restore peace and calm.  Hook andhisfriendSam were enjoying the spectacle from the safety of a room they had rented in a boarding house across the street. It was only when night fell that Berners Street started to empty of its mad invasion.
I really want to try this 🙂
Hook left London for the countryside to lie low after his escapade. Although he was well known as a hoaxer extraordinaire and people strongly suspected he was behind the prank, he was never prosecuted. Although before his death in 1841 he confessed all.
The Sanderson Hotel
The house no longer exists. But in its place at 54 Berners Street is the modern Sanderson Hotel. I want to go there. No doubt mindful of the history of the plot of land, the owners have created a modern and whimsical place. See below the screenshot from their website – a table set for afternoon tea. Theodore Hook would have loved it.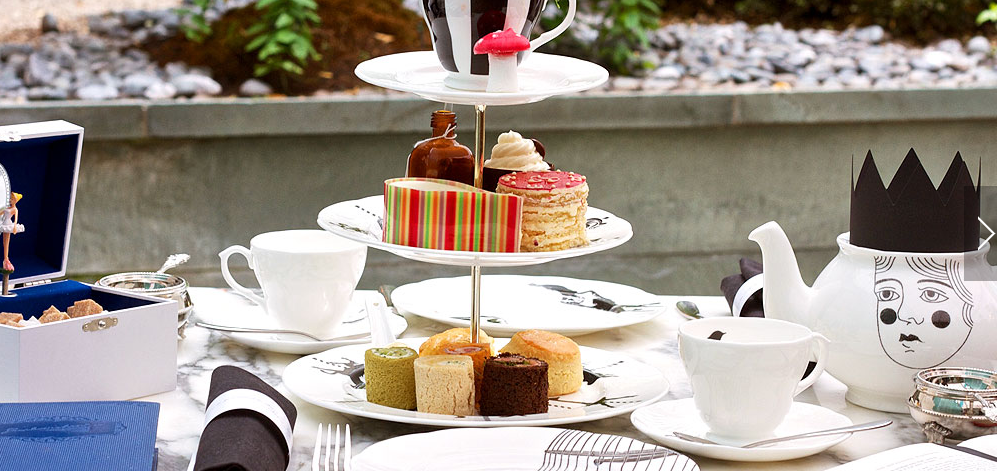 ABOUT THE AUTHOR