Big Bat Halloween Decoration.
Plastic canvas is a medium of a grid with holes similar to open weave needlepoint canvas. It's firmer plastic that you work with yarn to make designs in the canvas or objects cut out such as this bat.
I had gotten a lot of plastic canvas at the second hand store in 2011. People start projects or buy supplies and then give them to the second hand stores or the owners buy things at garage sales and place in their  stores.
I had not worked with colored plastic canvas before so it was a challenge.
A lot of projects call for colored plastic canvas so you do not have to work all of the canvas and the colored canvas shows through.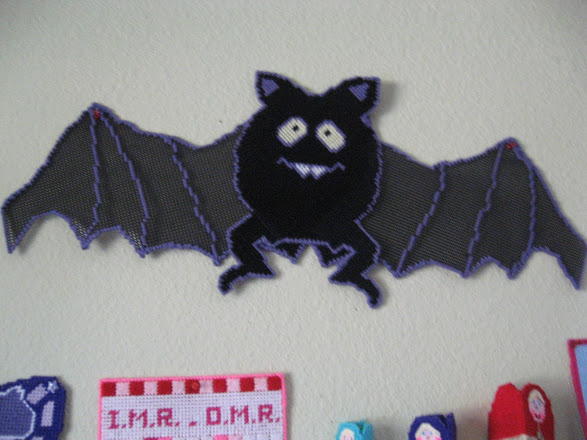 Fortunately, I had this bat I wanted to make! I got the pattern from online for free. These patterns were online at one time ages ago and I do not have the link where I originally got them for free.
You use 3 pieces of black standard size plastic canvas which is 10.5 inches X 13.5 inches [26.7 cm x 34.3 cm] size 7 or 7 holes per inch.
The pattern has you work all the canvas. It seemed overwhelming for me. I started with the body and I had a difficult time because of my vision loss trying to sew BLACK yarn around BLACK plastic canvas! I could barely see what I was doing! So that is why I only worked the purple yarn on his wings and did not fill in all the black.
It was hard to attach the wings and feet to the body. The head is attached to the body when you cut out the pattern. The layers of plastic around the wings and feet made it difficult to get the needle through as the canvas was not all square on those areas and you are going through 3 layers of plastic canvas. The feet and some of the wings are cut out on the diagonal. I did have to use the pliers this time to pull the needle though some of the squares that were slanted and three layers of plastic canvas.
I love the face on this bat! My second to the oldest daughter and boys love Halloween so this Big Bat was for them.
The Big Bat measures about 24 inches from wing to wing, and about 11 inches tall from the ear to foot. I always cut the patterns and work them a bit different from the instructions mostly because of my visual impairment and also because I like to change things up so my finished products are not carbon copies!
There is a little box that you can make that you add a sound chip or a bell. I did not make this part in my finished project.
Patterns found at Pinterest and saved to my Halloween and Minions board here.
There are several kits online under the name of Bouncy Bat see photo below:
This pattern is available for $3.99US through "Everything Plastic Canvas"
---
ABOUT THE AUTHOR