Who was Charles Blondin?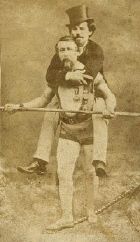 During Victorian times, tightrope walkers – or high wire performers as we would probably call them today – were often referred to by the generic name 'blondin'. This was thanks to Frenchman Charles Blondin.
Blondin was without doubt the most skillful and daring tightrope performer in the world at that time. His name became synonymous with the craft.
Victorian society craved sensation.  They were living in a sensational time – there were so many scientific advances and wonderful new inventions. And yet they also craved the supernatural – spiritualism, fairies, ghosts – so saw performers like Blondin as possessing almost superhuman powers.
As a society that enjoyed freak shows and the like, they also had a grim fascination for acts that could end in tragedy.
I don't know about you but when I watch performers in the air doing dangerous stunts, my heart is usually in my mouth with anticipation and an element of fear even when I know that the performers have safety devices and, in some cases, even I'm watching them on pre-recorded TV shows! But the Victorians knew that their performers were in genuine danger. That made all the difference. There were reports of members of the audience fainting during his 'death-defying' acts.
He first came to the attention of the world when he walked the Niagara Falls. Not only this, he took a small stove onto the wire one day, cooked an omelet, and lowered it to the passengers of the Niagara boat The Maid of the Mist below. His first Niagara walk was in June, 1859. After that, he did the walk dressed in a money suit, in the dark (with fireworks being set off), playing drum, on stilts … but it's the one you see in the image above that was really scary where he is carrying Henry Colcord.
Who was Henry Colcord?
Henry was Blondin's manager. And yes, Blondin walked the Niagara Falls with Henry on his back. Henry was taller and heavier than his client and he was given hardly any notice of what Blondin intended to do.
It was only  when they were about hundred yards out on the highwire that Blondin let Henry know that he (Henry) would have to have to dismount  few times to give him(Blondin) a rest.  Can you imagine that?
Imagine, you are on another person's back with the waters of the falls roaring below you. You are on a swaying rope with no safety equipment. You have to climb off the acrobat's back and stand – having had no previous experience of high wire walking – on the narrow wire without distracting the performer…this is what he said:
… holding onto the man in front of you clad in slippery tights when the least false move  or loss of presence of mind of either might plunge you both into eternity,and then climbing again upon his back – and this had to be repeated seven times!
I shall probably have a nightmare about that tonight 🙂
---
FURTHER READING
---
 ABOUT THE AUTHOR