Dr Buck Ruxton. Murderer.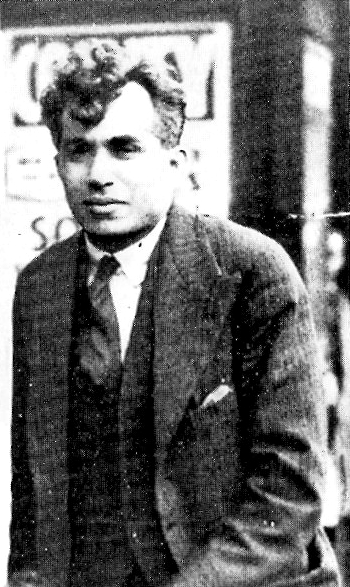 When we were kids, we used to sing a daft little song about Dr Buck Ruxton. We had no idea what it was about really. It was only later that I discovered that Ruxton was actually a murderer whose case had caused a sensation in England in the nineteen thirties.
Ruxton was born in India and given the somewhat elaborate name of Buktyar Rustomji Ratanji Hakim. He studied medicine in India and then went to England,setting himself up as doctor in Lancashire.
He soon found himself in a relationship with a woman, Belle Kerr, and they set up home together and had three children. (Despite the fact that she is often referred to as his wife, they were never legally married).
Belle was a lively girl who liked to entertain and rightly or wrongly, we'll probably never know, Buck was convinced that she was unfaithful to him. At his trial, a police constable described how Ruxton had been to the police station in an agitated manner and told the constable that he had listened in to phone conversations between Belle and her lover.
Robert Edmondson, a solicitor's clerk, was called to give evidence as he was supposed to be the man she was speaking to on the phone. He denied any emotional involvement with Belle.
The court heard that Ruxton had strangled his wife in a fit of jealousy. The maid, Mary Jane Rogerson, had then caught him in the act of dismembering the body so Ruxton had beaten her to death. The chief prosecutor, who incidentally was named J Jackson, told the court that modern science had identified the bodies. Ruxton believed that by cutting up Belle's body and removing Mary's teeth, he was destroying any means of identification.
He was wrong.
The remains were found scattered mainly in a ravine but there were still enough identifying marks to make sure that the police were able to know who they were.
Dr Buck Ruxton was hanged on May 12th, 1936.

After his death it was reported that a friend came forward with a letter. He explained that he had visited Ruxton in jail and this is when the sealed envelope had been passed to him. Ruxton told the man that if he was acquitted, which he fully expected, then the letter should be returned to him. If not, it should be opened.
The reports say that it was clearly in Ruxton's handwriting and said:
I killed Mrs Ruxton in a fit of temper because I thought she had been with a man. I was mad at the time. Mary Rogerson was present at the time and I had to kill her.
B. Ruxton
10th October, 19
The song we used to sing?
It went like this, to the tune of Red Sails in the Sunset:
Bloodstains on the carpet
Bloodstains on the knife
Old Dr Buck Ruxton
Has murdered his wife

In came little Mary
And said that she would tell
So Dr Buck Ruxton,
He cut her up as well

Swift wings you must borrow
Fly straight to the coast
For if the cops catch you
You'll soon be a ghost

So Dr Buck Ruxton
He fled to the shore
But the cops caught him
And he ain't no more.
---
 ABOUT THE AUTHOR