Some people will never be comfortable talking about death and dying, as this book clearly shows.  Yet when you are dealing with it year after year, it seems to get easier, if not almost normal.  Maybe it is generational as well.  In many areas our parents kept feelings to themselves that are commonly shared now.
The title, Can't We Talk About Something More Pleasant?, suits this sweet book, though it surely covers far more than that.  Roz Chast had an uneasy relationship with her mother, one she wished much of the time could be improved.  Bless her heart, she tried.  Yet a relationship can often become more difficult as one ages, especially when it includes dementia.
Rose writes of her frustrations, her concerns, also giving a very honest description of life within the walls of dementia.  The repetition, the paranoia, the 'lack of' that often accompanies the disease.  I loved the quirkiness she included about her mom, especially some of her dreams.  You have to learn to laugh about it.  Not only are some of the things they do or say too cute to resist, laughter softens the continuous loss and lightens the load.  Roz Chast includes both very well.
I would recommend this book to anyone with aging parents, with or without dementia.   It shows you are not alone in whatever is happening with your parents as they age.  It helps you realize the good, the bad, the funny, the serious and the tragic, are all a part of it.
To be honest, it is not a book I could simply sit down and read.  It is more a book you pick up, some days wondering it you can deal with it right then.  If so, you can open it to any page and read through the cartoon drawings that are within. It is also a book you can take a long time to read and re-read as you go through a similar journey.
New Yorker Magazine Cartoonist
The entire book appears handwritten, making it even more real as you page through.  A cartoonist for the New Yorker Magazine, Roz brings that talent to the book.  Honestly, cartoon images often suit what you find with aging.  Uncertain whether you should laugh or cry, plenty frustrating but also deep down amusing, all done with, and through, love.
What struck me was the balance the author found through the journey.  Guilt can be so intertwined when it comes to caring for our parents.  All the 'stuff' from the past and the present closes in on us now and then. She hires someone to help with her mother's personal care. then feels guilty that she can't do it herself.  Have you been there?  It's a very hard, personal thing to do.   She faces the fears involved with finances.  Nursing care is quite costly.  She feels her mother's occasional paranoia, her reliving the past, the acting out that can come with it.  She cries, she rants, she laughs, and she cries some more. She sometimes wishes it were over.
It's a moving book about a trying relationship and time.  So much of it resonates with me.  The bankbooks for one.  It must be a guy thing.  Just as her father would talk over and over about bank books, whether closed or open, my father would always be  discussing finances.  Not exactly current though.  He couldn't remember how or when he bought the home he was in.  Since it was an assisted living facility, it was no wonder.  He was very concerned about details for things that no longer existed.
Similarly, when Roz's mother was hospitalized, her father had forgotten all about it in the morning.  I still clearly remember when that happened to us.  Mom and I spent most of one night with Dad when he was hospitalized. After getting home and napping, Mom was in the kitchen making lunch for when the guys got back.  It was  jarring to realize she remembered none of it.
Trauma like that can often cause dramatic deterioration for one with dementia.  Or perhaps it just brings our view of their condition into stark clarity.
Over and over there were similar situations our family has faced.  Even with years behind us now, it still softens the memories to know others have faced similar circumstances.  And with dementia, and probably aging itself, there are so many things to face.
I hope you will get a copy of the book.  If you know someone coping with aging parents, it would make a well received gift (in most cases) too.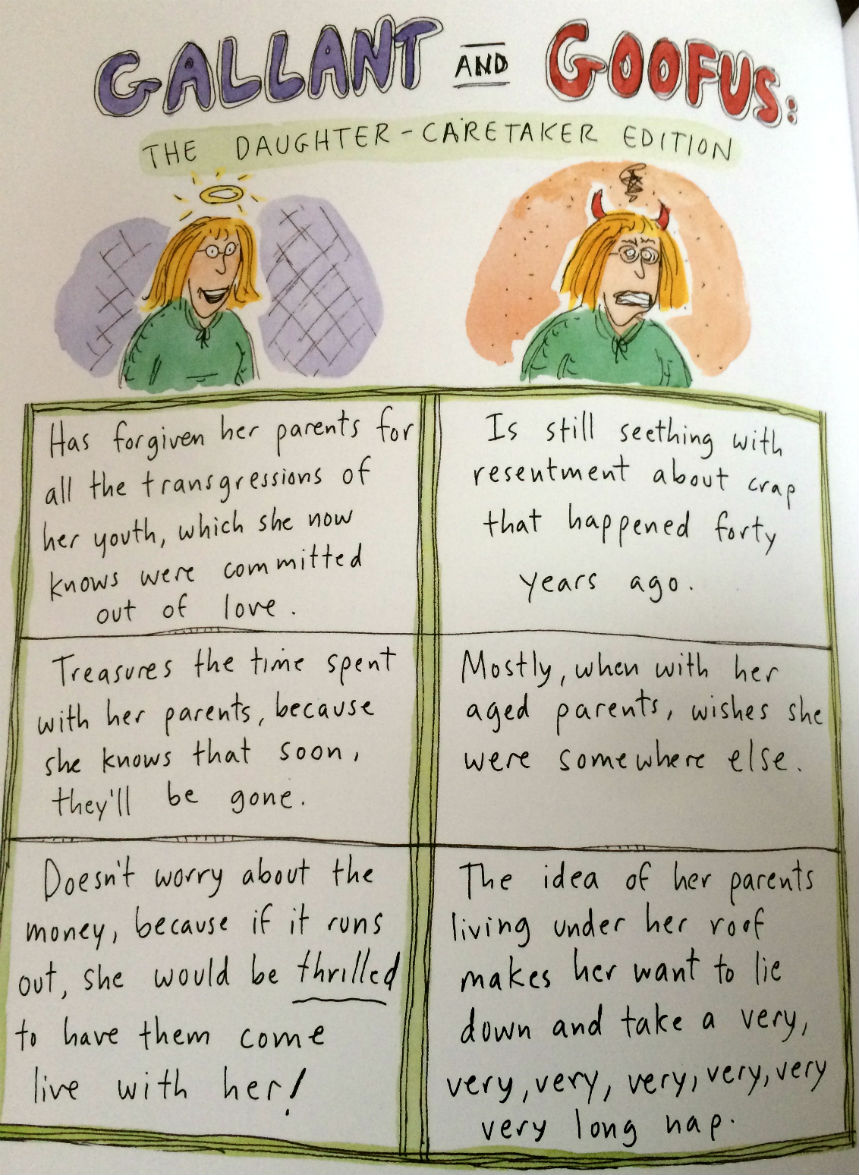 ABOUT THE AUTHOR