On the 25th October 1854, during the Crimean War, a brigade of British officers and cavalrymen, commanded by the Earl of Cardigan, rode into a Balaclava valley, seemingly to reclaim artillery cannon captured by their Russian enemies. However, because of a miscommunication, they rode into the wrong valley – and into slaughtering cannon and musket fire on three sides.
Of the five regiments involved, making a total of 670 officers and enlisted men, 118 were killed, 127 wounded, and 60 taken prisoner. Over half the horses in the charge were killed then, or later destroyed.
It was a military blunder, although the undoubted bravery of the men was immortalized six weeks later in Alfred Lord Tennyson's epic poem, 'The Charge of the Light Brigade'.
On the 25th anniversary of the charge, 'The Strand Magazine' published the account of the charge by Private James Lamb of the 13th Hussars, who was in the foremost squadron.
"I was riding close to Captain Nolan when he was mortally wounded by one of the first shots from the enemy's guns. The gallant captain stuck to his saddle, and his horse galloped shoulder to shoulder with us down the valley. The next discharge from the Russian cannon tore wide gaps through our ranks and many a trooper fell to rise no more."
"We still kept on down the valley at a gallop and a cross-fire from a Russian battery on our right opened a deadly fusillade upon us with canister and grape, causing great havoc among our horses and men, and mowing them down in heaps. I myself was struck down and rendered insensible."
"When I recovered consciousness, the smoke was so thick that I was not able to see where I was, nor had I the faintest idea what had become of the Brigade. When at last I made out my position, I found I was among numbers of dead and wounded comrades. The scene I shall never forget. Scores of troopers and their horses were lying dead and dying all around me, and many men severely wounded were unable to extricate themselves from their dead horses."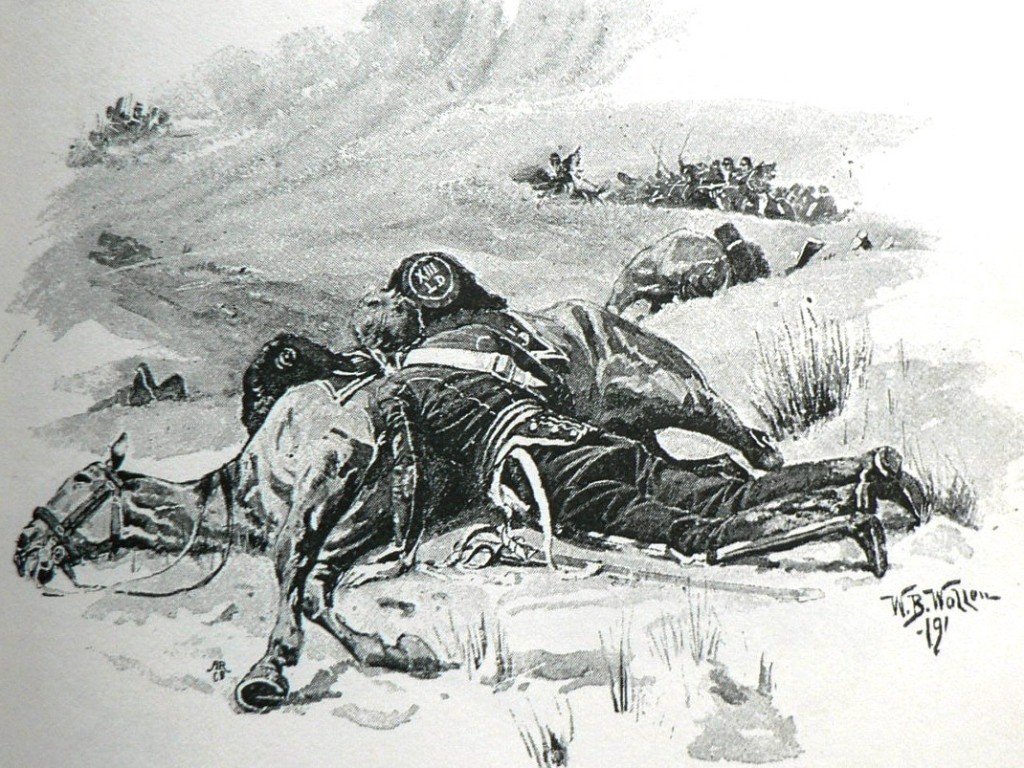 Lamb's horse was killed and he, although badly wounded in a leg, made an effort to stagger back toward the British lines. However, he spotted two companies of Russian riflemen getting in position to fire on him and his wounded colleagues.
"I laid down close to my dead horse … not a moment too soon, as I had scarcely sheltered myself before the bullets came whizzing around me and literally riddled the dead body of my horse and its saddle."
Fortunately, the Russian riflemen were diverted by an attack of allied French Dragoons attempting to divert the Russian fire and Lamb was able to move back toward the British position again. On the way back he stopped to help two other troopers who were assisting a badly wounded British officer.
" I afterwards heard that this officer died the next morning after having had one of his legs amputated … our two regimental doctors had their hands full that day. They were very busy taking off a leg or an arm here, extracting bullets there."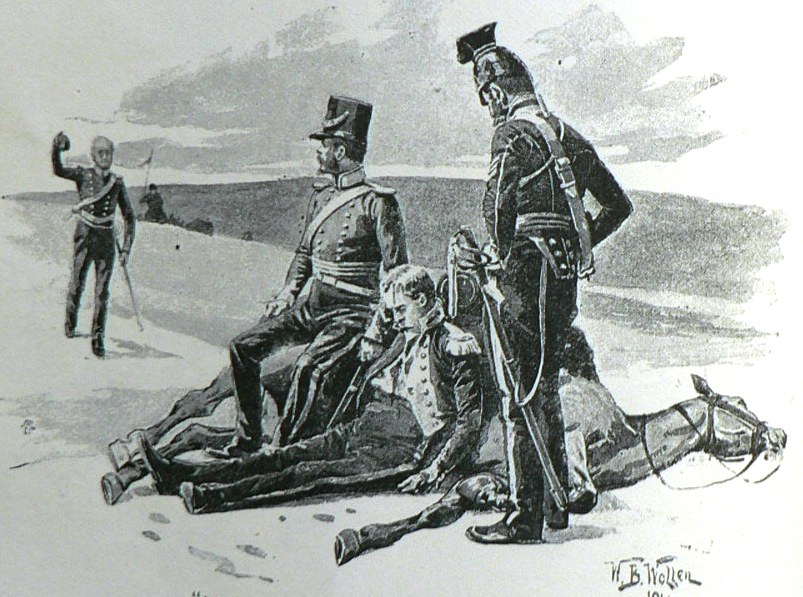 Of the 112 men in Lamb's 13th Hussars regiment, fewer than half survived, and three-quarters of all their horses were killed.
Despite his severe leg wound, Lamb continued in the British Army on light duties, but was discharged in 1873 with a pension of just over a shilling a day.
Lamb struggled to make a living when he left the army. In 1902 a military pension board reviewing his pension, was told that, in addition to his pension, his only other income was just three shillings a week for working odd jobs. In 1911 he died, aged 82, and was buried with military honours – but in an unmarked common grave in Streatham Cemetery, South London.