Cheese and onion pasties recipe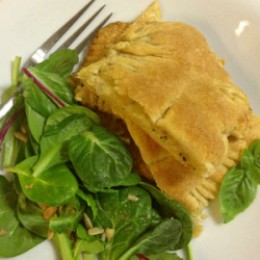 We used to buy frozen cheese and onion pasties from a local store – until I realised just how expensive they were and how easy they are to make at home.
I don't make pastry from scratch very often these days (when I do, this is a great recipe) and for this recipe I use ready-to bake croissant dough – it seems to be tastier that the commercial pastries you can buy. We don't eat meat so have these delicious little parcels as a main meal, served with a simple salad but they are ideal as an appetizer or even just a snack.
The tubes of dough have a long life if they're kept in the fridge and with a couple of onions and a chunk of cheese, I can make dinner quickly and easily. Oh, and inexpensively too.
Use the oven temperature and cooking time that the dough manufacturers recommend on the packaging. For the kind I use, cooking time is only about twelve minutes.
Ingredients
1 tube ready-to-bake crescent dough
6 oz. strong hard cheese, grated
2 medium-sized onions, peeled and chopped
Olive oil
Black pepper to taste
Instructions
Preheat your oven to the temperature on the dough packaging
Put a frying pan on the stove and heat the oil.
Saute the onions until they are transparent.
Roll out the dough on a floured board. Separate into squares.
On one diagonal half of each square, add shredded cheese.
Add softened onions on top.
Grate fresh black pepper over.
Fold the each dough square diagonally so that parcels are formed.
Lightly flour a baking tin, add the parcels and bake until golden.

Enjoy!
---
ABOUT THE AUTHOR