Chickpea Stew Recipe.
This is a lovely recipe that is ideal for a family meal – or to serve to a crowd; just adjust the ingredients accordingly. It takes a while to cook but needs little attention.
It's my interpretation of a recipe from my favourite cookbook. If I forget to soak the chickpeas beforehand, I use the canned variety but it's an amazingly value-for-money, satisfying meal. Serve with a salad and crusty bread – delicious.
The original recipe calls for fresh parsley but I find that a mix of parsley and gorgeous fresh mint is even better.
To make a change, serve this inside split pita bread along with some shredded lettuce or white cabbage – so tasty.
Here's the recipe: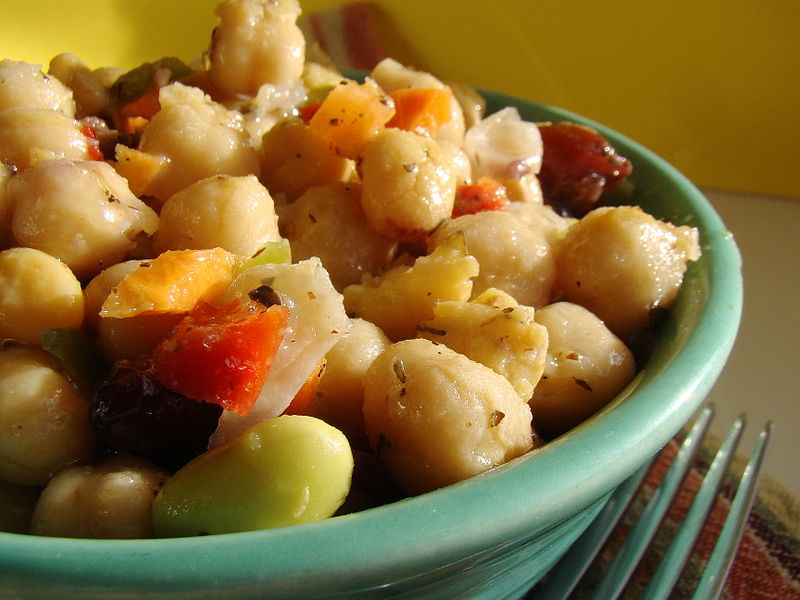 Ingredients
¾ cup dried chickpeas, soaked overnight
2½ cups water
1 tablespoons olive oil
1 finely chopped onion
2 garlic cloves, chopped
¾ lb potatoes,peeled and cut into chunks
1 carrot, sliced
1can plum tomatoes
Pinch salt
2 teaspoons fresh thyme (or ½ teaspoon dried)
Pinch sugar
Fresh parsley and / or mint, chopped
Instructions
Heat the water in a pot and add the soaked, drained chickpeas.
Bring to the boil, cover,lower the heat and simmer until the chickpeas are tender.
(This will take between 1½ - 2½ hours depending on the age of the dried peas).
When they are cooked, heat the oil in a large pan over a medium heat.
Fry the onions until they are beginning to go golden.
Add the garlic and stir for about a minute.
Add all the other ingredients including the chickpeas and their cooking liquid, except the fresh herbs.
Turn down the heat, cover and simmer for 45 minutes.
Check from time to time and add more water if it seems to be dry.
Serve hot with the fresh herbs sprinkled over the top.
---
My favourite cookbook:
---
ABOUT THE AUTHOR