Chocolate Chips, Toffee, Nuts
Do you occasionally get a craving for a rich, gooey cookie? A Chocolate Chip Toffee Bar is sure to satisfy that desire. Easy to put together, these delectable morsels are a great dessert to have on hand to serve family or guests or both.
This is a recipe I got from my mother, THE best baker! (I bet you thought your mom was). She was always asked to bring dessert to any function or party. Every year at Christmas she would make a lovely variety of cookies, fudge, divinity, Ginger cookies were always in the mix too, of course.
Chocolate chip toffee bars were one of her favorites. Not just for the holidays either. She would bake different bar cookies all year, then cut them into quarters to freeze. Any time someone stopped in, she would always bring out some sweet treats to serve with tea or coffee. Since Mom and Dad hosted the newcomer dinners for their church, cookies like this one often came in handy.
The bars are very filling and very satisfying! I like to refrigerate them for an hour before cutting them into squares. It makes them much easier to get out of the pan. Like mom, I'll be freezing part of this batch.
If you want to freeze a batch, I suggest cutting them into large squares to freeze. Then when you thaw them you can easily cut them into small servings. Cutting them small, you can get as many as 48 servings in each pan. That's ideal for potlucks, cookie platters, or small snack size dessert bites.
Mom isn't able to bake any more, but she still always picks up her spoon when dessert is served. I'll be taking her some of this batch–sweets make her smile.
Enjoy!

Rating 5 from 1 reviews
Prep time:
Cook time:
Total time: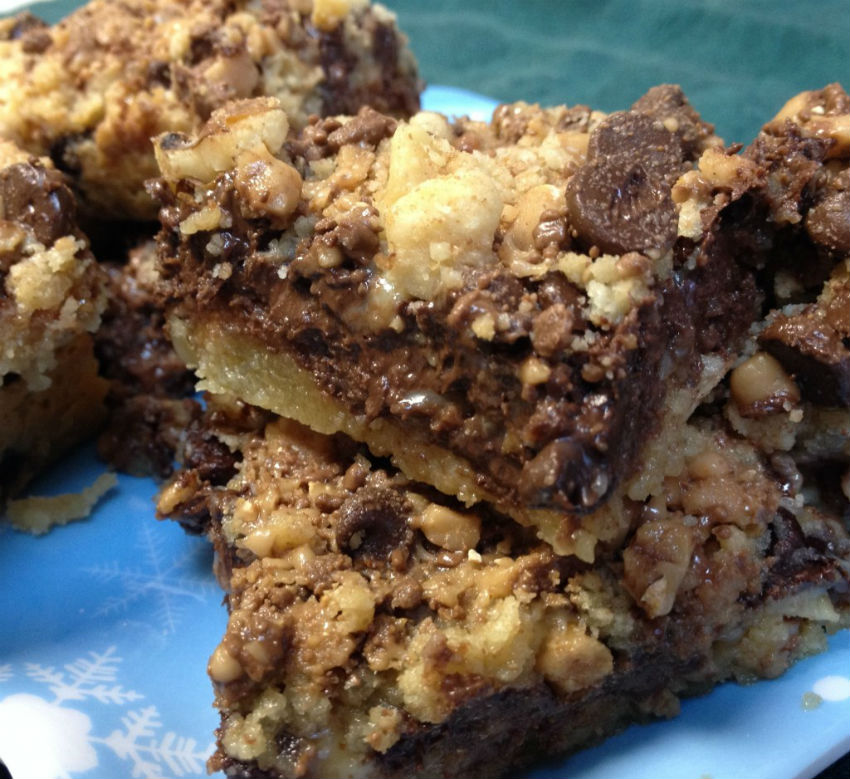 Ingredients
2⅓ cup flour
⅔ cup light brown sugar
¾ cup or 1½ stick butter or margarine
1 egg, slightly beaten
1 12 ounce bag chocolate chips
1 cup nuts, coarsely chopped
1 4 ounce can sweetened condensed milk
1½ cup English toffee bits
Instructions
Preheat oven to 350 degrees.
Grease or spray a 13x9x2 baking pan.
In large bowl, stir together flour and brown sugar.
Cut in butter until mixture resembles coarse crumbs.
Add egg and mix well. It should still be crumbly.
Stir in ½ of the chocolate chips and nuts. Set aside the other half.
Reserving 1½ cups, press the remaining crumb mixture into pan.
Bake for 10 minutes.
Pour unsweetened condensed milk over hot crust, then sprinkle 1½ cups of toffee bits over the top.
Sprinkle remaining chips, nut, and crumb mixture over that.
Bake 30 minutes, sprinkling the remaining toffee bits on the top for the last 5 minutes.
Cool in pan. When fully cooled, cut into bars
ABOUT THE AUTHOR