My Mum's Christmas Pudding Recipe.
We're quite traditional with our Christmas meal but, our Christmas pudding is a little different. A lot of people don't like it; it can be dense, have lots of crunchy currants, taste burnt or overdone and perhaps seem steeped in too much alcohol. That's the difference, though similar in some ways, my mum's Christmas pudding recipe is light, full of juicy, tasty fruit and in no ways does it taste burnt or overly alcoholic.
This recipe has been handed down through the Yorkshire generations from my grandmother, to my mum and on to me and my siblings. Everyone loves it and we've converted people who were very anti-Christmas pudding to our version over the years.
You might think it looks complicated, but it's not really, in essence everything gets put into one large bowl.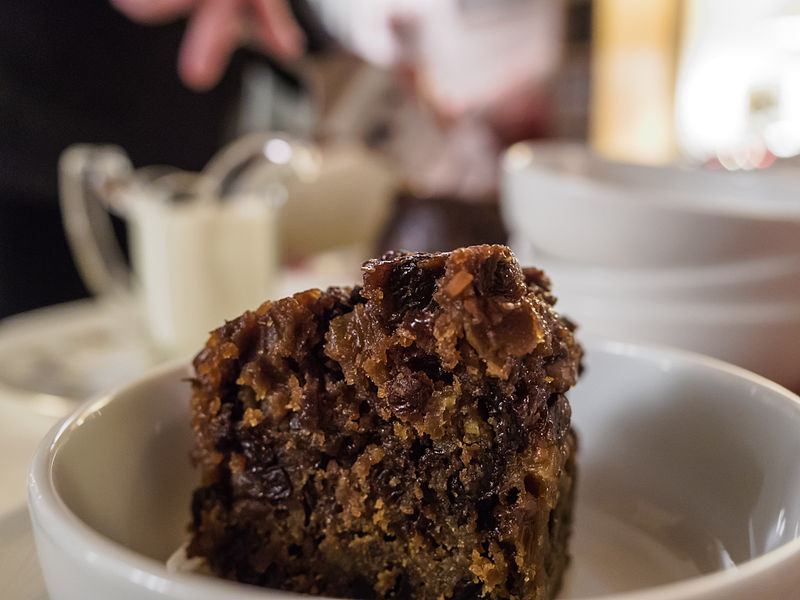 Ingredients
4 oz self-raising flour
4 oz breadcrumbs
4 oz suet or margarine
4 oz currants (but you can substitute with other dried fruit - try apricots)
4 oz raisins
4 oz sultanas
2 oz mixed peel (you can also use glacé cherries)
3 oz demerara sugar (or normal white granulated if necessary)
1 oz chopped nuts
½ - 1 medium/large grated apple (or carrot)
½ - 1 medium/large lemon (rind and juice)
2 eggs
2 tbsp marmalade (or Golden Syrup)
⅛ pt milk
1 tsp salt
2 tsp mixed spice
2 tsp grated nutmeg
Instructions
Mix the flour, sugar, breadcrumbs and suet. Add all the peels, dried fruit, nuts and apple. Mix well and add salt and spices.
Beat the eggs and add to the dry mixture with the lemon juice, milk and marmalade.
Mix thoroughly adding more liquid if necessary.
Line your basin just at the base with a circle of greaseproof paper. Pour your mixture into the basin and cover the top with a double layer of greaseproof paper and foil pleated in the middle, which will allow the pudding to expand while cooking. Tie the greaseproof paper on with string around the rim or lip of the bowl and I'd also recommend tying a handle on to the string around the rim to make it easier to lift in and out of the pan.
Steam for 3 hours. Remember to make sure you keep your basin off the bottom of the pan, by using a saucer or a batch of scrunched up foil. Make sure the pan doesn't boil dry. Keep your eye on it and check regularly. Take a look at the links below if you haven't steamed a pudding before.
Your pudding is now cooked and ready to store. Snip off the string and remove the used cooking papers. The beauty of a steamed pudding like this is that you can keep it wrapped in a cool dark cupboard for a few weeks ready for Christmas day, or make it months in advance and freeze it. We love it so much we usually make a double batch and freeze one.
To reheat your pudding either steam it again for 1 hour, (using the same preparation methods for cooking, with new papers) or you can microwave it on 'High' for around 10 minutes for a 2-pint pudding, depending on your microwave.
Items you may need
Preparation
This recipe makes one 2-pint pudding which serves about four, (four of us anyway). You'll need a suitable basin that you can put in a pan of water and steam for a long time, that has a good lip or rim on it so you can tie string around it to hold the top on. We always use a 2-pint Pyrex bowl. You'll also need greaseproof paper, aluminium foil, string, a large pan for steaming, a large mixing bowl and a wooden spoon.
If you've never made a steamed pudding before there are a couple of links below that take you to videos on the BBC Food website. The first shows you how to prepare your pudding to be steamed and the other on the steaming technique.
Join Lesley Waters for 'How to' prep your pudding and also steaming tips.
•BBC – Food – Techniques : Wrapping a pudding for steaming
•BBC – Food – Techniques : Steaming a pudding
One lovely light, tasty, Christmas pudding, serve with a sweet, white sauce – that's just a case of mixing sugar, cornflower and milk together and heating – or with a topping of your choice.
---
ABOUT THE AUTHOR