Murder in Miami: Christopher Wilder the Beauty Queen Killer.
Christopher Wilder was rich. His friends described him as charming and gallant. He lived a playboy life in South Florida, living well and racing sports cars. He was particularly fond of beautiful young women.
In the nineteen eighties he was still in his thirties and living in Boynton Beach in Florida.
Murder at the 1984 Miami Grand Prix
This was the second motor racing event on the temporary road course at the glittering Bayfront Park.
This was  glamorous occasion. Some of the top motor racing drivers were taking part in Porches, Aston Martins, Jaguars and other prestigious vehicles.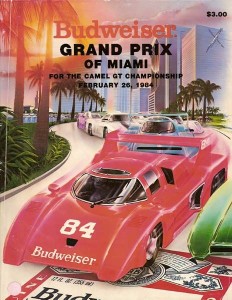 Wilder was there of course, and as the sportscars roared around the circuit, twenty year old Rosario Gonzalez circulated through the crowd as one of ten model hired by a pharmaceutical company to distribute free aspirin samples.
Rosario was never seen again. She had been seen leaving the race event though with a man described as being Caucasian in his thirties. Just one week later another part-time model, Beth Kenyon, also disappeared. Her parents discovered that she had last been seen with Christopher Wilder – talking to him at a gas station. The police were wary, they did not want to immediately arrest the wealthy property developer on the strength of one witness report.
Miami crime reporter Edna Buchanan seemed to be the only person who publicly connected the disappearance of the two young women. In the Miami Herald of March 16th she wrote that the disappearances could be connected to a Boynton Beach resident who drove a Porsche and had been present at the Grand Prix. The day after her story was printed, Christopher Wilder fled.
A week later, a college girl was abducted from a North Florida shopping centre. She was lucky – although she had been tortured and raped, she survived. And she identified her attacker; Wilder. Then the body of a brutalised twenty one year old woman was found in a swamp. More discoveries were to follow.
For a month, Wilder travelled throughout the United States, attacking women. He had discovered the perfect way to lure beautiful young women into his car, hotel room or deserted area. He played on their vanity and told them that he wanted to photograph them for fashion magazines. At least a dozen women were attacked. At least eight died or were never seen again.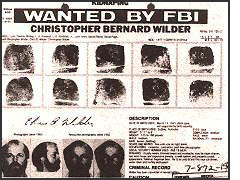 The FBI were following in his wake but always a day behind. They found bodies as they followed his trail of terror. – some were simply dumped by the side of the road. Wilder drove north. He seemed to be heading towards Canada. He was just nine miles away from the Canadian border when he stopped at  gas station in Colebrook, New Hampshire. As an attendant filled Wilder's car with gas, he began to chat to a local and as he did, he notice a state trooper car pull up and two officers emerged, heading towards him.
Wilder lunged for the door of his vehicle. It was locked. He rushed to the other side and grabbed his gun from the glove box. But the trooper tackled him.The two men fought for the gun and two shots were fired. Wilder was fatally shot through the heart.
The bodies of the two South Florida women, Rosario Gonzales and Beth Kenyon, have never been found.
---
Edna Buchanan, the crime reporter who publicly revealed the connection between the murders and Wilder, became a well known as  writer of true-to-life crime novels.
But the book you see on the right is not a novel, it features biographic information about her eighteen years working reporting on crimes in South Florida and many of the cases she worked on including the story of the murders of Christopher Wilder.
See the book on Amazon.
South Florida is  curious place. I've lived here for over twenty years and like Edna Buchanan, I'm aware of the 'other side' of the area – the side that tourists don't see. But when the glittering veneer is stripped aside, the hidden secrets of South Florida appear. Find out more from this absorbing book.
---
ABOUT THE AUTHOR