Liverpool's Cilla Black.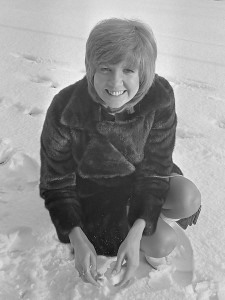 When the Mersey sound of the Beatles started to dominate the hit parade in the early nineteen sixties, there was only one girl singer who was part of this phenomenon.
Young Priscilla White started working as a cloakroom attendant at the now famous Cavern Club in Liverpool; the venue where the Beatles played their early gigs. And it was the Beatles who discovered that the red-haired Cilla  should have been on the stage, and not behind the scenes.
This  was the start of her show business career that lasted for over fifty years. She was one of the few pop acts of the day who apparently seamlessly made the move from hit records to television star.
In those early days, you would be unlikely to hear anyone who spoke anything other than 'the Queen's English' appearing on British television but the Beatles refused to lose their Liverpool accent and so did Cilla. Even fifty years after she had her first hit record, you could tell simply by her speaking voice that she was a Liverpool lass.
It was John Lennon who introduced Cilla to the Beatles' manager, Brian Epstein. It was also the Beatles who ruined her first audition – they acted as her backing band and played in completely the wrong key. But Cilla won through eventually. And when a local journalist became confused about her name and referred to her in print as 'Cilla Black' rather than use her real surname of White, she decided she rather liked it so kept it was her stage name.
When manager Brian Epstein died in 1967, Cilla's boyfriend, Bobby Willis, became (and remained) her manager. Two years later the couple married and remained together until Bobby's death thirty years later.
Cilla Black died at the age of seventy two at her home in Spain of natural causes on August 2nd, 2015.
Cilla Black Gallery
---
ABOUT THE AUTHOR