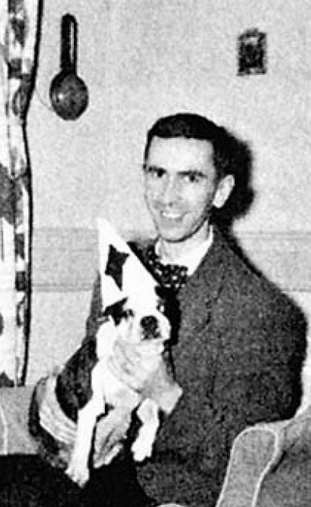 Gordon Ticehurst was born in England in 1922. He was the illegitimate child of a sixteen year old servant girl. The father was the household's chauffeur and the pair were employed by homosexual author Harold Nicholson and his lesbian wife Vita Sackville-West.
Now that is some start in life. But it was just the beginning of a remarkable life story.
Gordon's early life is something of a mystery. Although it seems that he did spend some time with his parents at the Nicholson home he was largely brought up by his maternal grandmother, Nellie Hall Ticehurst. He eventually took 'Hall' as his surname. Also in later life, he claimed to have been born not in 1922 (although birth records exist) but in 1937. (see notes below).
As he grew up, it's also not known what jobs he did, where he worked or how he made a living but it's said that he showed a talent for writing. But somehow, he ended up in Canada. There he lived on a reservation teaching the children. He later wrote a book about his experiences. By his own account, he then 'managed to get to New York City' where he worked as a newspaper editor.
Then he came across a 'distant cousin by marriage', the American painter, Isabel Whitney. She was an elderly lady at the time and extremely rich. Gordon moved in with her. This was probably in about 1955. He started to move in her circles – he met her friend Joan Crawford and even more importantly for Gordon, he met English actress Margaret Rutherford and her husband, Stringer Davis.
During the time he spent living with Isabel, which was until her death, Gordon wrote several books with a certain amount of success but the highlight of this period was that Margaret Rutherford and Stringer Davis 'adopted' the young man. But Gordon let Isabel and the Davises into his lifelong secret —
He was registered as a male at birth, but knew he was really female

This is where accounts begin to differ.  The Davises and Isabel were sympathetic to his problem and Gordon explained that he was not born with male and female parts but that his nether regions had been swollen at birth and therefore the country midwife had assumed the baby was male. Therefore he would not need a sex change but some minor corrective surgery.
But in the meantime, Isabel became older and very frail. Gordon decided to buy a house in Charleston, South Carolina, saying that the climate there would be beneficial to her health. But Isabel died before she could reap the benefits. She left Gordon a fortune plus her lavish New York home and its contents. He started to spend most of his time in Charleston where, as a successful writer, he was accepted into the rather snobby society world there.
Enter Dawn Langley Hall
Gordon then had his 'minor corrective surgery' in 1968 and emerged as Dawn Langley Hall. Writing about her life later, she describes how she then met a man and fell in love. (But see the notes below). Dawn describes how she fell in love with the young motor mechanic, John-Paul Simmons and that they were married.
But life wasn't as easy as the previous sentence implies. John-Paul was black — and this was the South in the nineteen sixties. The society that had accepted that Gordon had been transformed into Dawn could not accept a mixed marriage.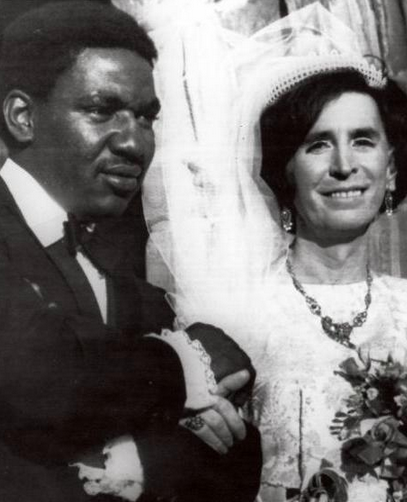 Dawn then lost all her money and her property 'through the sheer chicanery' she wrote later ' of some of Charleston's so-called white society people.'
Dawn has a baby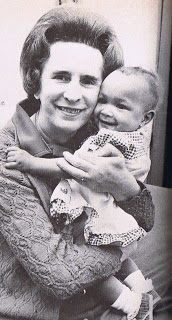 Dawn wrote that three years after her marriage, she gave birth to a daughter. Yet some of the doctors who had examined her at the time of her 'minor gender adjustment' claimed that wasn't possible. One theory is that John-Paul had a mistress and that it was she who had had a baby and that Dawn had bought it from her.
She then wrote that she discovered that 'certain members of Charleston society' had taken out a contract on her life and that they had employed the Mafia to snuff her out. Needless to say, she packed her remaining valuables into storage and fled the area.
But then, she wrote, with her home and her money gone, John-Paul deserted her. Teaming up with another older woman, one who Dawn claims had killed her first husband, he forged her signature and removed and sold what few possessions she had left in storage back in Charleston.
The couple divorced in 1982.
Just when you think the story can't get any stranger, enter Lemuel Smith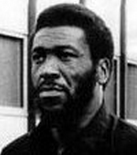 In 1981, the year before Dawn and John-Paul were divorced, a man murdered and mutilated a female prison warden. The man's name was Lemuel Smith. He was a serial killer – he had murdered at least five people – and a rapist.
Physically, he was rather similar to John-Paul Simmons.
He was sentenced to death for the murder of the corrections officer. The now-divorced Dawn claimed to have had a dream about him so wrote to him and declared that the couple wanted to marry.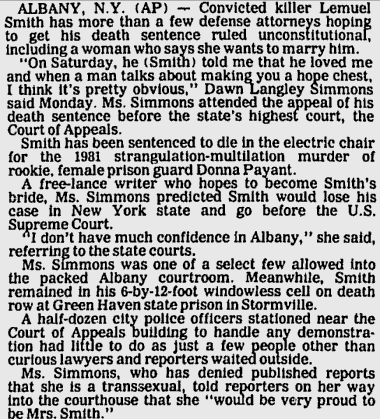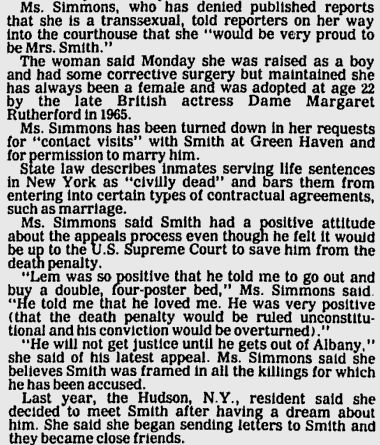 Dawn was, of course, sixty two years old by this time and had a young daughter.

---
Notes:
Birth and parentage
It's unlikely that Dawn/Gordon's mother was sixteen when he was born, as he claimed. The entry below from the 1911 UK Census is very likely to be the Ticehurst family.

As you can see, Marjorie was six years old in 1911 (the census was taken at the beginning of April.) This means that she was born in 1904 or 1905 at the latest.
If Gordon had been born in 1922 (as records show) then his mother would have been eighteen. Had he been born in 1937, which Dawn claimed, she would have been thirty one.
It is generally agreed that Marjorie and Jack Copper did marry at some time after 1922 (although they never reclaimed Gordon from his grandmother) and had further children, Gordon being the eldest. If it is indeed the case that they married, thirty one would have been considered very old for a domestic servant to have her first child.
Bear in mind that the image is a scan of an official UK government document and is therefore likely to be accurate as regards dates.
Emigration to Canada
Some sources say that Gordon was still in his teens when he moved to Canada with some, including Wikipedia, claiming he was as young as sixteen. Wikipedia also claims that this was in 1953. Had Gordon been born in 1937, then he would have been sixteen that year. If 1922 was his birth date, he would have been thirty one. Gordon claimed that he moved to Canada using money he had saved, plus insurance from his grandmother Nellie who had died. My questions here are:
How had a sixteen year old illegitimate son of two servants saved enough money to emigrate to Canada?
Why did the insurance money go to Gordon and not to his grandmother's own three children?
Even as long ago as 1953, if indeed that was the year, was a sixteen year old permitted to emigrate to Canada by either the British or Canadian authorities? Or indeed, by his own parents and family?
Wikipedia
The website claims that Gordon returned to England in 1947 – six years before he had supposedly arrived in Canada. This just goes to show how complex this history is.

Isabel Whitney
There is no evidence to show that Isabel was a 'distant cousin by marriage of Gordon's. She died in 1962 (aged 84) and she and Gordon evidently lived together for seven years. If Gordon's claim that he was born in 1937 is correct, he would have been eighteen years old when they started to live together. Had he been born in 1922, he would have been thirty-three.
John-Paul Simmons
There are some who claim that Gordon met John-Paul prior to the 'minor corrective surgery' when John-Paul was just eighteen. He had been born in 1948 so this would have been in 1966. It's claimed that they had a homosexual affair and that he provided emotional support for Gordon during his transformation to Dawn.
The miracle birth
Dawn wrote that she have birth to her daughter on October 16th, 1971. And yet it was reported in a newspaper on October 5th, 1969!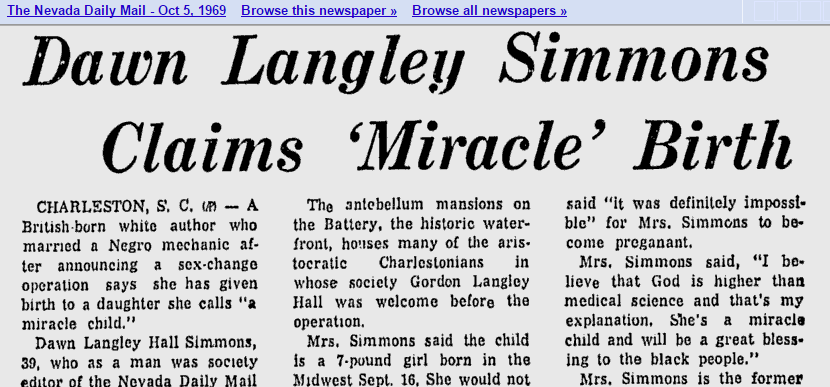 ABOUT THE AUTHOR