A Book Review
Jake Pendleton is back with urgent mission in book four of Chuck Barrett's popular series. It's a treat to be back with him too! In Disruption, we are pulled into the world of hacking—about as current a topic as you could choose.
The Story
A global disaster is 'scheduled,' dependent on just a few men.
Jake and his partner, Francesca Catanzaro, must stop it. Off on an international hunt that leads them to far more questions than answers.
Take any one industry or company. A bank? An airport? A hospital perhaps? Now unplug it. Completely. Disable all computers and all they control. Can we imagine at this point, what all that would include?
Next, take that city wide. Then nationwide. Finally, the world.
Once begun, could anyone stop it? Once begun, could the world ever recover?
Jake and Francesca begin with a search for one man, a hacker, who may hold the answers. What they find is another body. Then another. Next stop, Italy, where Italian officials want credit and much more. Then questions about a missing plane surface. That and more add to the mix, causing Jake to question even those closest to him.
Lots of twists, unlikely associations, and many players with their own purposes, all lead toward one main confrontation.
And, as you might expect, time is running out.
Mr. Barrett has written a very fast paced, exciting novel that actually does keep you on the edge of your seat. The story is believable with hackers we have heard of lately. The author will have you wondering who to trust, who to follow, who might be killed, including those close to Jake.
The Audio Version
Highly recommended and always a great listen. As part of the book tour for Disruption, sponsored by iRead Book Tours, I received the ebook.  Then I bought the audio through Audible as well. Narrated by the wonderful Scott Brick, the book is a fantastic choice for listening. Hear a sample here. See if you don't agree.
This novel is a terrific stand alone story, but the first books in the series are wonderful as well. They are all below, in case you prefer to start at the beginning of the story.
Read more about the tour here as well.  You will find Mr. Barrett at a variety of sites with articles, interviews and reviews.  Check them out.  He is a great author.
The Tour
Book Description:
There are two types of people: those who have been hacked and know it, and those who have been hacked and don't know it.
Former Naval Intelligence Officer turned secret operative Jake Pendleton finds himself in a pulse-pounding race to stop a cyber-terrorist from releasing a string of the most heinous cyber-crimes the world has ever seen. Crimes that could render the world's advanced technology useless.
Jake teams with his partner, Francesca Catanzaro, to track down their only lead, a white-hat hacker in Italy known only as The Jew. A man who might hold the key to stop a group of black-hat hackers from causing worldwide chaos—tag named Disruption.
After a search of the hacker's flat in Rome turns up empty, Jake and Francesca follow the clues—a trail of dead bodies that leads them across Europe. Along the way, Jake discovers a possible link between recent hacks and a Malaysian airliner that mysteriously disappeared.
In the final adrenaline-charged moments before Disruption, Jake and Francesca find themselves in a high-voltage race to stop these cyber terrorists from unleashing destruction against their sworn mortal enemy.
Buy the Book: Amazon ~ Barnes & Noble ~ Audible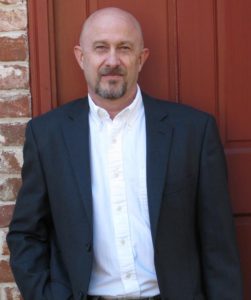 Author's Bio:
Chuck Barrett is the bestselling author of the Award-Winning Jake Pendleton series—Breach of Power, The Toymaker, and The Savannah Project, as well as his latest award-winning blockbuster, BLOWN, the first book in his new Gregg Kaplan series.
In addition to writing thrillers, Barrett speaks and conducts workshops at book festivals, book clubs, reading groups, writers conferences, and writers groups.
Some of his topics include Nuts & Bolts of Self-Publishing based on his book—Publishing Unchained: An Off-Beat Guide To Independent Publishing—as well as, Blueprint for a Successful Book Launch, Getting from 'Idea' to 'Finished Manuscript,' Mysteries & Thrillers: Fact or Fiction, and Adding the "What if" in Storytelling.
Barrett is a graduate of Auburn University and a retired air traffic controller. He also holds a Commercial Pilot Certificate, Flight Instructor Certificate, and a Dive Master rating. He enjoys fly fishing, hiking, and most things outdoors. He and his wife, Debi currently reside in Colorado.
Tour Schedule
Dec 12 – Essentially Italian– book spotlight / author interview / giveaway
Dec 12 – Working Mommy Journal– review / giveaway
Dec 13 – Library of Clean Reads– review / giveaway
Dec 13 – The World As I See It– review
Dec 14 – Brian's Book Blog– review
Dec 15 – A Mama's Corner of the World– book spotlight / guest post / giveaway
Dec 15 – Dalene's Book Reviews– review / giveaway
Dec 16 – Bookmyopia– book spotlight / guest post
Dec 16 – Splashes Into Books– review / guest post
Dec 19 – Bound 4 Escape– review / giveaway
Dec 20 – Olio by Marilyn– review / author interview / giveaway
Dec 21 – Il Mio Tesoro– review / guest post
Dec 22 – Cheryl's Book Nook– review / giveaway
Dec 23 – The Autistic Gamer– review
Dec 26 – Mystery Suspense Reviews– book spotlight / guest post
Dec 27 – Book Reviews Nature Photos– review
Dec 28 – Outset-Rakhi Jayashankar's blog– review / author interview
Dec 29 – Jaquo Lifestyle Magazine– review
Dec 30 – Nighttime Reading Center– review / author interview / giveaway
ABOUT THE AUTHOR
>