Yorkshire: The Leeds Dripping Riots of 1865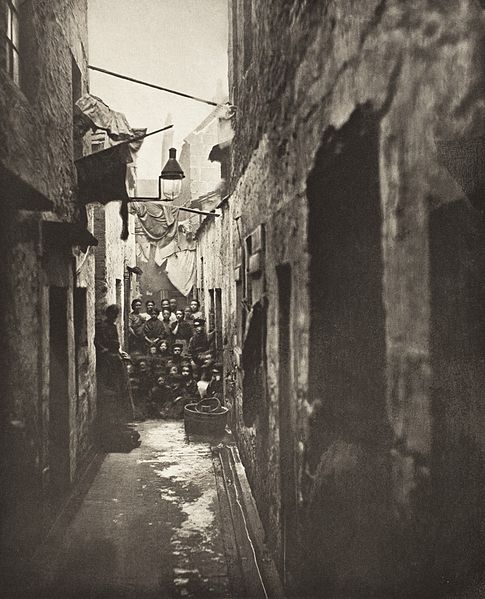 This is the true story of a bizarre riot that took place in Leeds in Yorkshire a hundred and fifty years ago.
Although there was a death because of the riot, and hundreds of people took part, it started because of something incredibly trivial – two pounds of dripping.
Here, I suspect that I have to explain to younger readers exactly what I mean by dripping <sigh>.
In the north of England, especially Yorkshire, dripping has been a staple food for generations. Admittedly it went out of fashion in the later part of the last century. Here's why.
Dripping fell out of favour because of the trend for healthier eating. It is (or was) animal fat that is left over from cooking. In addition to the fat, it contained tasty meat juices.  It was ideal for frying. The difference between ordinary boiled potatoes and those fried in dripping is amazing, for example,
Yes, it might sound a little gross but it was an excellent way to make the most of the nutrients that drip from meat when it was roasting. And that's what caused the trouble.
Leeds in the mid nineteenth century had some very wealthy residents. But like most cities, it had impoverished ones too. Many of the poorer people worked as domestics in the homes of the wealthy.
The wealthy were far too posh to eat the dripping (thinking back, it's delicious spread on bread) and for cooks and kitchen staff, the dripping was accepted as a perk of the job. Often, the cook would take it home as it would help her feed her own family and give them nutrients that their more meagre diets were lacking.
One example was that of Eliza Stafford. She worked as a cook for a surgeon, Henry Chorley. Eliza took a couple of pounds of carefully extracted and collected dripping home from her workplace.
She was prosecuted for this 'crime'. Not only that but she was sentenced to spend a period of time in prison – a whole month. The poorer people of Leeds were outraged. This was an accepted perk of the job and the rich folk would have only thrown their dripping away had the kitchen staff not used it. The conviction was reported in the local papers and Henry Chorley received abusive letters. Anti-Chorley graffiti was inscribed on walls throughout the city.
When it was announced the Eliza would be released from prison on 22nd February, 1865, crowds gathered outside Armley Jail. They planned to hold a demonstration and march against the injustice of a woman being jailed for such a petty crime – not that they considered her actions to be against the law.What they didn't know was that Eliza's daughter, anxious to spare her mother the crowds, had arranged for her to leave the prison by a back door and whisked her away by train.
The chief constable of Leeds, William Bell,wasn't aware that Eliza had secretly left the jail – no-one thought to let him know – so he assured the crowds that she would appear. As time went by, it became obvious that she wasn't going to appear and the chief constable was now subjected to abuse, including having various objects thrown at him. The police were ordered to clear the crowds. They were enhanced by a contingent from the nearby Bradford constabulary.
As they tried to clear the crowds, stones were thrown at them and fights broke out. Windows were broken, damage was caused and several police were injured by flying stones. One man, George Hudson, was trampled by a large number of people as the crowds rushed through the streets. His injuries proved fatal and his death was recorded as 'accidental'.
All for a couple of pounds of what some Yorkshire folk call 'mucky fat'.
---
ABOUT THE AUTHOR