Easy Chunky Vegetarian Chili Recipe
Are you looking for a vegetarian recipe for chili that doesn't use veggie crumbles, and just more vegetables? Congratulations; you have found it.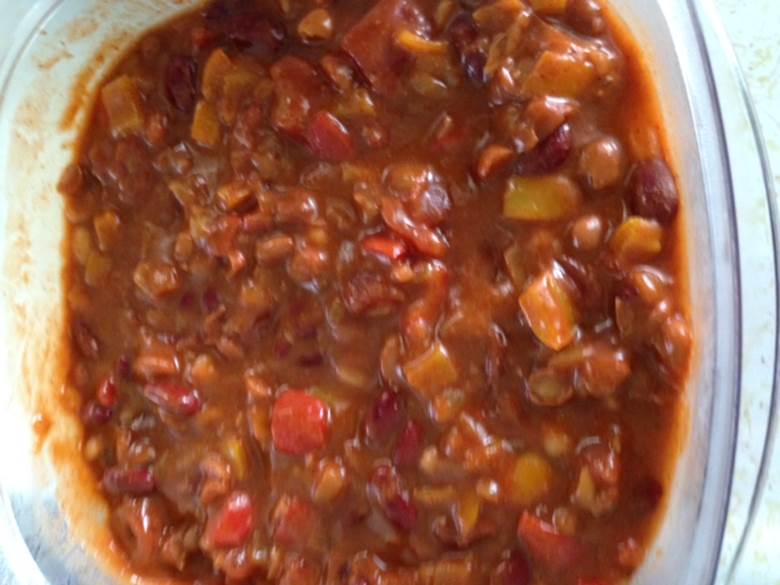 Years ago, I was looking for the very same thing myself. I did find some different variations, and have finally modified the recipes to be more personalized to what we like. This chili recipe has colorful bell peppers in it as well as two intriguing ingredients that help to give this version a special flavor – cinnamon and brown sugar.
If using dry beans, the recipe will take quite a bit longer, but if you're using canned beans, the whole thing should be ready in about an hour.
This version provides approximately 6 – 8 servings.
Ingredients:
1 Tbsp. Olive Oil
¾ Cup Diced Onion
½ Cup Chopped Yellow Bell Pepper
½ Cup Chopped Orange Bell Pepper
½ Cup Chopped Red Bell Pepper
1 tsp Garlic Powder or 2 Minced Garlic Cloves
1 Tbsp. Brown Sugar
½ tsp Cinnamon
½ Tbsp. Chili Powder
1 tsp Fresh or Dried Oregano, Diced
¼ tsp Salt
½ tsp Black Pepper
2 16 ounce Cans of Chili Style Diced Tomatoes
1 15 ounce Can Chili Magic Starter – Mild (includes beans no meat)
1 15 ounce Can Light Red Kidney Beans – Rinsed and Drained
1 15 ounce Can Pinto Beans – Rinsed and Drained, or Chili style Northern Beans
Directions:
In a large pot, sauté the onion, bell peppers, and garlic in the olive oil.
Stir in the brown sugar and cinnamon.
Stir in remaining ingredients.
Bring to a boil, then reduce heat and simmer for 30 minutes, stirring occasionally.
Tasty topping choices include oyster crackers, shredded cheese, and/or corn bread.
If you like your chili zestier, increase the chili powder to 1 Tbsp. and/or use the chili seasoned Northern Beans in place of the Pinto Beans. When I use the pinto beans, I drain and rinse them. When I use the Chili style Northern Beans I just drain them without rinsing. You can do whatever is your preference.
Even though I may change out some of the bean types from time to time, I always choose Chili Magic Starter as my main choice. If I think it needs a little extra liquid, then I add some water to the Chili Magic Starter can and swish it around, and add that to the mixture.
Although this is a great soup to have on a cool winter's night, we also like it during summer months as well. When we use the canned beans, it cooks up pretty quickly and doesn't heat up the kitchen too much.
I also especially like this type of recipe because it only uses one cooking pot.
You can check out more of my vegetarian recipes here.
---