Who murdered Elsie Frost?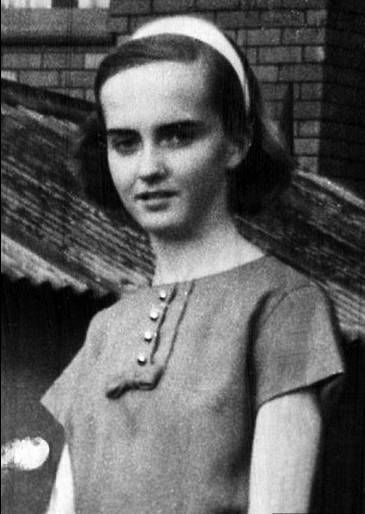 Although it happened in 1965, the murder of this fourteen year old girl hasn't been forgotten in Wakefield, Yorkshire. There are still many people who remember it well. Her brother Colin and sister Anne will never forget, of course, but why are they – and the public – being denied access to her files after all these years?
And why are these files closed and their contents unable to be revealed until 2060? Needless to say, there are conspiracy theories.
Anne was eighteen in 1965. Her brother Colin was only six. Elsie was the middle child and the three were from a normal, happy family. Until that day in October.
There is no need here to go into the details of the brutality of the murder but Elsie was attacked in the middle of the afternoon as she walked the short distance home to Lupset home from the sailing club at Horbury Lagoon.
Her body was found on the canal towpath.
The police were baffled. There seemed to be no motive for such a violent attack on a popular and quiet girl. (There was no sexual assault). Every able-bodied male in the area -including members of Elsie's family – were interviewed at length about their whereabouts at the time of the murder.
These statements were studied in detail for the inquest which took place three months later. In those days, coroners were permitted to do this. It was found that the alibi of one man, was refuted by a couple of witnesses who placed him at the scene at the time of the murder. Ian Spencer was a married man in his early thirties and he was duly sent to trial for the murder of Elsie Frost.  After various legal entanglements he was acquitted.
At this point, it seems that the authorities closed the files.
Meanwhile the family tried to get on with their lives but it was almost impossible. Elsie mother and father both died without knowing who had killed their daughter and why.
When their father died, Anne and Colin discovered that their father – probably to protect himself from pain – had destroyed Elsie's birth and death certificates. This made them realise that they should document their records for future generations.
They requested the police and court files. They were refused and the three reports they requested were slapped with long 'closed' dates
Why? You can see two screenshots of the National Archives website relating to this case below. Anne and Colin contacted the BBC who looked into this matter and it was discovered that there are actually five files, all of which have had their open dates extended for many years.
The National Archives explanation
Stuart Abraham from the National Archives in London was interviewed about this.  He very reasonably explained that these extended dates are often for the protection of loved ones. Sometimes, they are because it's judged that witness accounts should not be made public to protect the witnesses themselves.
He further explained that when files are made public, they are available to everyone and can be reproduced – on the internet or in books for example. He said that it was fairly normal for murder case files to be sealed with extended dates.
It sounded very reasonable indeed and I found myself nodding my head in agreement with everything he said.
But anyone who was sixteen or over at the time of the murder is now sixty five at least or no longer with us. (The man who was accused and acquitted is now eighty two and has dementia). So naturally the public are wondering"what the police have to hide" and conspiracy theories abound.
Conspiracy theories
The one that seems to have gained the most credence is the theory that Elsie was killed by Peter Sutcliffe, the infamous Yorkshire Ripper who, between 1975 and 1980 eighties, murdered at least thirteen young women. But there are other theories, too
Although Elsie was killed nine and a half years before Sutcliffe's known first. murder he had already been in trouble with the police and is known to have attacked a woman in 1969. He lived not far away – about a thirty minute drive. But if the files reveal this, why is it a secret?
Some are mentioning Jimmy Savile. He was a popular disc-jockey and television personality and after his death, a huge investigation revealed that he was a serial paedophile. He too lived within a short drive of the murder scene. But there was never any suggestion that he was violent. Furthermore, his posthumous reputation is in a tatters so would there be a valid reason to hide this information if it were true?
A little further afield but still within easy driving distance, the Moors Murders, Ian Brady and Myra Hindley, killed five children – the oldest being a sixteen year old girl – between July 1963 and October 1965. This seems like a convenient theory but Brady was arrested two days before Elsie was killed. Hindley was arrested two days after Elsie's murder. But again, if this was proved (or even suspected) why not reveal it?
Some people are suggesting that the reason for what they are calling a 'cover-up' is because a well-known or or well-respected person was involved in some way (if not the actual perpetrator). If that is the case, then it doesn't matter if that person is deceased – the National Archives office also take the feelings and possible distress of existing family into account
Similarly, some suggest that the police bungled the investigation. Of course, with hindsight this is  possible because the investigation into the Yorkshire Ripper murders was completely off-track
Screenshots
The second screenshot shows that the extensions to the open dates were added in 2015. At that time, Anne was in her late sixties and Colin in his mid-fifties. Assuming that the dates are not extended further, when they are released to the public Anne would be 113 years old and Colin 101.
---
ABOUT THE AUTHOR