Easily create Facebook call to action buttons
Which is more likely to be clicked? A plain link or a call to action button? We all know that the call to action button is going to work better.
But did you know that you can easily add them to your Facebook pages?
To add a button, like the one you see on the right, takes only about a minute more than making a regular post with a link only and it's easy to do.
Now, the reader has three clickable options on the page; the photograph, the link or the much more noticeable button, which is much more prominent and inviting.
This is a facility provided by Facebook itself and you can choose from five different wordings. They are:
Shop now
Learn more
Sign up
Book now
Download
To do this, you'll first need to ensure that you have a business account for your page. I know what you're thinking – Facebook charges for everything, don't they? No. You can sign up for a business account for your page absolutely free.
Once you have this, you'll need to go to your account manager in the power manager settings. There you will see the following:

Simply click 'create post'. This box will pop up: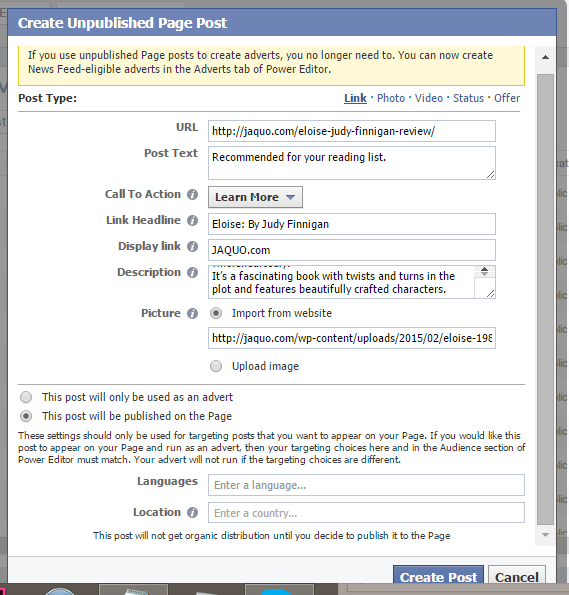 You have eight fields to complete here and they are quick and easy to do. They are, from the top:
URL: This is where you want your button to lead
Post text: The text at the top of your post
Call to action: Select your button from the drop down list
Link headline: The wording of your link
Display link: This is your main domain so that people know where they are being taken
Description: It's simplest to copy and paste the first couple of paragraphs of your article
Picture: Either enter the URL of an image or upload from your computer
Advert or page: Choose 'page' – ads have to be paid for!
The click the 'create post' button. You have now created the post but not published it. You can publish it immediately or schedule  your post for later by clicking 'publish post' at the top of the dashboard.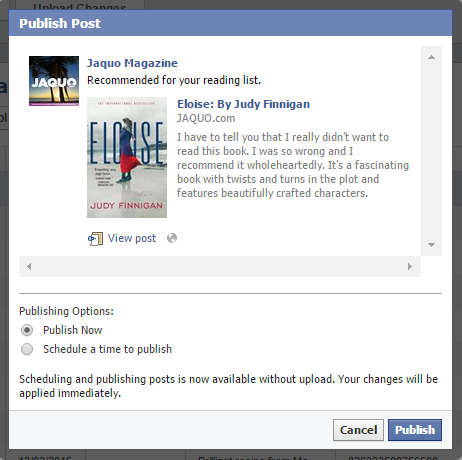 Select an option in the pop up you see above. And here is your post looking far more professional and complete with call to action button. Try it out below!
Yes, the post you see above is live. Learn how to embed Facebook posts.
---
 ABOUT THE AUTHOR