Garlic Shrimp and Spinach Sautéed in Coconut Oil.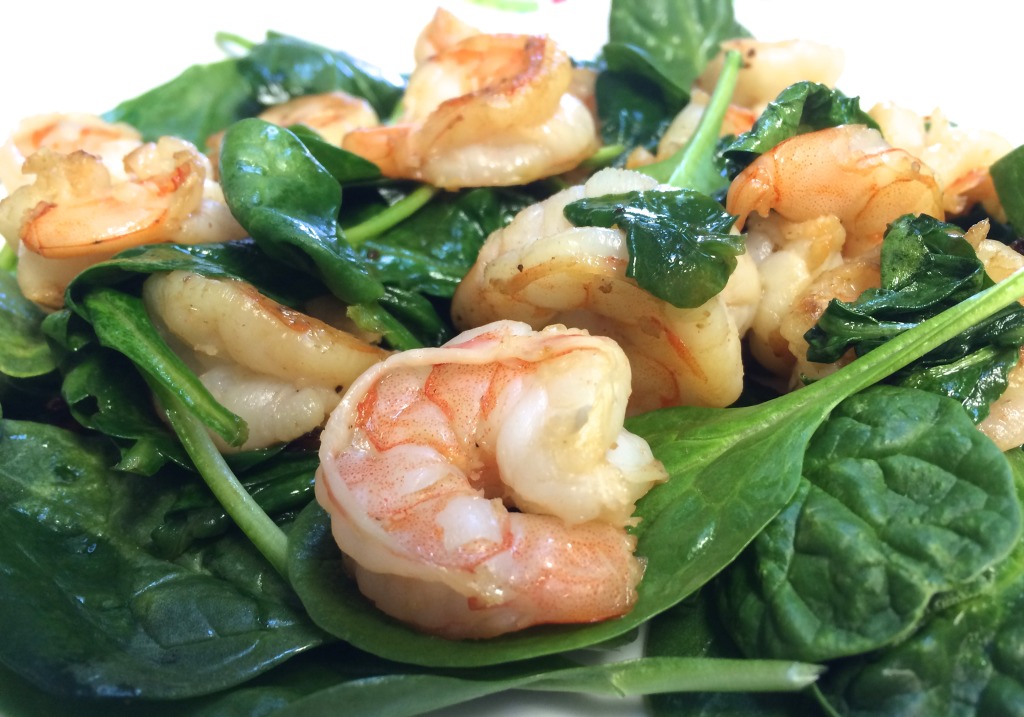 Large fresh shrimp sautéed two ways, one in butter, one in coconut oil.  Both scrumptious.
Since I had a pound of fresh, uncooked shrimp, it seemed a perfect time to experiment.   I am happy to report it was a huge success!
It seems over the years I had gotten into the habit of buying cooked shrimp, mostly to save the time and effort, but also to have it on hand in the freezer for a quick salad or shrimp cocktail.  This week it was time to change that, and I am so glad I did.  I LOVED this recipe.  It's as easy as can be.  Cleaning and shelling the shrimp is the only thing that took time.
Using what I had on hand, I ended up with three dinners with slight variations.  The first was sautéed with butter.  Always a good choice for shrimp.  I'd planned on adding wilted spinach, but since there was buttery sauce left in the pan, I decided to split it up and toss in some pasta to half.  Normally you would expect a shrimp dish to be served with fettuccine, but I had some elbow noodles leftover, so I just used those. It tasted great that way too.
It didn't take that much butter either, which was a plus.  When you realize that an entire pound of shrimp has less than 500 calories, it makes a fairly low calorie dinner.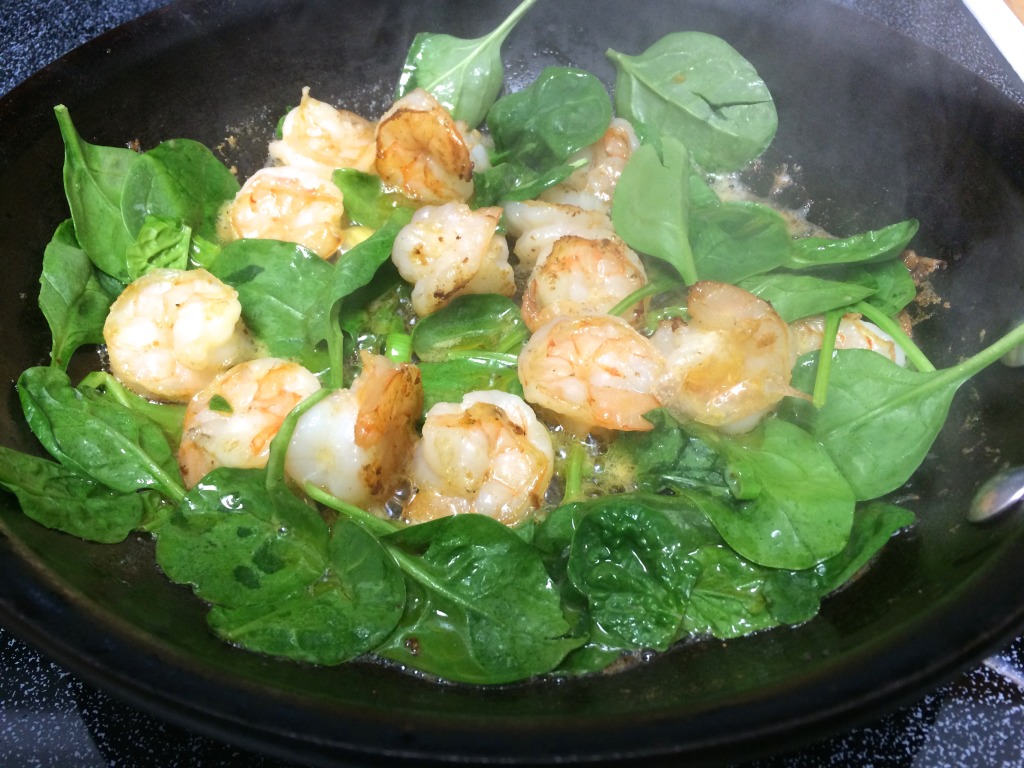 Excellent with Coconut Oil 
The next experiment was using coconut oil instead of butter.  I'm new to using coconut oil, but since it is recommended so often as a healthier oil I have been trying to add it to my cooking.  When I read that it might help treat Alzheimer's disease as well, that was all the more reason.   At the very least, it can't hurt!
Whenever I first get the aroma of coconut oil cooking, I'm concerned that the dish will taste like coconut.  It didn't at all.  It tasted wonderful.  Succulent large shrimp, the bite of red onion, and my favorite spinach, and it was a dish I will be fixing often from now on.
If you don't want to sauté it in either, I've included a terrific recipe for boiling shrimp below.  The Old Bay seasoning is a great addition.
Rating 5 from 1 reviews
Prep time:
Cook time:
Total time: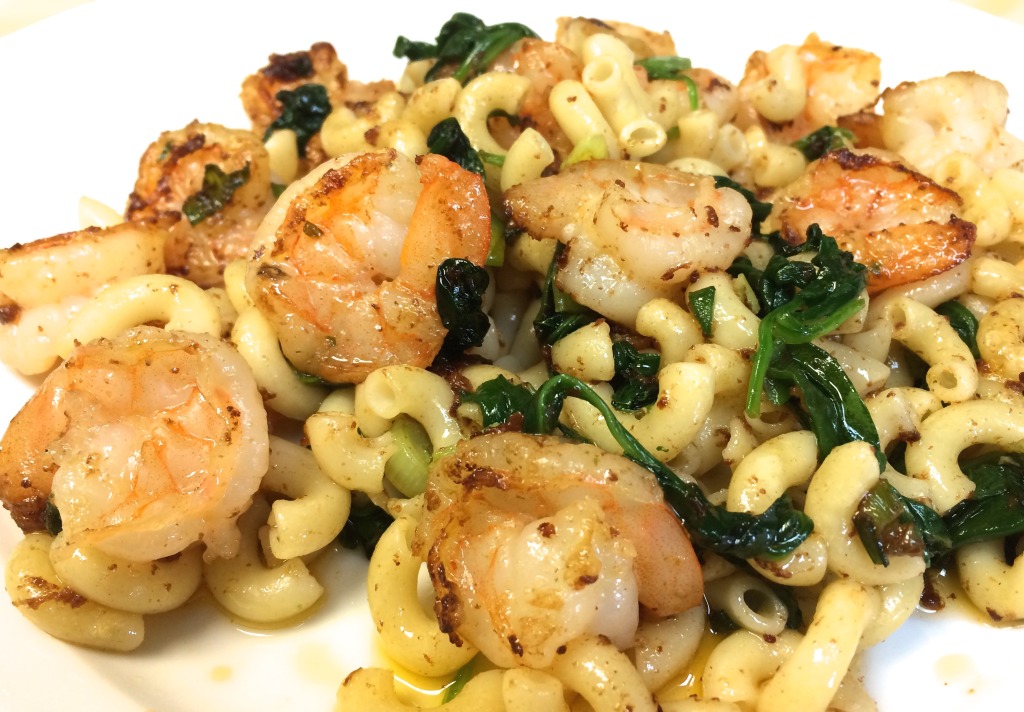 Ingredients
1 to 2 tablespoons virgin, unrefined organic coconut oil
OR 2 - 3 tablespoons butter
1 clove garlic, finely diced
1 teaspoon Old Bay seasoning (optional)
¼ cup chopped red onion or 2 green onion, chopped
3 to 4 cups spinach
1 pound shrimp
Pasta (optional)
Instructions
Have shrimp peeled and de-vein shrimp before beginning.
Heat coconut oil or butter in large skillet.
Stir in Old Bay seasoning and diced garlic.
Add cleaned, shelled shrimp and saute 2 to 3 minutes on one side.
Turn shrimp over and saute 2 more minutes.
Add chopped onion for last 1 to 2 minutes.
If you are adding pasta, stir it in before the spinach.
Add spinach and toss in for just a minute or two until it starts to wilt.
Serve immediately.
Prefer to boil, instead of using oil?  Here's a recipe…
If you prefer to boil the shrimp instead of sautéing in butter, it's very easy to do.   In a saucepan cover the shrimp with water, an inch or two over the shrimp.  Add in a half cup of apple cider vinegar and 3 tablespoons of Old Bay seasoning.  Boil until several of the shrimp start to float.  Drain and set in very cold water.   I will serve it this way on a bed of wilted spinach, spritzing the dish with lemon or lime.
Make cooking easy 
Here's my favorite pan for any sauté or even stir fry.  Since I cook spinach so often especially, I appreciate the depth of this pan.  It will hold so much.  I love how evenly Calphalon cooks and also how easy it is to clean when I'm finished.
If you like shrimp as much as I do, this little tool will come in so handy.  It will make peeling easier, and deveining a cinch.
ABOUT THE AUTHOR