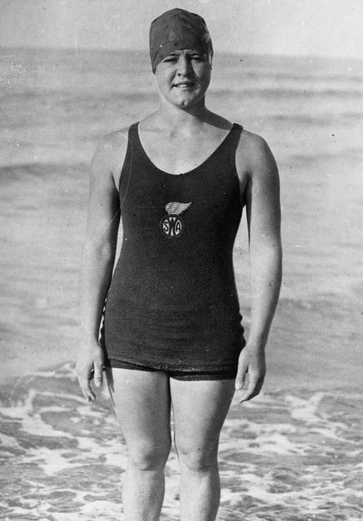 Gertrude, or Trudy as she was more usually known, was a sportswoman who should have been famous and remembered today but despite her achievements she faded into obscurity.
In the 1920s she was seen as a pioneer in showing the world that women were not 'the weaker sex'.  Strangely, women were still considered to be so.
Gertrude was the first woman to swim the English Channel
She was the first woman to do so and she completed the swim in a faster time than any of the men who had achieved the feat before her. In the twenties, sports people who achieved 'firsts', such as Charles Lindbergh, Babe Ruth et al, were the heroes of the day.
The Channel was a challenge rather like the Matterhorn – 'because it was there'.  Captain Matthew Webb had been the first in 1875 and his achievement was not duplicated for a further thirty six years, the second successful swim being in 1911. No-one else completed the challenge until 1923. Three men broke the record, completing the swim in twenty three hours.
Trudy had made an attempt in the year before her 1926 success.  But the seas were rough and it was seasickness that had defeated her. When she completed the swim on August 6th, 1926 it took her only  fourteen hours and thirty one minutes.
Gertrude Ederle's early life
Her parents had only recently emigrated from Germany to New York when Trudy was born. Her father was a butcher who operated a small shop on Amsterdam Avenue in the west side of Manhattan. Trudy was nine years old when she learned to swim Her serious training began when she was thirteen.
As a teenager she held several world records and competed in the 1924 Olympics in Paris. By this time she was already being successful in endurance swimming too, a sport in which women have an advantage. Women typically have more body ft than men which makes them superior when it comes to cold water long distance swims.
The bathing suit
Trudy would not have had her success some years before simply because the female bathing suit had not been developed. In years gone by, women had been made to swim (if indeed it was possible) wearing bloomers, stockings and blouses to cover their entire bodies. But by the twenties they were free of such constrictions.
Newspapers and newsreels soon make the most of this. They could show photographs of swimmers as 'bathing beauties'. But Trudy's stocky physique wasn't glamorous. She weight a hundred and fifty pounds (she was 5'5″) but nevertheless, the media portrayed her as a 'all-natural, healthy American girl' conveniently forgetting her German heritage due to the Great War still being a recent memory.
Trudy turned professional
More than anything she wanted to swim the English Channel. Knowing that this involved huge expense,she sought and gained sponsorship in the form of a salary from the Chicago Tribune and the New York Daily News. In return, they wanted her exclusive story.
Swimming the English Channel
The water was a chilly sixty degrees when Trudy started her swim. It was just after seven in the morning and her point of departure was Cape Gris Nez in France. Two boats accompanied her one containing her family and trainer, the other being full of newspaper reporters.
Fourteen hours later she waded ashore near the white cliffs of Dover. She was greeted by enthusiastic crowds – and an over-zealous official who demanded to see her passport! One she had sorted out that little problem and talked to well-wishers she enjoyed the luxury of a hot bath. This was the first hot bath she'd had since June – she had been acclimatising her body to the cold by avoiding them.
Almost as exciting as Trudy's swim was the race against time undertaken by the American press to get photographs of her triumph back to American to be printed in the newspapers. Once they were, Trudy became a national hero. When she arrived back in the USA she was greeted by thronging crowds and ticker tape parades.
What happened to Trudy?
She went from a national hero into obscurity. Why?  Her lawyer, Dudley Field Malone had announced that there were offers of endorsements and appearances totally over one million dollars. Unfortunately Malone mismanaged Trudy's further career.
Most of the offers she had received were to do with entertainment and not sport.But swimming was what Trudy really wanted to do. She went to Hollywood and had a guest appearance in a silent movie but her figure was not svelte and slinky look that was required in Hollywood in those days.
She had also made a mistake herself when she had gone professional – although it was the only way she could have afforded to swim the channel. Now, she could not compete in athletics contests because of her professional status. This included the 1928 Olympics in which she would dearly have loved to compete. She considered herself an athlete and disliked being a 'public figure'.
In addition, she was gradually going deaf
It's said that this was because she had measles as a child which created the weakness in her ears. This was then made even worse by her swimming activities, especially the cold water marathons such as the English Channel swim.
She took a job as a swimming instructor and faded into obscurity. She never married and never felt sorry for herself. In 1966, she told a reporter 'don't write any sob stories about me'. But her story shows that fleeting celebrity is not a recent phenomenon. As another reported put it in 1976:
'In effect, Miss Ederle has gone from a legend in her own time to a relic in everyone else's, trotted out on anniversaries of her triumph to bask in the glow of an American as it used to be'.
ABOUT THE AUTHOR