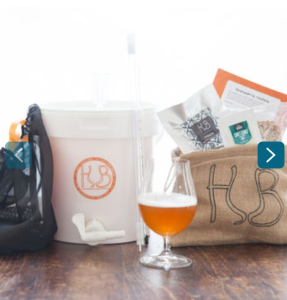 'Do-It-Yourself' Adult Beverages
The trend today—hopefully more than a trend—is away from many of the big brands and towards smaller, artisan businesses that make unique designs and custom products.
That doesn't apply just to jewelry or clothing.  It also applies to beverages, including the delightful alcoholic variety.  Sure you can still get a big name beer on tap, but nearly everywhere you go artisan beer is available in a huge variety.
Wine, not to be outdone, is being produced locally in many areas, garnering praise and awards.  Even in urban backyards you will find rows of grapes that enable the homeowner to experiment with his/her own wine.
So that you can have the same opportunity, we found these charming kits available. If you know a wine or beer lover (who doesn't?) a kit like this would make a wonderful gift for any occasion.  Christmas, hostess gift, housewarming, anniversary?
Wine, Beer, Tea and More
The wine kit is available in Sauvignon Blanc and Cabernet Sauvignon.  If selecting the Craft Beer Kit, there are several kinds to choose from including single hop, multi hop, and pale ale to name a few.  They are serious kits too. Both wine and beer need time to ferment, usually around two weeks.  I know if it were me, I'd be checking it every day, if that is allowed!
Of course you must be over 18 to purchase or use the kit.  Please do keep that in mind.  Do note also that the beer kit is not available for shipping in the United States, but the wine kits will be shipped.
Just as we like to grow our own fruit and vegetables, doesn't it sound like fun to have a do-it-yourself project that is just for adults?  I can think of several people who would enjoy any one of these.  They also have seeds to grow the hops to make your own beer.  That will give the recipient a demonstration of the whole process.  The kits are re-usable too.  They come with recipes so you can experiment over and over again.
You can see all the wonderful choices you have for kits or drink-related items here.  Don't worry, if you don't drink, they offer specialty teas as well.  You'll enjoy browsing to see what a great variety they carry.





ABOUT THE AUTHOR