Guy Bradley: A true story about an environmental murder.
Does environmental murder seem to be strange description? This is the true story that took place in the Florida Everglades in 1905.
At and before the turn of the century, there was a huge fashion in America that dictated that the truly stylish woman wore hats decorated with bird plumes.
In order to satisfy the trade, beautiful birds – many endangered – were shot in the Florida Everglades by hunters.
Hunting was a way of life in the Everglades in those days and to be fair,  it was the best (and sometimes only) way that some people could afford to bring up their families and keep bread on the table.
But by 1886 birds were being killed exclusively for the millinery trade at the rate of five million per year (yes, five million birds killed to adorn hats).
At first, this was happening throughout America and the birds were driven south – now the rarest and most desirable birds were in the Everglades and various bodies were determined to protect them.
The Audubon Society tried to persuade women that their fashion really wasn't cool at all. And the American Ornithologists' Union persuaded Florida's lawmakers to make the killing of wild birds – other than game such as duck – illegal.
Therefore, a young man called Guy Bradley was appointed as a warden to protect the birds and enforce the new law.
Employing Guy was a wise move. He, like so many other young men, had hunted plume birds for their feathers in the past. The powers-that-be reasoned, correctly, that this fact gave him a greater knowledge about the men he had to find.
He was in his thirties and a married man with two young children and yet only three years after he was appointed to his position, he was murdered in the line of duty.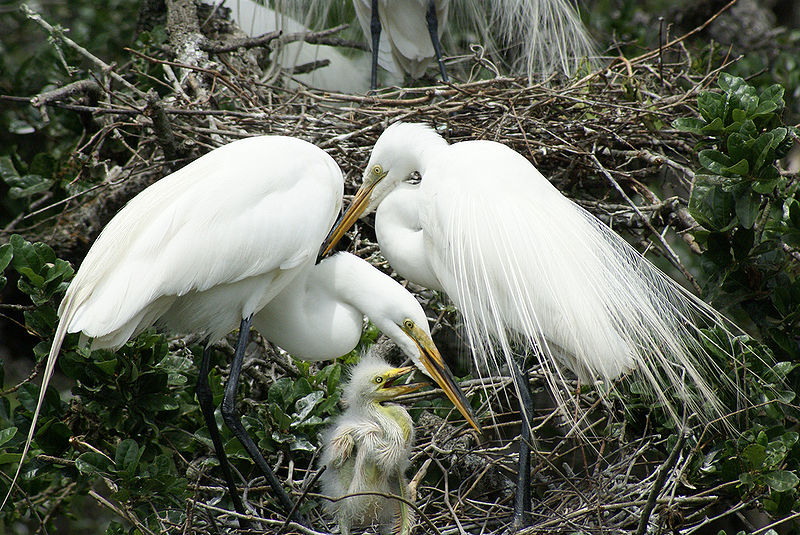 South Florida was a primitive place at the turn of the century. In many areas, it was lawless. There were family feuds and what today we might call gang warfare.
Walter Smith was a well-known character. Indeed, when Guy was just a baby he had been a friend of the Bradley family.  But even though the law was now in force to prevent the killing of wild birds, Smith – along with his sons – continued in the trade as his many other hunters. The demand made it irresistible. At one time, women in New York would pay $130 for a feather-trimmed, fashionable hat – and this was at a time when the average factory worker would earn about $10 per week.

But one day in July 1905, Guy Bradley spotted Smith's schooner and in his own small sailboat, approached the craft. Smith saw him and fire a shot into the air to warn his two sons that the warden was present. As Guy watched, he saw Tom Smith fire at cormorants and then climb aboard the schooner carrying the birds' bodies.
Guy shouted to Smith that he intended to arrest Tom. When Smith asked to see his warrant, Guy informed him that he didn't need one because he had seen the unlawful killing with his own eyes. Smith fired at Guy Bradley, killing him. His body fell into his boat and drifted off, only to be discovered the next day.
Smith went to Key West to the sheriff and gave himself in. It seemed like an open and shut case.
But in fact, the story was just beginning
---
 ABOUT THE AUTHOR