Hot Fudge Cake in the Slow Cooker
Gooey chocolate goodness made in a slow cooker.  This scrumptious, moist dessert is so easy.  No mixer required, simply stir, pour, and let your crockpot do the rest.
This was a first for me. I've never made dessert in a slow cooker before.  I can see I have been missing out!  Wouldn't you know Betty Crocker already had this and several other recipes to suggest?  When I saw the words "hot fudge," I knew I had to try it.
What is great about this recipe is that it makes its own topping.  I wasn't sure how that would work.  The mix you pour into the bottom cooks into a brownie/cake like dessert, complete with chopped nuts.  It rises, so that when you cut and remove a serving, rich fudge topping is beneath it, just waiting to be scooped over the cake.
Pure deliciousness!  You can actually slice and serve it like I photographed above, or scoop it up and out as I did in the next photo.  It came out great.  Since you let it sit after cooking for more than a half hour, it is still hot, but ready to eat.  Cleaning up the slow cooker was easy too, because it had stayed so moist.
Fun to try, yummy to taste.  Don't forget to pick up some ice cream if you want to spread some of that hot fudge sauce around!
I'm convinced the slow cooker can handle other dessert recipes now.  I'm off  to search for the next one right now.
Rating 5 from 1 reviews
Prep time:
Cook time:
Total time: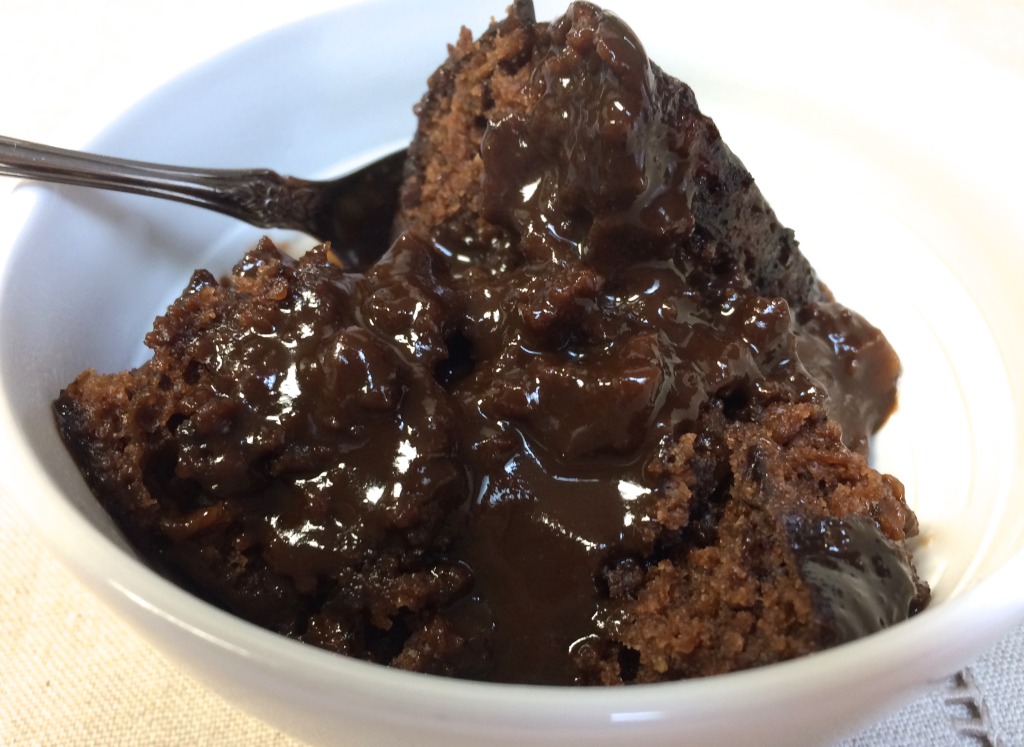 Ingredients
1 cup flour
½ cup sugar (I used ¼ cup sugar, ¼ cup Truvia)
2 tablespoons baking cocoa
2 teaspoons baking powder
½ teaspoon salt ( I used sea salt)
½ cup milk (I used 1% milk)
2 tablespoons vegetable oil (I used olive oil)
1 teaspoon vanilla
½ cup chopped nuts
Pour over top for sauce
¾ cup packed brown sugar
¼ cup baking cocoa
1½ cups hot water
Instructions
Spray bottom and sides of a large slow cooker with cooking spray.
In a small bowl combine the dry ingredients—flour, cocoa, sugar, baking powder and salt, and blend.
Combine the liquid ingredients—milk, oil and vanilla, stirring until blended.
Add the liquid ingredients to the dry, and stir until smooth.
Slowly pour into the crock pot, spreading evenly.
Mix the topping next, combining the brown sugar, the additional ¼ cup cocoa, and 1½ cups of water.
Stir until blended, then gently pour over the mixture already in the crockpot.
Cook on high for 2 hours until set.
Turn off and let set for 40 minutes uncovered.
Plate cake, then scoop topping that remains in the bottom over the cake.
Top with whip cream or with a scoop of ice cream
If you are in the market for a new slow cooker, I would highly recommend this one.  Terrific stainless finish and big enough for family cooking (you can always freeze the leftovers for another meal if you cook for one or two).  But most important to me is that you can brown in it too.  The insert removes, so you can brown meat or whatever, then set it into the crock pot and be ready to go.  It is programmable too.  All that and very reasonably priced.
Fix-it and Forget-it 
With 14o0 recipes to choose from, this looks like one of the best slow cooker cookbooks available!  Now that I'm inspired to experiment with more, it's going in my cart.
 
ABOUT THE AUTHOR