Alice – and Her Illustrators.
On one hot summer day in 1862, a shy, introverted mathematic professor, Charles Dodgson, told a story to three young girls whilst rowing on the River Thames. One of the three girls, Alice Liddell (his favourite) begged Dodgson to write it down and give it to her. He did. And 'Alice's Adventures Underground' was born. So too, was 'Lewis Carroll', the pen name adopted now by Dodgson.
This part of the story is well-known. But less well-known perhaps is the story of the artists that took up the challenge of illustrating Alice since the book was first published in 1865.
This article will introduce just a few of them to you.
(Images: all photos taken by me using books from my own collection.)
The First Illustrators
Lewis Carroll was the first illustrator of 'Alice'. He wrote the story by hand and made pencil drawings to illustrate it in black and white.
One of the photographs below is a colour version of the original Carroll sketch; the original manuscript is in the British Library in London.
Carroll's drawings were not, in fact, of Alice Liddell, but reportedly based on another child friend of his – Mary Badcock – and it is her long tresses that we now associate with the fictional and traditional 'Alice' image.
The publisher, Macmillan of London, published the by now renamed book, 'Alice's Adventures in Wonderland' in 1865 and it was illustrated by the talented artist, Sir John Tenniel.
Tenniel and Carroll collaborated closely to produce images of 'Alice' that felt right to both men.
The book was an early success, thanks to Tenniel's imaginative drawings, and this was followed by Through the Looking-Glass, published by MacMillan in 1871, again featuring drawings by Sir John.
The First Illustrators

The Early Years
The copyright on Alice's Adventures in Wonderland did not expire until 1907, but when this happened other publishers were ready and waiting with their own illustrated versions. Between October and December 1907, four new editions were published. The illustrators were:
Millicent Sowerby (Chatto & Windus edition);
Arthur Rackham (William Heinemann ltd);
Charles Robinson (Cassell & Co.);
…and W H Walker (John Lane ltd).
By 1907 printing processes had improved enormously and the colour plates produced in the second wave of 'Alice' were of a high standard. The Sowerby and Rackham illustrations in particular are of a superior quality, and all first editions of these are very collectable today.
Other editions soon followed, notably with illustrations by Thomas Heath Robinson, and Harry Rountree , (1908) Charles Pears (1909), Mabel Lucie Attwell (1910). The Harry Rountree book is also very collectable today, as his drawings were quirky, fun and brilliantly executed.
Early Years 'Alice' Illustrators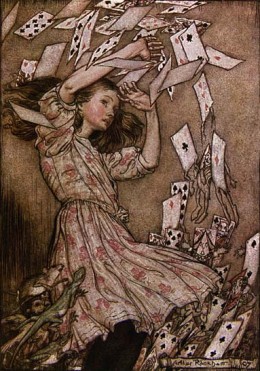 Source Book
Illustrating Alice: an international selection of illustrated editions of Lewis Carroll's 'Alice's Adventures in Wonderland and Through the Looking Glass' , published in 2013 by Artists' Choice Editions.
Produced in a limited edition of 500 standard copies. It offers a comprehensive guide to the history of 'Alice' illustrations from Tenniel onwards, covering illustrators' work in Brazil, China, England, France, Italy, Japan, Poland, Russia, USA and Canada.
Woodbine Books
Woodbine Books : – Art/Architecture Designer Bindings Fine / Private Press Books Signed Books ecommerce, open source, shop, online shopping
The Appeal of 'Alice'
'Alice's Adventures in Wonderland', and the follow-on story, 'Through the Looking Glass and What Alice Saw There', have been translated and published in most countries of the world. It is arguably the greatest children's story of all time – great because it can be enjoyed by children and adults.
Children love the fantasy elements in the story and the fact that Alice is a fearless, adventurous girl, not afraid to ask questions and stand up for herself. For adults, in addition to the sheer wacky fun of the story, Alice's challenge to tyrants in the story, and the way she stands up to them, strikes a chord at both individual and societal levels. Even in Communist countries, like Russia, the book became popular – as Alice is seen to challenge the tyranny of monarchs!
In the USA, the Tenniel illustrated books arrived in 1892 and a few years later US publishers began to produce 'Alice' with illustrations tipped in alongside the Tenniel pictures. Blanche McManus was the first on the scene in 1899, followed by Peter Newell (1901), Fanny Cory (1902), Beatrice Stevens (1903), Maria Kirk (1904).
Some beautiful illustrations appeared between 1907 and the early 1920s, most notably 'Alice' as illustrated by Bessie Gutmann (1907) (see illustration here), Elenore Abbott (1912), Milo Winter (1916), Willy Pogany (1917), Gertrude Kay (1923) and Jessie Willcox Smith (1923).
Do you have a favourite early US illustrator of Alice?
Some US 'Alice' Illustrators (1899 – 1920s)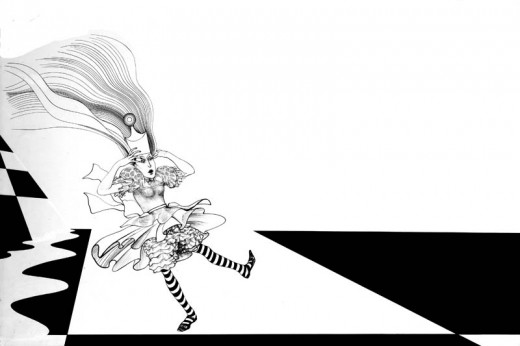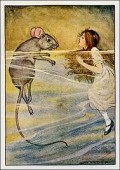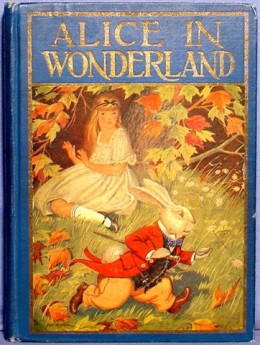 A Pick of US and UK 'Alice' Illustrators (1940 onwards)
With US artists, my choice is completely subjective, but I would pick out the work of Barry Moser (1982), DeLoss McGraw (2001), Scott McKowen (2005) and Maggie Taylor's illustrations (2008) for their originality.
I am more familiar with UK illustrators of this period and would single out (again,quite subjectively), the work of Helen Oxenbury (1999), Ralph Steadman (1967), Emma Chichester Clark (2009) and Anthony Browne (1998) for their original interpretation of both 'Alice' and scenes from the books.
See for yourself, below. But if you have a favourite 'Alice' illustrator that I haven't mentioned, be sure to let me know.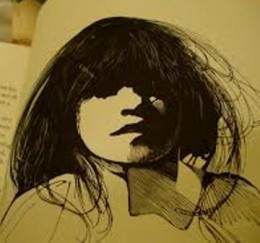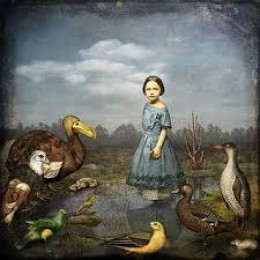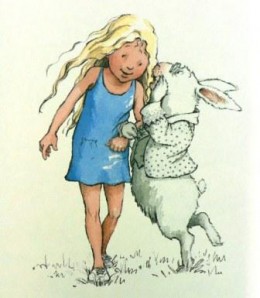 Alice in Russia, France, Italy … Everywhere
The 'Alice' stories have been published in most countries of the world. Just a few examples here …
Every Ending is A Beginning

Let us finish where we started, with one of Lewis Carroll's own drawings of 'Alice' (hand-coloured by artist, Ian Beck).
---