Andy Royston pays tribute to a true musical legend, the magnificent Mavis Staples.
We've come here tonight to bring you some joy, some happiness, inspiration, and some positive vibrations! We want to leave you with enough to last you for maybe the next six months. – Mavis Staples / Live: Hope at the Hideout
---
Mavis is coming to Fort Lauderdale,just a walk away from my home and I just cannot wait.
Here is an American voice that speaks for the ages. A voice that reaches back to the Mississippi delta countryside where her father grew up, to the dirty thirties – the Chicago southside neighborhood that also gave us Lou Rawls, Sam Cooke and Aretha Franklin. To the civil rights marches of Selma and Dr. King's March on Washington. She's appeared on the stages of the Newport Folk Festival (with Baez and Dylan) and, with her tight-knit family group – The Staples Singers – she gave us the finest fusion of the sacred and the secular with their inspirational mix of folk and gospel.
If He can Preach It, We Can Sing it
By the time we met Dr. King I had seen how in was in the South. I had seen people were treated down there. For   someone to be speaking for us, someone of his caliber and character, I was just totally ready to join forces with him. We all were. Mavis Staples
Her strong connection with the civil rights movement is partly down to her father Roebuck 'Pops' Staples, who had been listening to Dr. King speaking on the radio since the 1950s, finally arranging a meeting with him in 1963, when the Staples Singers were in Montgomery to play a show. King himself was very familiar with the Staples Singers, and when Pops Staples penned one of the eras most profound songs, Freedom's Highway, the connection between the family and the civil rights movement was secure.
In the song Pops writes with reference philosophy, history,  resentment and resolve. In one verse he references the 1955 murder of Emmett Till. "Found dead people in the forest, Tallahatchie River and lakes", sings Mavis.  "The whole wide world is wondering what's wrong with the United States."
In his 2014 biography of Mavis Staples, Greg Kot writes that "Pops connected the themes of gospel music and the civil rights movement more explicitly than ever before.It presents him not just as a musical innovator, but as a philosopher, preacher, and visionary, a melding of black church music and black popular music for a common cause. Church music was no longer just about making it through this world to get to the next one; it was also about living right now in the streets all African Americans shared."
I'll Take You There
Pops didn't only pass on a wonderful tradition of down home harmonies. He was a hugely influential guitarist. He played a Fender Stratocaster with a tremolo effect, and played it in a rural style that brought him to the attention of musicians as diverse as Elvis Presley and Duke Ellington.
But it wasn't until the Staples family  signed a deal with Al Bell at Stax— that they found a label that knew how to handle gospel's power and Pops' rough edged bluesy style.
Here at Stax we find the roots of Mavis Staples ear for a great guitar, as the legendary Steve Cropper stepped up as producer. Steve had already, at 26, produced and written hits for Otis Redding, Wilson Pickett and Eddie Floyd. He said later "Pops and I hit it off in part because we both had a different attitude towards guitar. Guitar was meant to be simple, not flashy".
Mavis grew up harmonizing to Pops distinctive guitar flavor, and once she flew the coop and went solo guitarists soon became her main collaborators. Her ear for the electric remains exemplary. How else can you explain the presence of (deep breath) Curtis Mayfield, Mark Knopfler, John Martyn, Richie Havens, Prince, Ry Cooder, Jeff Tweedy and M. Ward.
Respect Yourself
Throughout her storied career Mavis Staples has never wavered from her gospel music roots. She always takes a song to church. Her music and her distinctive voice has touched the most irreligeous of souls – myself amongst them – over the years and decades. It's hard to imagine that, in the 60s the Staples Singers faced accusations that they had sold out their gospel roots – One critic accused the family of "Uncle Tomming for the flower children."
The Staples, though, recognized that the folk singers' music was close to their own – indeed the folk and civil rights movements would share a common cause on August 28, 1963, as Bob Dylan, Joan Baez and Odetta appeared at Dr. King's historic March on Washington. The Staples Singers journey into the heart of the folk and rock audience reach its hight when they appeared on stage in celebrated documentary rock movie "Last Waltz, where, on Thanksgiving Day, 1976, The Band are joined by Pops and his family for a stirring rendition of The Weight. Mavis takes the second verse.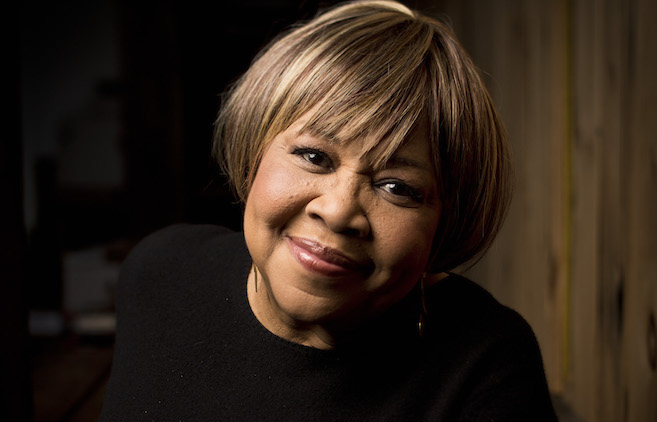 Judy Collins in her biography seems to hit the nail on the head. She observed that The Staples Singers served "deep dish soul to kids who were yearning, I thought, for something to replace the religion most of them had abandoned." At their Newport Folk Festival appearance Collins recalled a night full of shouts of 'amen' and 'hallelujah' as Pops and his daughters won over a new audience.
When Mavis sings it feels like some greater force is at work. Something deep and connected. She grew up in church and on the front line of the civil rights movement, Her gorgeous, grainy contralto delivers songs that seem to come from deep within the soul, from the heart of America's recent history. In the fight for justice for African Americans, in a time of lynchings and intimidation she was touring the South, telling the story. She was taking a stand. At seventy-seven years old, she's still here, still bringing that gospel music, still taking the roof off the church.
When Mavis sings, its as if the truth is finally here.
Videola
A few choice videos of Mavis Staples in action.
Great Day

Freedom's Highway

The Weight

Come Go With Me

Respect Yourself
Why Am I Treated So Bad

Time Waits For No One (with Prince)

Holy Holy

Hard Times Come No More

Give We The Pride (with Chuck D)

Let's Do It Again (with Rick Holmstrom)

I'll Take You There (at the White House)

ABOUT THE AUTHOR