The Joséphine Baker Story.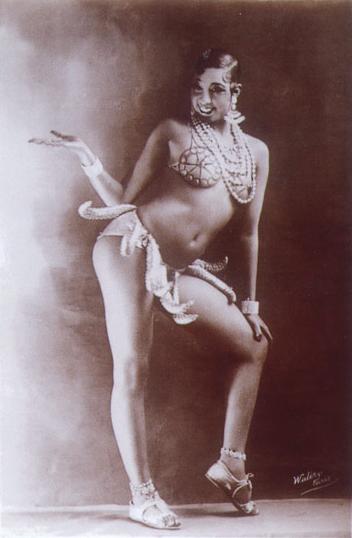 Until I recently read a biography about Josephine Baker, I had only the haziest idea about who she was. Little did I know what a truly fascinating life she had.
It's amazing that someone who had such  a poor start in life could achieve so much. The book tells so many fascinating stories about her life – and it wasn't always an easy one.
She inherited her terrific looks from her mother, Carrie. Carrie moved to St Louis from South Carolina as a teenager and lived in an area which, to quote the book 'a disease-ridden slum'.
She started in the entertainment world as a dancer where she met a fellow-performer called Eddie Carson. They became lovers and  Josephine was the result. Josephine's father obviously didn't see the relationship as anything remotely resembling permanent, as Carrie and Josephine were soon on their own, just after Carrie had given birth to Josephine's younger brother
Although Josephine soon had a stepfather, the family's fortunes did not improve. When Josephine was eight years old, her mother announced that she had found her a job. At such a tender age, she went to work as a live-in maid.
But at ten, she entered a dance competition and came first, winning a whole dollar. This was when she decided that the entertainment world was for her. She started working as a waitress in a musicians' club to be on the fringes of show business. She started to learn.
At thirteen, she was married for the first time. It lasted for just a couple of months.
She began dancing and singing in the streets in the hopes that people would throw her a few pennies – and this is how she was discovered and started touring in a vaudeville troupe. She became very popular over the next few years, but America wasn't ready for the more raunchy aspects of her act.
She was also appalled by the way that black people were treated in the United States.

So when she was nineteen, and was offered work with a troupe to entertain in Paris, she took the offer. She was reluctant at first but discovered that in Europe, she would not be considered as a second-class citizen because of the colour of her skin. She was a huge success there. She found too (as did Isadora Duncan) that European audiences were far more broad minded and expected a little – shall we say – titillation. She also became very French in her style, sophistication and character.
She gave the States another try but found that she was now even more unusual, and disapproval,  as a black woman who had improved herself so much. She returned to France.
Her life became more and more fascinating. She worked for the Resistance, for which she was honoured, in the Second World War. After the war, although she was still in France, she was a staunch supporter of the American Civil Rights movement. Partly because of this, she ultimately adopted twelve children of various races. They were known as the 'Rainbow Tribe' and her goal, apart from providing a home for unwanted children,was to show that all races could live together in harmony.
Asshe grew older, and got less work, the financial burdens of twelve children became overpowering and she lost her home.  In stepped Princess Grace of Monaco, formerly actress Grace Kelly, who admired Josephine immensely. This was just because of her entertainment but also for her humanitarian work and the way she stood up for what she believed in.
Grace, alongwith her husband, Prince Rainier, arranged a revue for Josephine which was attended by a battery of stars and also accommodation for her and the family near to Monte Carlo.
Four days after her revue had taken place, Josephine was discovered unconscious in her bed. She had slipped into a coma and died a short time later.
The biography, which reads more like an historic adventure novel is truly fascinating and highly recommended.
Read reviews on Amazon
---
ABOUT THE AUTHOR