Four months before he was assassinated in Dallas in 1963, American president John Kennedy visited Ireland. Most people thought that he then flew directly to London from the US but in fact, he detoured to the tiny village of Edensor in England. There he laid a wreath on the grave of his younger sister, Kathleen. How had she died and why was she buried in a country churchyard in Derbyshire?
Who was Kathleen Kennedy?
Kathleen Cavendish was nicknamed Kick. She was a British marchioness but most people remember her for being John F. Kennedy's sister. Due to her marriage, she became a member of a wealthy and aristocratic family. Her husband stood to inherit vast amounts of land and the splendid Chatsworth House in Derbyshire but as fate would have it, this young couple did not get the chance to enjoy their inheritance, thanks to the Second World War.
When her father was appointed to the post of American ambassador in London, he decided to take his family with him.Kathleen was eighteen at the time. It was in London that she met William Cavendish.
More often called Billy, he was one of the men who. it was speculated, might marry Princess Elizabeth (now the queen). He was certainly one of the most eligible bachelors in the United Kingdom. But Kick and Billy fell deeply in love. Kathleen was vivacious and fun which made her popular in London society.  But just as the couple got together, the Second World War began.
The Second World War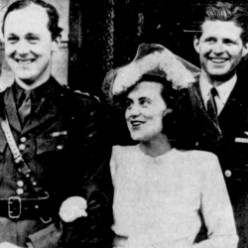 As the US ambassador, Joe Kennedy had to remain in Britain (or at least, he did until he handed in his resignation in 1940) but as soon as he knew that war was imminent, he decided to send his family back to the safety of the USA. The young lovers were separated.
Kathleen was adamant that she wanted to return to Britain, despite the war. She joined the Red Cross and was sent over to the UK. He parents were horrified. They did not approve of her relationship with Billy either, despite his aristocratic background and wealth. They were even more shocked when the couple was married in 1943. The Kennedy family were all devout Catholics and Billy and his family were strictly Church of England.
Joe Kennedy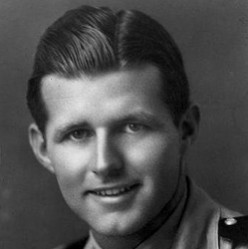 There was only one member of Kathleen's family at her wedding. You can see this from the photograph above.It was her brother Joe who was stationed in the UK.
The newly married couple didn't really care – they were in love and wanted to be together. It was wartime and no-one knew how long couples would be together in those dangerous days. Kick was perfectly content to upset her parents in order to be with him. Their instincts had been right- they had only been married for a few weeks when Billy was sent to Belgium.
Her brother Joe was also fighting, but as a pilot.  A few months after Billy had been sent to Europe, Kathleen heard that her brother had been killed in action. Just a few weeks later she found that her new husband had also been killed. He had only been twenty-six years old.
Kathleen the widow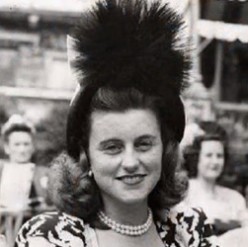 Billy's family had not shared the Kennedy's antipathy towards the young couple's marriage.They liked Kathleen and took her under their wing. She and her sister-in-law, Deborah Mitford, were particularly close.
Kick had no particular desire to return to the States and the Cavendish family welcomed her into their own homes.
Kathleen was living in one of the Cavendish family's properties in Ireland when her brother John Kennedy visited her. This was four years after Billy had died and JFK was delighted to hear from his sister that she was one more in love. But again, she had fallen for a man who would never meet her family's approval – he was married.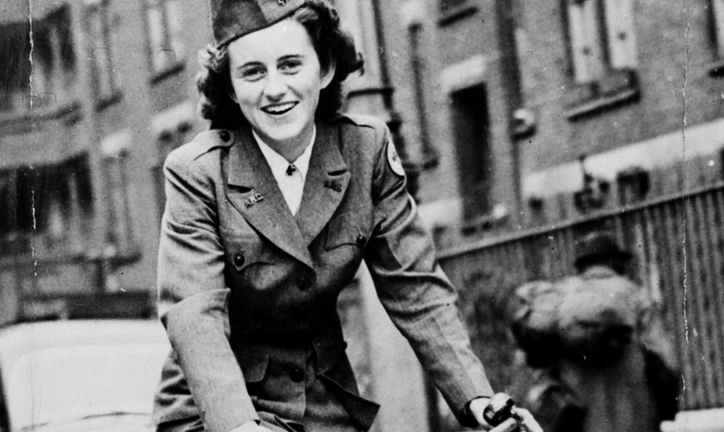 Peter Fitzwilliam-Wentworth
And again, she was in love with a man from the British aristocracy – this is hardly surprising considering the social circles she moved in because of her in-laws.
Peter had been born in the house you see in the photograph on the right – the fabulous Wentworth Woodhouse in Yorkshire. Just a few years before he and Kathleen met,
Peter had inherited this home and a title he was now an earl.
But he was married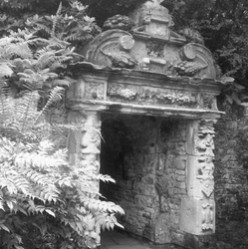 The Wentworth family had always been popular in the area and when Peter became the eighth earl, he was no different.  The family owned mines in the area and employed a great number of people – they were known for being good employers by the standards of the time.
Peter was older than Kick by ten years and when the two of them met, his marriage was in its thirteenth year. During those years, Peter and his wife had only one child – a daughter who eventually married Victor Hervey, jewel thief. The couple was already talking about ending their marriage.
Kathleen one again was certain that her family would not accept Peter. He was married and about to be divorced – strictly against her parent's religious beliefs. Knowing that her father was in Paris, she decided that she would meet up with him to discuss her plans.
The final tragedy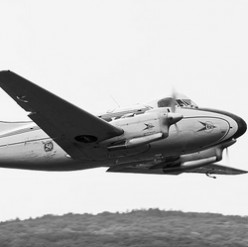 It was now 1948 and Peter planned a trip to the South of France, to Cannes. Kathleen was going with him and on the return flight, she decided, she would stop off at Paris to meet her father.
So on May 13th, they took off in a chartered airplane along with another ten passengers. The Skyways plane made a stop at Paris.There, six of the passengers left the plane. In the middle of the afternoon, the aircraft resumed its journey to Cannes.
Radio contact was lost about an hour afterwards and air traffic controllers were aware that they plane had encountered a storm. It crashed into a mountainside and there were no survivors.
Points to note…
Joe Kennedy identified Kathleen's remains. He also collected her personal belongings and it's said that there were items amongst them that showed that her relationship with Peter was serious – and physical.
Known for being a man who would gladly re-write history when it suited him, Joe told the press that Peter and Kathleen had met by chance in London and he had offered her a lift to France in his plane.
Joe's wife Rose, Kathleen's mother, was even more duplicitous in her memoirs.She claimed that the accident happened as Kick was returning from France where she had been with friends.
Rose did not attend Kathleen's funeral or memorial service, claiming that she had to be in hospital to have medical checkups.
Kathleen's brother Robert later named his daughter after his late sister. His parents gave strict instructions that the girl would never be nicknamed Kick.
Buried in England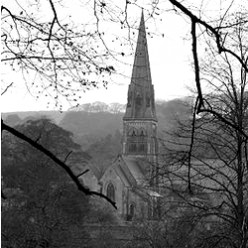 It seemed to everyone that even though Kathleen had died, her family had still not forgiven her. They appeared to be callous and unfeeling so her in-laws, the Cavendish family arranged for her burial. The Cavendish family hadn't objected to Billy marrying Kathleen – in fact, they had paid for the wedding and the lavish reception.
Deborah Mitford, now the Duchess of Devonshire, was the person who arranged Kathleen's funeral and burial. She was buried in the Cavendish family plot at the local church – see the photograph on the right.
The church is situated on lands owned by Chatsworth House – the grand residence that Kathleen and Billy would have lived in had he not been killed in the Second World War.
President Kennedy visited his sister's grave in 1963, just a few months before he was assassinated.
---
FURTHER READING
ABOUT THE AUTHOR