The Kennedy curse?
Did Jackie Kennedy take the curse to the Onassis family?
Many people believe that the Kennedy family was cursed. It's certainly true that they suffered many tragedies. But only three of these alleged 'curses' took place before the nineteen fifties – on other words, before Jacqueline Bouvier married John Kennedy in September 1953.
The first tragedy was actually brought about largely by the patriarch himself.  Joe Kennedy's daughter Rosemary was not intellectually superior as a child but was not 'abnormal'. But as she grew to young womanhood, her behaviour was deemed as being unsatisfactory. We will probably never know whether this was something that could easily be treated today. But her father decided that she should have a lobotomy and this meant that she was totally dependant on full time care for the rest of her life.
Joe Kennedy Junior was the eldest son of the family. He died young but this was a result of him being a pilot in the Second World War. Although this was of course a tragedy for the family, it was a fate suffered by thousands of other young men.
Kathleen Kennedy, another of Joe's children, died a couple of years after the war, in 1948. She had alienated her family,  especially her mother, a few years previously by marrying a member of the British aristocracy who wasn't a Catholic. Sadly, he had also been killed in WW2. But eventually Kathleen found another love. But they were killed in an air crash.
John Kennedy and Jackie Bouvier
Because Joe Junior had died in the war, Joe Senior's political hopes rested with the next eldest son, John. He married Jacqueline Bouvier and three years later, they had a stillborn daughter. Some years later, in 1963, there was another birth – the infant boy lived for only a few days.
And it was a tempestuous marriage. Jackie Kennedy was fully aware that her husband was unfaithful and a serial womaniser.
She also knew all about his health issues – he had serious back problems, Addison's Disease and a malfunctioning thyroid. These problems weren't known by most of the general public at the time.
Dallas, November 1963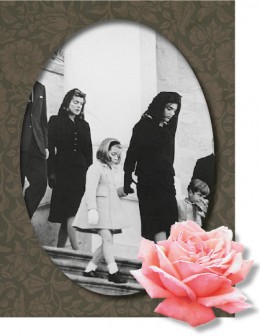 Of course, we all know only too well how Jackie Kennedy became a widow in 1963. And she feared for her children.
The following year her brother-in-law Edward was seriously injured a plane crash that killed two men.
The legend of the Kennedy curse had its flames fanned and Jackie no longer felt safe in the United States. This feeling intensified all the more when another Kennedy brother was assassinated four years later.
Aristotle Onassis was possibly the only person in the world who could offer her and her children the protection she thought they needed and deserved. The couple married and it was not a marriage made in heaven by any means.
The curse continues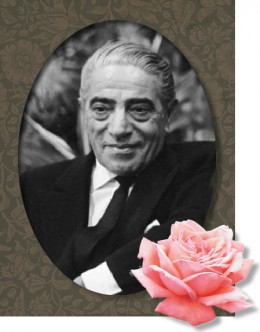 Soon after the couple had married, Ted Kennedy was involved in a car accident. Again, he survived but a young woman died. Kennedy, according to the press at the time, wondered himself if indeed his family was cursed.
In Greece, the marriage between Jackie and Onassis was not going well at all. He had grown up children who did not want, need or even like their new stepmother. They referred to Jackie as 'the black widow'. But Jackie had not left tragedy behind in America.
But things were to take a tragic turn.  In 1973, Aristotle's only son, Alexander, was in a plane crash in January 1973 and died a few days later.
The Onassis family had always been seen as being solid and secure. The only hiccup in the family had been the divorce between Aristotle and the mother of his two children. Now a tragedy had befallen the family. Onassis was hugely affected and refused to believe that the air crash had been accidental. He suspected sabotage. His daughter Christina though had other ideas. She believed, and often told this to her father, that it had been Jackie who had brought the Kennedy curse to the Onassis family. Slowly, people began to take this theory seriously.
Back in the States, Robert Kennedy had an accident that was curiously similar to the one Edward Kennedy had had previously. His female companion was paralysed for life. This was just six months after the death of Alexander Onassis. Only three months later, Ted Kennedy had a leg amputated because of bone cancer. One year later, the mother of Onassis' children, Athina, died of an overdose. Christina had now lost her brother and her mother.
More Onassis problems
No-one could have imagined that the Onassis business empire would run into trouble but that's exactly what happened. And as for Onassis himself, his health was deteriorating rapidly and as it did, he became more and more convinced that Jackie had brought the Kennedy curse with her. Even though he was ill, he decided to take action.
It was obvious to everyone that his health was failing fast and he was admitted into hospital as his condition became grave. Jackie decided to visit the States where her two children were being educated.
He decided to take two courses of action. He contacted his American attorney and demanded that divorce proceedings should be initiated. He also issued a new will. He made his daughter his heir and arranged allowances for Jackie and her children.
It was apparent that he didn't have long to live. Onassis was admitted into hospital as his illness had worsened. Jackie however, allegedly was assured that her husband was in a stable condition, flew to New York to see her children where they were at school. She was in New York when Onassis died in March 1975.
The unstoppable curse
Back in the States, Ethel Kennedy's nephew was accused of the brutal murder of a fifteen year old girl. One of her son's died of an overdose. Four years later the Onassis family suffered again when Christina died of a heart attack at the age of only thirty seven.
Meanwhile in America, Ethel Kennedy's nephew allegedly killed a fifteen year old girl in a brutal attack. A member of the Kennedy family was arrested for rape and Ethel lost another one of her sons in a skiing accident. Not even two years passed then Jackie's son was killed in an air crash, along with his wife and her sister. Even into the twenty first century the curse, if it be true, continued. One of Ted Kennedy's daughters suffered a fatal heart attack at the age of only fifty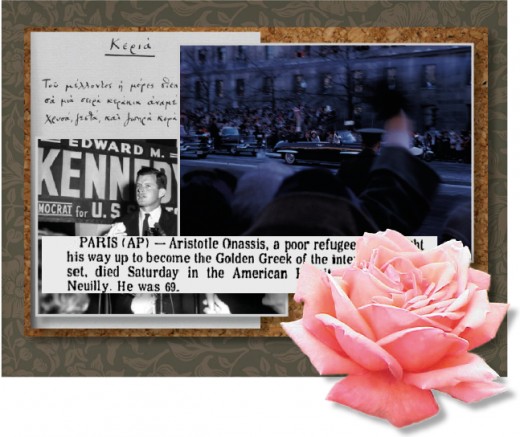 Did Jackie carry the curse?
If so, she was not immune herself. She was only sixty four when she died of cancer.
The troubled Kennedy family's tragedies continued. A member of the family was arrested for rape and six years later, the much-bereaved Ethel lost another son in a skiing accident. This was shortly after he had also been suspected of rape.  and
Less than two years later, Jackie's son died – also in a plane. Mercifully, the 'curse carrier' did not live to witness this tragedy as she had died in 1994 of cancer at the age of only sixty-four.
Was the Kennedy (and by implication, Onassis) curse a reality? Or do you think that the journalist quoted below is correct?
---
ABOUT THE AUTHOR