Who was Iris Mountbatten?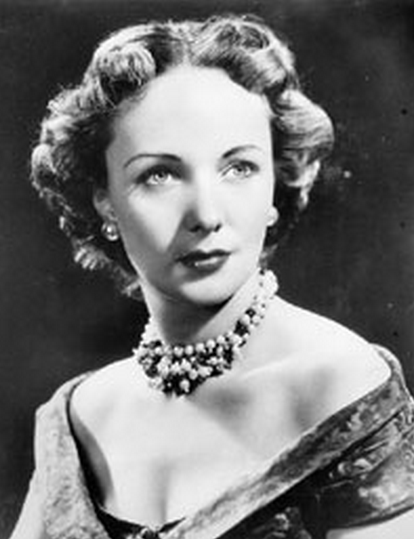 When she was fourteen years old,she was a train-bearer at the wedding of the Duke of Kent and Princess Marina of Greece. Two years later, she performed the same function at the coronation of George VI.
She grew up to have sultry film star looks. She was a direct descendant of Queen Victoria and at one time was fourteenth in line to the throne.
She was one of the most photographed debutantes of her time.
Yet in 1947 she was arrested for passing dud cheques in a Washington DC  department store and was ordered to be deported from the United States.
And it wasn't just the cheques. Her visa had expired and despite having no work permit she had been employed – including as a bra saleswoman and appearing in ads for bubble gum.
She first caused a scandal in the UK when she was twenty one and she became engaged. She had to request formal permission from the king, as all members of the royal family did, but Iris particularly so because her intended was an Irish Catholic and a commoner.
Because of this, she had to renounce her rights to the throne.
But the marriage went ahead and it was a disaster. She later said that she would have preferred an annulment to a divorce but the evidence she would have to give was too scandalous to reveal. So her husband divorced her. This caused further scandal. For a wife to divorce her husband was one thing – although hardly approved of in those days especially in royal circles – but a husband divorcing a wife was truly scandalous.
She then travelled to India and ended up in the United States where, as we saw above, she fell foul of the law. Even entering the States got her into trouble as she brought bales of fabric with her that were heavily fines for import duty. She referred to these as 'fabric samples'. After her brush with the law she moved to Canada but soon arranged to re-enter the States, legally this time. It was then that she met her second husband.
In the eyes of royal-watchers, her second husband, Michael Bryan, was even more disreputable than her first. He was a jazz guitarist from Mississippi. He was well-connected and Iris soon started moving in royal circles again but this time, that of jazz royalty such as Duke Ellington and Count Basie. But this marriage only lasted for a couple of months. Iris later said that the newspapers were reporting her friendships with jazz musicians as those of a bed-hopping nature (which she denied).
Iris' next matrimonial adventure was to marry Canadian William Kemp and guess what? They separated after only a few weeks. They were never divorced though and Iris lived in Canada for the rest of her life.
The last interview I could find with Lady Iris was in 1981. Reporters had asked her whether she, as a member of the royal family, expected to be invited to the forthcoming wedding of Prince Charles and Lady Diana Spencer. A London newspaper had been in touch with a reporter in Canada and said that the Queen Mother wanted Iris to be there and that Queen Elizabeth was considering the matter. Lady Iris' response was:
I haven't the faintest notion. If  I am invited, I'll go, of course. If I'm not, I won't.
She wasn't invited. Had she been it's unlikely that she would have attended. At the age of sixty two, she died thirty four days after the royal wedding between Prince Charles and Lady Diana.
---
 ABOUT THE AUTHOR