Eric Root claimed that Lana Turner murdered her lover.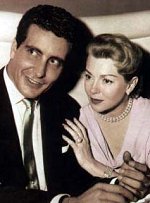 In a sensational and highly publicised case in 1958, it was claimed that small-time gangster, Johnny Stompanato, had been murdered my his mistress' daughter. His mistress was the famous Hollywood actress Lana Turner.
The court ruled that Lana's daughter,Cheryl Crane – then fourteen years old – had been responsible for the fatal stabbing. It was ruled as 'justifiable homicide' You can read about it here.
But in his book, written in 1996, Eric Root who was the movie star's last companion, claimed that Lana had told him that it was she who had murdered Stompanato and that young Cheryl was just covering for her movie star mother.
Who was Eric Root?
In his rather sensational book, Eric comes across as a believable character. His close and nearly-almost platonic friendship with Lana Turner lasted for ever twenty years. Over these years, she confided in him a great deal about her husbands (she had been married seven times) and about her numerous lovers. He said in the book that she had told him all about her life so that when she was gone, he would be the only one who could tell her story- and that was what she required of him.
Of course, there is always the cynical side of the reader which says 'well yes, you can really say what you like about someone who is six feet under'. Lana died in 1995, the year before the book was published.
Eric was known as 'the hairdresser to the stars'. He was tall, slim and handsome – and several years younger than Miss Turner. But they spent a great deal of time together, travelling the world, and he was her acknowledged escort to almost every social function she attended in her later years.
The murder of Johnny Stompanato
Lana Turner was every inch the movie star, constantly concerned with her public image and appearance. For example, she would (according to Eric) spend hours getting her hair, make up and clothing just right to go to a social occasion. But there was a mirror by the exit door in which she would survey herself before leaving her home and if she thought that she looked less than perfect, then she simply refused to leave.
On one occasion, her apartment building was on fire in the middle of the night. Eric (who was sleeping in the spare room evidently) had to force her to leave the burning building. She at first refused because she was not made up, coiffured or carefully dressed. (It was fortunate that Eric finally persuaded her – the couple in the next apartment perished in the fire).
Eric reports that one evening, he and Lana were in a suite in the Plaza Hotel watching a television show about Hollywood scandals. Suddenly, he said in the book,images of Lana, Stompanato and Cheryl were flashed upon the screen. Eric wanted to switch off the set but Lana stopped him. When the show moved on to another scandal, he says that Lana exclaimed:
"I killed the son-of-a-bitch and I'd do it again!"
She told Eric how much she was suffering because of the situation. When he asked her why, she mentioned her daughter, Cheryl.
"Cheryl, I owe her so much. I've done so many things wrong in my life. But if I die before my daughter, you should tell the truth so I can rest in peace".
Eric explains in the book that in the following years he 'pieced together'the truth. Stompanato's body was officially found on the floor by the bedroom door, but Eric deduced from his conversations with Lana that he had actually been stabbed in her bed.The official version had been that Cheryl had stabbed him with a knife she took from the kitchen but Lana told him that the murder weapon was a knife she kept in her nightstand drawer because of Stompanto's physical abuse and her fear of him. In the weeks before his murder, there had been many arguments and fights.
Eric claims that the first people to arrive at the murder scene were Lana's attorney, Jerry Geisler, and Freddie Otash, a famous Hollywood private eye. They found the body and a hysterical Lana. In a strange twist in the tale, Cheryl's father had employed the private eye to spy on Stompanato when he was teaching Cheryl to ride. Otash reported that Stompanato's intentions towards the fourteen year old were less than honourable….

He further claimed that Lana had discovered Cheryl and Stompanato in bed and that this had provoked her to murder her lover and the despoiler of her daughter. He then went on to say that he had personally wiped Lana Turner's fingerprints from the murderous knife and added Cheryl's.
Eric Root then goes onto cite further evidence that shows that the murder had been committed by Lana and not her daughter.
Will we ever know the truth?
Cheryl too wrote a book
  about her life as the daughter of Lana Turner.
In the videos below you can meet Eric Root and decide for yourself whether this man was being frank in the book that was written, edited, proofed and published in the year following Lana Turner's death.
What do YOU think?
 ABOUT THE AUTHOR