Margaret Rutherford as Miss Marple.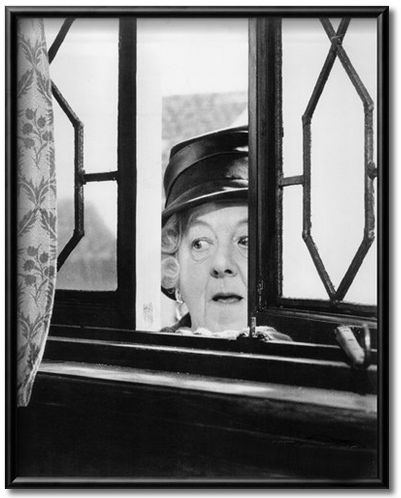 Margaret Rutherford was a much-loved British actress and probably her best known role was that of Agatha Christie's Miss Marple.
And yet because of a tragic murder in her own family, Miss Rutherford almost turned down the part of the famous elderly amateur detective. The public was almost denied from seeing her in  this most memorable role.
MGM, the movie studio, was planning to make Murder She Said in England. Margaret was their obvious choice. But what the public -or the studio – didn't know was that she had always refused to play in any film that concerned murder.
This was because her own father had been a murderer
Margarets parents – William Rutherford Benn and Florence Nicholson – had been married in 1882. It's said that the marriage wasn't consummated in its early days and that this led to William having a nervous breakdown.  He stayed for a short time in an asylum and was then released into the care of his father, the Reverend Julius Benn.
In February 1883, just three months after the marriage, father and son went to stay in Matlock in Derbyshire; its country it being deemed beneficial to William's health. One week into their stay, William smashed in his devoted father's skull.
William had made a half hearted attempt to cut his own throat and after lengthy investigations he was sent to Broadmoor, a prison for the criminally insane. Throughout his incarceration there, his wife remained devoted to him and when he was released seven years later, the marriage resumed.  Because of the notoriety that had surrounded the murder, the couple changed their last name to Rutherford. Their previous marital difficulties were presumably behind them as in 1892, their daughter Margaret was born. The family left England to make a new life in India.
Florence became pregnant again and William was disturbed to see that asher pregnancy progressed, she became unstable. He suggested they move back to England for the birth but Florence refused. Instead, she took her own life, hanging herself from a tree in the garden. This sent William over the edge and he was hospitalised again.
Margaret, then only a small child, was brought up by relatives in England. She was told that her father had died, something she believed until she was thirteen years old when she discovered that he was still alive incarcerated in Broadmoor.
Margaret Rutherford refused the part of Miss Marple
She was highly disturbed by the idea of playing the role. She declared 'I hate violence of any kind and murder in particular.' For several days she and her husband, Stringer Davis, debated the issue but Margaret was adamant. She was however pleasantly surprised when she read part of the script, remarking  that Miss Marple was 'obviously a good woman'.
Stringer Davis and Margaret had married late in life and were devoted to each other. Although he was regularly in work, Margaret's popularity had eclipsed his own – a fact which didn't upset him but did bother her as she considered him to be the finest actor. Cleverly, the studio offered the part of Miss Marple's librarian assistant to Stringer. This worked. The thought that the couple could work together was enough to convince Margaret that she should take the part.
Agatha Christie
Everyone was delighted that Margaret had accepted the role – with one notable exception. Miss Marple's creator, Agatha Christie, was unhappy with the casting. She explained that she had based Miss Marple on her own aunt – a woman very unlike Margaret in almost every way. But the two women met and became huge friends.
See Margaret Rutherford in action playing Miss Jane Marple
ABOUT THE AUTHOR