Who was MaVynee Betsch, the Beach Lady?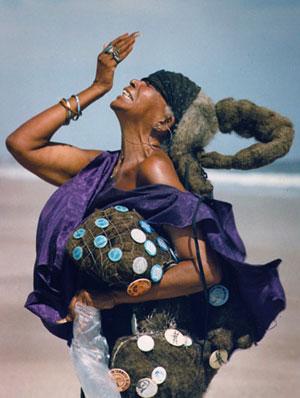 She was born into high society. Her great grandfather had been the first black millionaire in Florida. He founded the Afro-American Insurance Company in Jacksonville and the famous black American Beach resort in the days of segregation.
MaVynee was exquisitely educated, as were her brother and sister. They were taught the piano, for example, at a very early age. MaVynee went onto study voice and became a well-known opera singer in Europe. She had everything going for her.
But in later years, back in Florida,she was virtually homeless, practically penniless and living on American Beach -literally.
Why did she return to the States? It's said that it was because of a love affair. She was terribly in love with a German man but her parents completely disapproved.
There she is on the right.She became an activist   and environmentalist and spent years educating the public about the history of American Beach and it importance.
When her grandfather, Abraham Lincoln Lewis, started American Beach during the Jim Crow era, so many beaches in Florida just didn't allow black people access to public beaches. Founded in 1935, it was an area where African Americans could relax and have fun. Many of the homes there were opulent – some were full time residences and others second homes used for vacations.
It had restaurants, hotels, sports facilities and nightclubs. Top entertainers of the day performed there. It was an incredibly popular venue.
Like other communities, it was a hurricane that started the decline of American Beach. Hurricane Dora hit it badly in 1964, destroying many of the homes. Shortly afterwards the government, who had had a great deal of pressure, desegregated Florida's beaches. Now there was little demand for American Beach, especially since the hurricane had destroyed so much of its splendour.
MaVynee was a wealthy woman when she returned to the area. She had inheritances and had earned money abroad. But she gave her money to charitable causes and became the Beach Lady, espousing the causes of the local environment and the history of the area. Sometimes she house-sat for absent homeowners. At one time she lived in a secondhand RV bought for her by her sister. When she didn't have a roof over her head she lived on a beach chair right in front of the ocean.
She grew her hair – yes, those are her floor-length dreadlocks that are bunched under her arm. (See the video below) On her left hand, she grew her fingernails to over a foot long – and kept them immaculately lacquered. As you can see in the photograph, she kept a plastic bag over them to protect them.
She became a well-known character. She gave talks on tour buses and spoke at public meetings. She worked tirelessly to have American Beach proclaimed a site of historic importance and saw it as being an important symbol in the struggle of African Americans against the Jim Crow era.
She lived to see this happen – American Beach was designated as a site of historical importance in 2001.
---
You can read about American Beach in the book below. It is currently out of print but second hand copies are available at bargain prices. There is also an audio version.
---
---
 ABOUT THE AUTHOR