Mick knew his stuff.
I knew I was on a hiding to nothing when I walked in with a brown record bag.
"Hey, what've you got there…"
"Some obscure James Brown" I replied proudly. He took the bag and removed the second hand 45 within, Prisoner of Love, 1964 on London Records with a pushed-out centre.
"Bollocks, he said laughing.  That's not rare. Should be on King for a start. And it's scratched to shit…"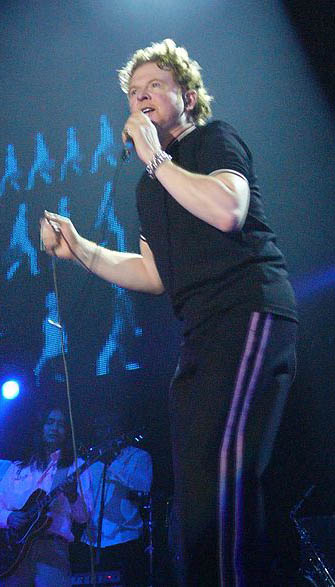 Mick Hucknall was killing it on Wednesdays as a soul DJ in those days, introducing Manchester students to some of the best black rhythms of the 60s and 70s.
Together with his mate Joe Strong (who worked the Friday nighters at the Cypress Tavern dive bar on Princess street) he was in the business of musical education – and if he got a dancefloor full of freshers grooving to Nina Simone or Afrika Bambaataa he was doing the business.
Within, like, five minutes he was being signed to Sire Records by no less than Seymour Stein and he was supporting James Brown at the Hammersmith Apollo,  putting that extraordinary musical knowledge to work.
His band Simply Red were aiming right for the coffee-table middle ground recently vacated by Rod Stewart, but with a sense of craft and guile. He took quality pop, soul, rock and jazz and gave it the crooner's attitude, becoming a bone-fide sex object and kiss-and-tell king in the process.
Mick and his manager Elliot were totally straight about it – they were going right to the heart of the market. No messing around. They got Stewart Levine, who had recently produced The Crusaders, Van Morrison and Lamont Dozier to produce. He'd done Joe Cocker's Up Where We Belong FFS so he was perfect…
In these days of American Idol and X-Factor karaoke superstars, it might be said that Mick was way ahead of the game. What makes a song? the melody? Is it the lyric?  Can a cover version destroy a song's soul or elevate it to another plane? Mick Hucknall's catalog of cover versions is a blueprint for taking a well-known original and giving it a new edge. Here's just a few.
Money's Too Tight to Mention (originally by the Valentine Brothers)
Mick set his stall out early, with this cracking debut hit. It covered one of his Manchester dance floor favourites by New York's Valentine Brothers. The original a disco-funk number driven by a roaring saxophone had been a hit locally in D.C. and St.Louis and a certain dancefloor in Manchester, England.
Rumour had it that Mick was trying to throw a few royalties toward the writers of the song, who he heard were broke, but more likely he realized that the canny reference to Reaganomics, and the driving groove would be a big hit in Thatcher's England.
Grandma's Hands (original by Bill Withers)
Producer Stewart Levine observed that early Simply Red sounded like a retro American soul revue, but to my ears that was perfectly fine.
Here, on a B-side of an early single, Hucknall takes on Bill Withers' song Grandma's Hands, with its memories of of Withers' grandmother clapping her hands in church, picking him up when he fell and saving him from a spanking from his father.
A lovely song of emotional bonds, of love, care and protection.
If You Don't Know Me By Now (original by Harold Melvin and the Bluenotes)
Just like a lot of eighties cappuccino soul acts- Paul Young, Fine Young Cannibals and the Style Council are but three – the influence of Detroit, Memphis and Philadelphia soul was always clear in Simply Red's music.
Red aimed at the jazzier end of the market too, and nowadays the Fritz McIntyre-era band feel more akin to Sade and Working Week than the mainstream blue-eyed soul brigade.
The choice of Harold Melvin's star making vocal turn from the 70s was apt too. Gamble and Huff wrote the song for Labelle, which would have resulted in a whole different vibe. Mick Hucknall's  way with a ballad, and his Cotton Club on-stage swagger, had made him a hit with female fans. Teddy Prendergrasses finest was right on the money for the time.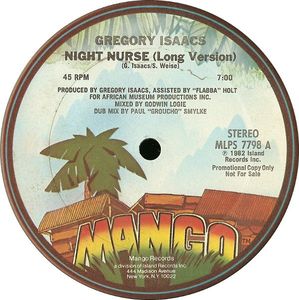 Night Nurse (originally by Gregory Isaacs)
Here Mick's back in the Manchester DJ booth, where like a lot of us he was indulging in dub, rockers and reggae.
The period between 1974 to 1978 was a golden period for lovers of reggae, and at the time the Cool Ruler, Gregory Isaacs was king. The original was massive – with the Roots Radics band providing the music and Tuff Gong the studio it was always going to be a tough challenge.
What makes the number work is that it's a solid collaboration with the Taxi Gang, led by Sly Dunbar and Robbie Shakespeare. Sly and Robbie didn't play on the original Gregory Isaacs cut  (they were in Bunny Lee's rival Aggravators band) but are the two men most responsible for bringing the Jamaican roots attitude into high tech studios in Europe and America so were always going to elevate.
But if there's anything we know from Mick these days it's that he's not afraid of aiming high. He did after all cover Aaron Neville's Tell It Like It Is, one of the most transcendent vocal recordings of all time. No pressure, Mick.
And he had the testicular fortitude to step up to the mike when the Faces decided to tour again. Rod was busy. Speaking of which…
Debris – Originally recording by The Faces
For all the cocky attitude we all remember The Faces were far deeper than the bar-room rock and roll party animals they projected.
Debris is a slow-burning number written and sung by Ronnie Lane, with a beautiful bluesy lead from Ronnie Wood.
Mick Hucknall's 2007 take on the song is very reverent and is a prelude to his working with the remaining members of the faces a few years later. There are better recordings out there, but I do like this stripped down version for a Netherlands radio show.
Money In My Pocket – Originally recorded by Dennis Brown
Mick Hucknall covered a few reggae songs over the years – a Bunny Wailer number Love Fire in 87 and another Gregory Isaacs song, Ghetto Girl a year later. I'm amazed he's not done more considering his involvement with Blood and Fire, one of the top reggae re-packagers.
The most interesting cover though has to be this one from one of his later albums. This time the reverence musically has taken a back seat in favour of sentiment. For me the original is a thing of great beauty. Even though Dennis Brown wasn't even sixteen when he laid down the vocal I place it alongside Smokey Robinson's Tracks of My Tears and Tears of a Clown as a song that sounds so happy and reads so sad.
Mick's brought this aspect out in a wonderful remix, led by one of his long time production collaborators, Andy Wright, who had produced another standout track of his, the hit single Fairground. More than a touch of Dirty Vegas about this one, if you know your Days Go By.
It didn't surprise anyone in the least that Mick Hucknall made it big. Given his deep knowledge of American black music it was a given that he'd be writing songs with the likes of Lamont Dozier and Van Morrison sooner or later.
His attitude still shines, especially when asked a dumb question.
Do you think black people really can appreciate classical music? Offensive, isn't it? Well, I'm offended too. This century has been unique in the story of mankind in that we have witnessed the marriage of cultures, mainly Western and African.
I am one of this century's children. Musical recording history is full of multi-racial collaborations and it is this cross-pollination that has created the magic of Ellington, Sinatra and the Beatles. I am merely a part of that tradition. It is perhaps the most "soulful" strength of living in a multiracial society.
Please, for the sake of the next century, let's rid ourselves of these racist shackles, and move positively forward.
Mick Hucknall – Independent Magazine, 1998
From my own point of view I've always hoped that he'd step away from the shallow end and take on more deep jazz and blues cuts; the kind of thing that Cassandra Wilson and Holly Cole excel at. Lord knows, he's got the chops. A bit more Blue Note would do him good and he could really delve deep into the repertoire. With the musicians he knows I expect great things in the future now that he's finally left the nightclubs and settled down.  Watch this space, as they say.
ABOUT THE AUTHOR