My Mom's Spanish Rice and My Adapted Version.
Here is my Mom's basic recipe with adaptations by me to follow.

Rating 5 from 1 reviews
Prep time:
Cook time:
Total time: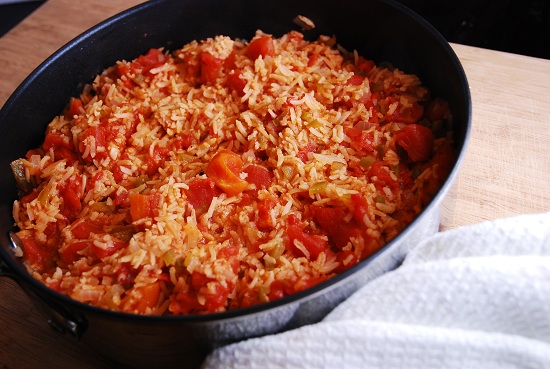 Ingredients
3 - 8 oz cans tomato sauce
1 - 28 ounce can whole tomatoes
24 ounces water
4 tbsp olive oil
1 large yellow onion, chopped
1 cup uncooked rice, any kind
1 clove garlic, chopped - more if you wish
½ teaspoon oregano
1 bell pepper any color, chopped
½ cup celery, chopped
2 tablespoons chili powder
½ teaspoon cumin
1 teaspoon salt
⅛ teaspoon ground pepper
½ teaspoon marjoram
1 and ½ pounds ground meat, beef, turkey or other
Instructions
Chop all vegetables and saute in oil until the vegetables look opaque, about 5 minutes. Set aside.
Cook meat until no longer pink, drain and set aside.
In large Dutch oven or other pot add cooked drained meat, [skip meat for Vegan], vegetables and all the other ingredients except the rice.
Simmer, covered 15 minutes. Add rice and cook low covered for additional 35 minutes or until rice is done. You can cook in oven at 300 degrees at the point where the rice is added until done.
My Dad was born May 5, 1924 in California San Joaquin Valley. The family lived in San Francisco. Dad always loved Mexican food. Growing up part of his years as a young man in San Francisco he loved Mexican food. He would frequently bring home large steam tray of food from his friend's Family Restaurant in San Francisco for all of us. It was a home cooked authentic Mexican meal. That was awesome and I learned to love Mexican food!
Mom would make this Spanish rice on his birthday every year, and many times during the year. It was a family favorite.
The adaptations that I made over the years was first to make it a main meal just as she did. I also like more vegetables in my Spanish rice as well as more sauce. I really like it almost soupy. I have to for my diet now.
I always added two chopped up bell peppers any color. These are the sweet bell peppers, not the hot one. You can add a habanero or other hot pepper as you would for any dish. One habanero is enough for this recipe.
I use 2 cups of rice for 1 and 1/2 pounds of ground turkey. I add twice the water and 2 cans of the whole tomatoes. I place one can at a time in the blender with the juice and blend the tomatoes until they are crushed. Repeat with the second can. I use the same spices with the addition of one tablespoon of Italian seasoning. I also use 4 cloves of garlic or two tablespoons from a jar of minced fresh garlic. I love my garlic!
Depending upon whom I am serving this dish for I will add Tapatio sauce to taste after I place it in the bowls for serving. Let each person add what they want. My Dad loved Tabasco sauce and would add the amount he wanted on his serving. My Mom's recipe is not overly spicy especially for children or those who do not want spicy food. You can reduce the amount of chili pepper as that is not as strong as say a real habanero pepper!
I cooled the rice and placed it in plastic containers which i froze in individual servings. I did a lot of cooking for myself and the kids and others I lived with did not care of the Spanish rice. So I used it for my lunches.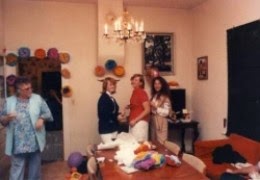 A little blurry: This is how we decorated my living room with the big flowers made from tissue paper that Mom and I made.
I saved the flowers and put them up each year. Mom is the one on the left in blue, left to right is my niece, my daughter Miss Norway, and my sister in law. 1983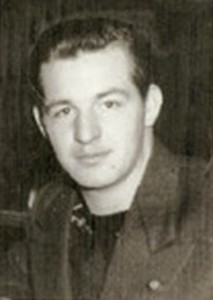 My Dad was Born on Cinco De Mayo – The 5th of May
On the left, my Dad – Johnnie in 1944
Born in 1924 – passed away Oct 28, 2001
---
Note: I left all my photos in California so I do not have the photo of my Spanish rice, however I am borrowing the photo in the recipe above from this webpage.
---
ABOUT THE AUTHOR