Lasagna is always a good meal; not to hard to put together either.
The reason I call this one oven ready lasagna is because of the noodles. I've never tried noodles that were oven ready before and decided to give this a try. Oven ready noodles means there is no boiling them. You just put them into your pan and add the layers.
I used the recipe right off the box of the oven ready noodles as well. Not something I usually do. I used ricotta already made up that is store bought. Not something I'm use to using. I like to make my own Ricotta because it is creamier. Either hamburger or veggie meat is good in this. I like it both ways.
Overall the lasagna turned out great. I thought it was a bit on the drier side but non the less really good. It must have been since my family scarfed it all up!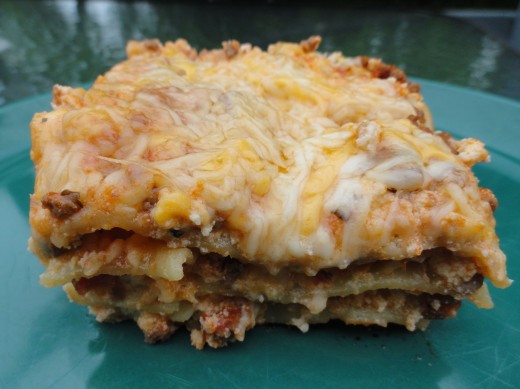 Ingredients
1 12 oz pkg oven ready lasagna
2 15 oz ricotta cheese
2 cups shredded mozzarella cheese, divided
½ cup grated Parmesan cheese, divided
2 eggs, slight beaten
1 tsp dried basil
1 26 oz pasta sauce
1 cup water
1 lb lean ground beef cooked and drained
Instructions
Preheat over 425.
The oven ready noodles do not need to be boiled before placing them in the pan.
In medium bowl, combine ricotta, 1 cup mozzarella, ¼ cup Parmesan, eggs and basil. Mix well
In another medium bowl, combine the pasta sauce, 1 cup water and the browned ground beef. Mix well.
In a 9 x 13 pan, spread 1 ½ cups meat sauce on bottom of pan. Then place ⅓ of the lasagna noodles over the pasta. Then spread ½ of the cheese mixture over the noodles. Top with ⅓ of meat sauce. REPEAT layering once. Top with remaining lasagna noodles then the sauce.
Sprinkle with remaining Ricotta, mozzarella and Parmesan cheese. Place a piece of foil over top of the pan. Bake for 60 minutes or until the lasagna is for tender
Let stand 10 minutes sealed in the foil before cutting and serving.
 Cuisinart 7117-135 Chef's Classic Stainless 13-1/2-Inch Lasagna Pan

 Chicago Metallic Lasagna Trio Pan, 12-Inch by 15-Inch by 3-Inch

 Norpro 3146 Slice, Slide Serve Spatula

ABOUT THE AUTHOR