Porfirio Rubirosa: The pepper mill playboy.
Rubirosa was a well-known character in the nineteen fifties and sixties. He either married,or had affairs with, some of the richest,most beautiful women in the world.
This charm was legendary.
Amongst the women he attracted were heiresses and movie stars. He was something of a dare-devil, enjoying fast cars, skiing, flying,playing polo and having dangerous liaisons with married women.
It was often rumoured that his activities weren't exactly on the right side of the law. He was thought to be involved smuggling and several people had mysteriously disappeared – something that the police were keen to discuss with the playboy.
And despite his extravagant way of life, he was born into humble beginnings – he simply went where the money was and married it.
Two of his five wives were, at the time, the wealthiest women in America –  heiresses Doris Duke and Barbara Hutton. When he was divorced, he did  extremely well out of the financial settlements.
Doris Duke was Rubirosa's third wife. She was so keen to be married to him,that it's said that she paid wife number two, a French actress, one million dollars to release him.Yet she divorced him because he was still dallying with his first wife. He was a busy boy.
His next heiress wife, Barbara Hutton, made Rubirosa her fifth husband.
They certainly had fun in those days. He was romantically involved with almost every well-known actress of the day. It's said that he had been to bed with thousands of women.
Although Rubirosa was undoubtedly charming and gentlemanly, he was not a tall man. He wasn't particularly good looking. But his conquests were legendary.
Why?
When customers in Paris restaurants ask for the GIANT pepper mill, they refer to it as the Rubirosa
It was not just the playboy's charm that was legendary…

---
All good things must come to an end…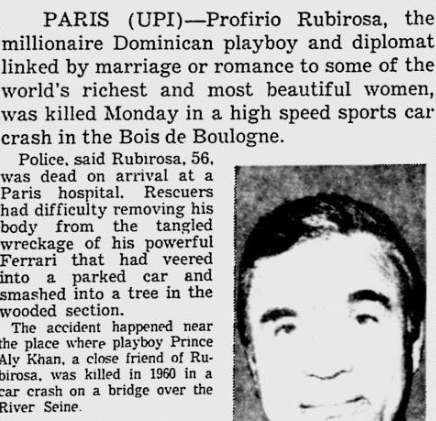 ---
Recommended:
Read more about Rubirosa in this book.
ABOUT THE AUTHOR