Dad's Basic Formula – Potato Salad.
This recipe was developed in the 1950s before they told us that too much mayonnaise [cholesterol] was not good for you.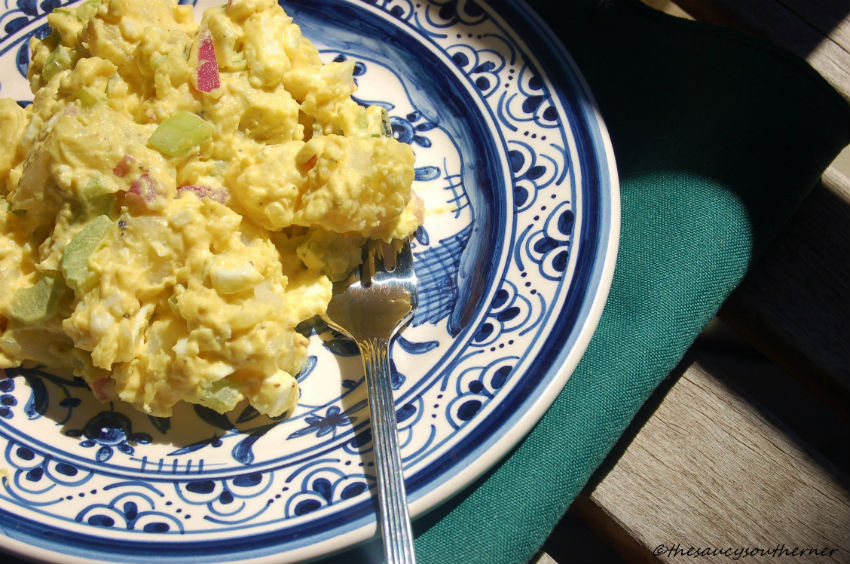 Ingredients
8 to 10 pounds Russet potatoes [he always made a BIG batch]
8 to 12 hard boiled eggs, 8 jumbo or 12 regular
2 cups celery with tops, chopped
1 large Onion, chopped
1 large bell pepper, chopped
2 cups Best Foods© mayonnaise
½ cup white vinegar
½ cup vegetable oil
1 tablespoon salt
Instructions
This is the old basic recipe. Dad adapted it as time went by. He used Best Foods© Mayonnaise only! He used Wesson© Vegetable oil only. He only used Russet potatoes. He used white vinegar until Mom started to buy Apple Cider vinegar in the late 70's. He used the yellow onions and basic green bell peppers.
Later he started to use the green onions. He preferred the yellow onions. He liked basic foods. I don't think Dad used any pepper, I could be wrong.
Mom said she added some paprika on her salad after he made the salad. Dad showed me how he made his salad when I was an adult as I was there making the salad for my daughter's wedding dinner party.
He cooked the pre washed Russets with the skins on in water to cover about 20 minutes or until tender.
He took the pan and sat it in the sink to cool off the potatoes in running cold water.
As soon as the potatoes were cool enough for him which was a lot sooner than for me - he showed me how to slip the skins off under running water! Just rub and the skins come right off! Rinse well.
No peeling! All the time I wasted peeling the potatoes before cooking all those years!
Using a paring knife he would cut out the dark spots or blemishes. Then he chopped up the potatoes into the largest Tupperware© Mix and Store container which holds 23 - 26 cups.
Then he or Mom chopped the vegetables. He added the vegetables to the potatoes. He mixed it all up very well.
Then he added the chopped hard boiled eggs. Then he added the mayonnaise, vinegar, oil and salt. Mixing all thoroughly. Add the lid to the container and chill in the refrigerator.
That was a lot of potato salad. He loved this salad so much that is why he always made a big batch. He was always asked to make this salad for the family gatherings and other events.
The bowl was perfect fit for his 10 pounds of potatoes and all the other ingredients.
Dad said the warm potatoes helped to make the dressing and oil permeate the potatoes better after it got cold for at least 12 hours.
Emeril Lagasse says 3 hours minimum on his website for this recipe, probably a smaller batch. I would also make it the day before an event. If I could not wait, I would at least have some that night after 6 hours.
Nom Nom!
Sherry's version:
When I started to make this salad I began to add more things to it.
any kind of olives, chopped dill pickles or sweet or dill relish,
bean sprouts, green onions, red peppers, pimentos,
small cooked shrimp – not canned, 6 pieces of crispy cooked bacon broken in small pieces, Jicama finely chopped, water chestnuts, garlic powder or minced garlic, parsley or cilantro fresh or dry pepper, yellow mustard or Dijon mustard.
I cannot imagine potato salad without garlic!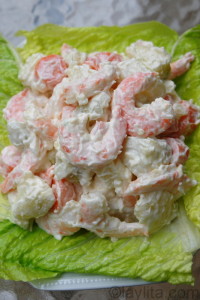 You can make this recipe and use less mayonnaise. You can also substitute some fat free sour cream for most of the mayonnaise and it comes out really good. I have tried all tofu as well as all Greek yogurt. It does not taste very good with the tofu, I have tried it and I did NOT like it.
The best is a few spoonfuls of each mayonnaise, sour cream and then use the remainder of your formula to be Greek yogurt. You can add the mustard, vinegar and spices to the formula of the 'dressing' in advance and it will flavor the dressing. You can do this the day before. For vegans – your choice of dressing.
I would also make my salad from red potatoes. I have made the salad from Yukon gold potatoes and that comes out fine as well. The basic salad as Dad made it is perfectly fine as is. I would always use a dozen regular size eggs. When I had my hens I could really tell how much better the salad was with my fresh eggs! I wish I had a better photo of the salad. This was the only one I could find. I know there are two more but my photos are all in California.
---
ABOUT THE AUTHOR