The day Queen Elizabeth met Marilyn Monroe.
In very different ways, the two women were destined to become icons. What many of us don't realise is that Queen Elizabeth and Marilyn Monroe were born only ten days apart. (April 21st and Jun 1st respectively – in 1926). And they met on October 29th, 1956.
The occasion was the London premiere of The Battle of the River Plate in Leicester Square. It was the only time the two women ever met.
Here we have two glamorous women, both aged thirty at the time. As you can see, both ladies are showing a certain amount of flesh. But anyone who has seen the famous nude calendar shot of Marilyn in her younger days knows that the upper half of the dress she is wearing in the photograph above has some serious engineering going on 😉
The queen is equally shapely and a touch more subtle in her off-the-shoulder dark dress.
You can see more details about both outfits in the image above and both women are dressed in the way you would expect. Marilyn is definitely more Hollywood in her shimmering gown and the queen has a much more regal and restrained gown but both had fabulous figures. (And note that the queen had two children by 1956).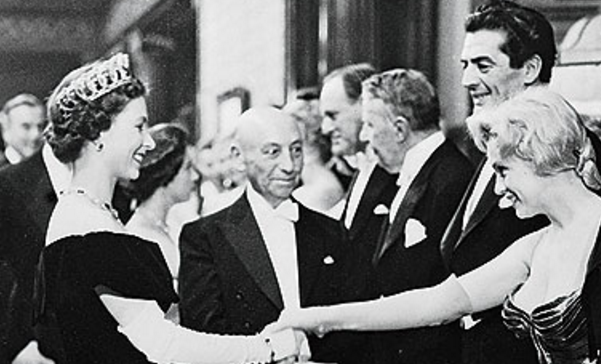 I love the photograph above. Just look at the little man in between the two women. Doesn't he look mesmerized by Marilyn's décolletage?
Did you notice that both Marilyn and the queen are wearing long white gloves? They look so very elegant. In the 1950s it was truly fashionable, chic and rather high-class to wear long gloves with evening dresses and ballgowns.
See the video below.
ABOUT THE AUTHOR